"Work together for further development of tea industry, save it from collapse"
PM asks tea garden owners, workers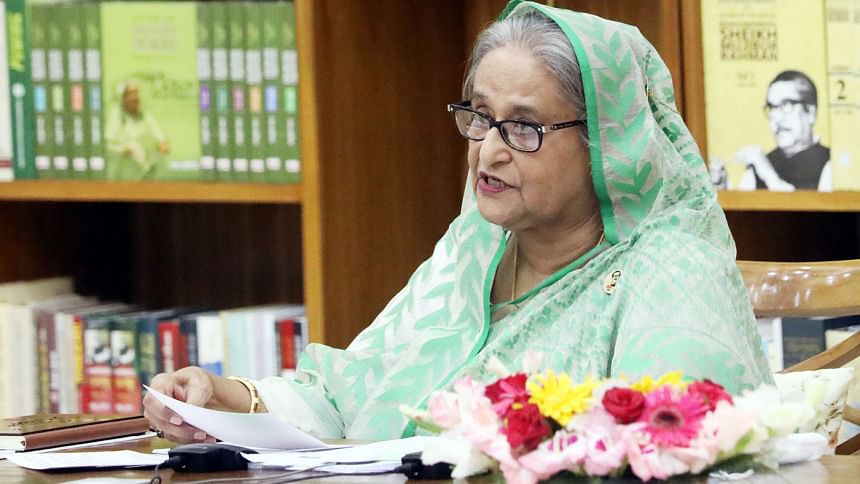 Prime Minister Sheikh Hasina today (September 3, 2022) asked tea garden owners and workers to work together for further development of the industry and save it from collapse.
"The tea industry is very important for us. Tea is a foreign exchange earning crop and so this industry must not be destroyed," she said.
The prime minister was exchanging views with the tea garden workers of Moulvibazar, Habiganj, Sylhet and Chattogram districts through video conference from her Gono Bhaban residence.
She said her government always works for welfare of the tea plantation workers and expansion of the tea estates.
The nature of work in the tea gardens are different from general workers in other sectors, the premier mentioned.
Hasina said her government has been working for improving the living condition of tea workers since assuming office ensuring what is due to them as citizens of Bangladesh.
She recalled that Father of the Nation Bangabandhu Sheikh Mujibur Rahman gave them citizenship while he was the industries minister in 1954.
"For this reason I think that we have some extra responsibilities towards you. We always tried to solve your problems," the prime minister told the workers.
The PM reminded the workers how she fixed their daily wages at Tk170 from Tk120 after a meeting with the owners. 
Some other facilities have also been increased to ensure a better condition for the , she said.
The government has taken measurers so that the owners treat workers with dignity and properly look after them, Hasina added.
She later, listened to tea workers who spoke from the four districts.
The PM held the meeting with the workers a week after she fixed the new daily wages for them following their demands.
The owners also agreed to raise other benefits, including plucking bonus (benefit for plucking additional tea leaves), festival bonus, earned leave and sick leave allowances, provident fund, ration card and retirement facilities proportionately.