Soaring freight rates fuel commodity prices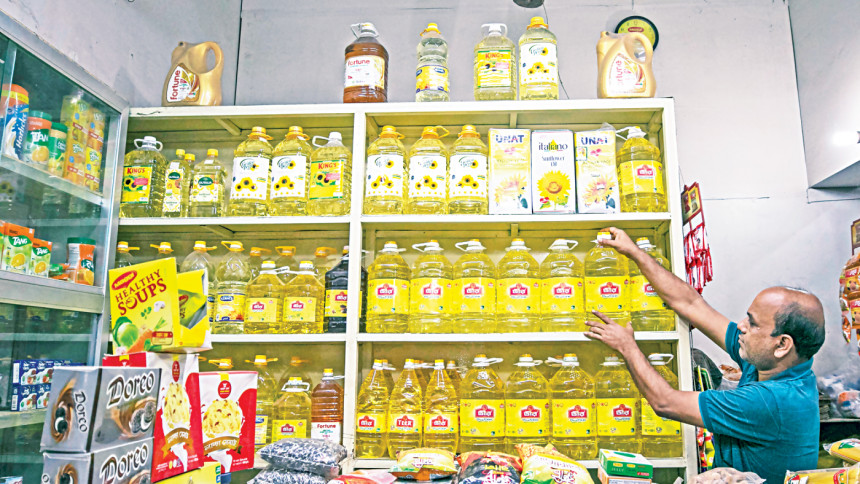 Essential commodities such as edible oil, wheat and sugar have become costlier in Bangladesh as their prices rose in the international markets because of the supply crunch and increased shipping costs, hitting the pocketbooks of consumers.
Importers and traders say the cost and time of transporting goods have more than doubled as almost all ports in the world are facing ship and container congestion because of the pandemic.
The increase in the cost of transportation has had an impact on imported goods.
Prices of non-branded soybean oil rose up to 5 per cent, or Tk 6 to Tk 8 per kilogram, in the domestic market in the past month.
Now the loose soybean oil sells for Tk 140 a kg, super oil Tk 135, and palm oil Tk 127.
Similarly, branded oil saw a price hike of Tk 3 to Tk 4 per litre. The price of bottled edible oil is Tk 150 per litre, up from Tk 142-Tk 145 a month ago.
Md Hasem, the proprietor of Fultaz Super Shop in Chattogram city, said wholesalers and importers raised the price of edible oil since the demand increased after the end of lockdown.
"They claim that the price has gone up because of the reduced supplies owing to an import crisis and rising prices in the international market."
Data from the National Board of Revenue (NBR) showed that oil refiners imported crude soybean oil at Tk 116,350 per tonne in July, up 12 per cent, or Tk 12,772, from June.
Sugar and wheat prices also went up owing to the supply shortage and increased shipping fares because of the port congestion in the exporting countries.
Traders at the Khatunganj wholesale market, one of the largest wholesale commodity hubs in Bangladesh, said that sugar prices had risen by Tk 400 per maund to Tk 2,680-Tk 2,700.
Canadian wheat variety is selling at Tk 1,270 per maund in the wholesale market in the port city, which was Tk 1,000-Tk 1,020 in the previous month. The price of Indian wheat was up by Tk 100 to Tk 1,120 per maund.
The hike has affected the prices of flour (atta) and refined flour in the wholesale and retail markets.
In the wholesale market, atta was selling at Tk 1,380 per maund on Friday, up from Tk 1,120 a month ago, and the refined flour at Tk 1,850, which was Tk 1,600 a month earlier.
Importers say the purchase of wheat from international sources declined 15 per cent year-on-year in fiscal 2020-21 as prices soared in the international market and demand declined in the local market due to the pandemic-induced consumption fall.
Some 54.43 lakh tonnes of wheat were imported in FY21, down from 64.34 lakh tonnes in FY20, according to data from the Bangladesh Bureau of Statistics.
Traders imported wheat at Tk 32,318 per tonne in July, an increase of 14 per cent from June.
Similarly, the sugar price has increased by 19 per cent to Tk 41,757 per tonne within a month.
Biswajit Saha, director for corporate and regulatory affairs at City Group, a consumer goods company, said freight charges had almost doubled in the last one month.
"This is the main reason why the price of products is increasing in the international market."
Shahed Sarwar, deputy managing director of K-Line Bangladesh Ltd, a shipping agent, said transportation was taking longer due to the congestion in almost all ports in the world, including in China, Singapore, Brazil, and Argentina.
"It takes an additional eight to 12 days to get the delivery of a consignment of goods. This has an effect on the shipping cost."
Abul Bashar, chairman of BSM Group, one of the top commodity importers in Bangladesh, said wheat production declined in almost all exporting nations.
"Besides, the exporting countries have imposed additional tariffs. So, the price of wheat has increased," he said, adding that trade supply chains were yet to normalise.