Nagad-linked investors desperate for multipurpose NBFI licence
Want to run MFS, microcredit too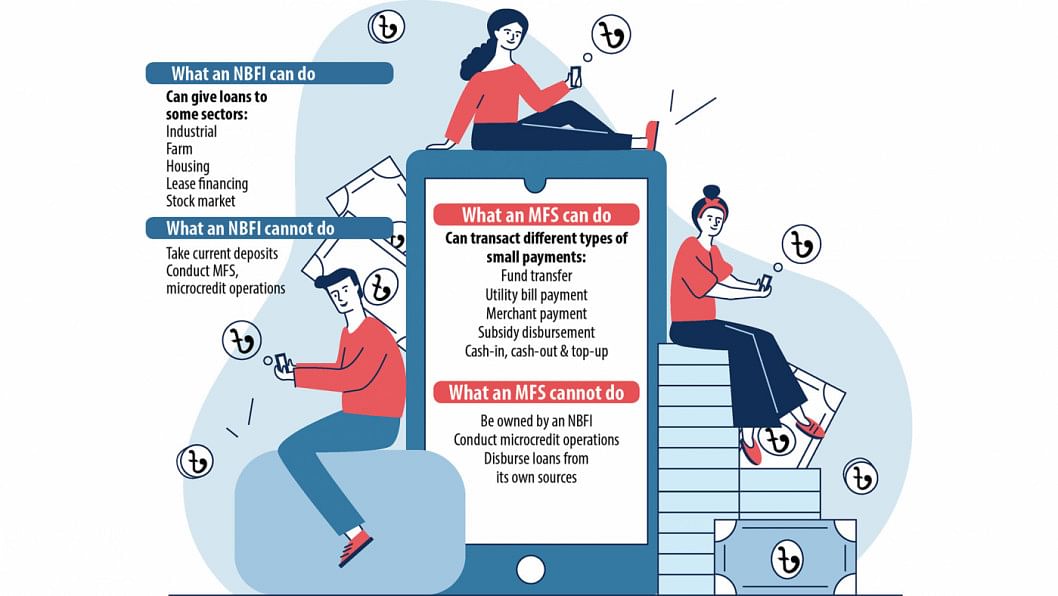 A group of investors linked with mobile financial service operator Nagad Ltd have turned desperate to obtain a multipurpose licence that does not exist in Bangladesh.
They are vying for a permission that would licence their company to simultaneously operate as a non-bank financial institution (NBFI), mobile financial service (MFS) provider and microcredit lender.
Turned down twice by Bangladesh Bank in the past three months, they have approached the central bank again with an almost similar application.
But the third time, according to the applications submitted at the BB and seen by The Daily Star, the proposed company's name has been changed from Amar Fintech Ltd to Nagad Finance Ltd.
Why the investors are pressing for a three-in-one licence is still subject to huge speculation.
But what is clear is that financial experts are not in favour of a hybrid financial institution. They instead recommend adopting more regulations for the 34 companies in the NBFI sector.
This is especially relevant considering the fact that the sector has continued to be plagued by corruption and irregularities.
Salehuddin Ahmed, a former BB governor, said some NBFIs have fallen into trouble, so the central bank should cautiously examine the issue before taking any decision.
As per rules, an NBFI cannot collect current or demand deposits, that is money which clients can withdraw at any time, he said. A client has to wait at least three months to encash deposits.
In contrast, MFS accounts are where customers deposit money for short term use or which enable frequent transactions.
Besides, microfinance activities require permission from the Microcredit Regulatory Authority (MRA), said Salehuddin. The MRA is not involved with NBFIs or MFS.
"How is it possible to run these services by a single company?" he questioned.
"People will also be confused if the central bank decides to allow the proposed company under the name of Nagad, as Bangladesh Post Office (BPO) now runs MFS using the same name," he said.
Another expert, wishing anonymity, said accepting this proposal would encourage others to seek the same.
The issue of running three separate functions under the umbrella of an NBFI was discussed among central bank officials at several meetings following the first Amar Fintech proposal submission in November 2021.
The same group of investors submitted the second application on January 11 this year.
Both were rejected as NBFIs in Bangladesh are not allowed to run MFS and microcredit operations, according to the BB documents.
The third application filed on January 20 changed the proposed NBFI's name to Nagad Finance Ltd, which sought to conduct "small value lending" and provide MFS.
The applicant was Muhammad Farid Khan, who was shown to be the chairman of both Amar Fintech and Nagad Finance. He is also the vice-chairman of the Summit Group of Companies.
His son Farhan Karim Khan was shown to be a director of Amar Fintech and Nagad Finance. Another director was Rubel Ahsan.
All three are members of US-based Amar Capital LLC.
The managing director of Amar Fintech and Nagad Finance was shown to be Rahel Ahmed. He is currently the chief executive officer and a director of Nagad Ltd, formerly Third Wave Technologies Ltd, which has been running BPO's Nagad brand of MFS.
The Daily Star contacted Farid Khan on January 3 this year following the first proposal submission.
On January 5, he said they had not taken any decision yet to reapply. He said the proposed NBFI is not a part of Summit Group, which has businesses in the areas of communication, trading, energy, power, and shipping.
Farid did not respond to a request for comment following the submission of the third proposal.
He, in his application, stated that Rahel was the contact person for any information or clarification about Nagad Finance.
Contacted in early February for an explanation on the similarity in the names of Nagad Ltd and Nagad Finance, Rahel, also a former managing director of Prime Bank, said he did not know about any relationship.
He declined to comment further.
Nagad Ltd Managing Director Tanvir A Mishuk, on being contacted on December 27, said he did not have any clear idea about the Amar Fintech application.
In an email on February 8, he said there was an "inter-relationship" between Nagad Ltd and Nagad Finance.
"However, the relationship between the two institutions can't be disclosed right now," he said.
He declined to disclose the involvement of the directors of Nagad Ltd in the proposed NBFI since the company has not been formed yet.
"We will clear it soon after getting the regulatory clearance," he said.
Why is Nagad Ltd at the centre of discussion
Nagad is an MFS brand of the BPO. It is being run through Third Wave Technologies Ltd, which renamed itself as Nagad Ltd in February last year allegedly without informing the BPO.
Currently, it is one of the largest MFS in Bangladesh with over five crore clients. But all it has to show for as its licence is a BB letter giving interim approval.
Since Nagad's inception in 2019, the letter has been issued four times extending the validity period, the most recent being in September last year.
As per the BB, the BPO is supposed to form a subsidiary company to run the MFS in a model similar to a public-private partnership. Nagad Ltd is scheduled to hold 49 per cent of the shares while the BPO the rest.
How will Nagad Finance run business
Nagad Finance said a "100 per cent digital financial institution" would be set up.
The institution will roll out an MFS, owning 51 per cent of the shares, to disburse microloans or run small value lending verifying repayment capabilities through a fintech-based alternative credit rating method.
The entity will also issue debit and prepaid cards.
Nagad Finance also seeks to disburse remittances sent by expatriate Bangladeshis. The proposed non-bank does not want to set up any branch, opting to serve solely through a digital platform.
BB stance on the proposal
Contacted, Md Serajul Islam, the BB's spokesperson, told The Daily Star, that the central bank has reviewed the third application.
In the previous two application cancellations, BB said only banks or their subsidiaries were permitted to operate MFS as per laws.
No MFS is permitted to give out loans. But it can act as a channel for banks to lend small amounts of money.
An MFS provider is only permitted to settle small payments such as fund transfers, utility bill payments, subsidy disbursements, cash-in and cash-out and top-ups.
For an NBFI to run microcredit operations, the MRA's approval is needed, observed the BB.
But the BB on February 15 revised its MFS regulations, allowing the NBFIs, alongside banks, to run MFS by forming subsidiaries.
Financial Institutions Act 1993 states that NBFIs can disburse long-term loans but only for specific sectors, including industries, farming, housing and the stock market.
Regarding the issue, Serajul said the financial institutions law would also have to be amended if any NBFI wants to provide MFS by forming a subsidiary.
On why the central bank revised the regulation, he said the BB has widened the scope for MFS operation.
Asked whether it was to entertain Nagad Finance's application, he said the regulation would be applicable for all.