Local firms show manufacturing capabilities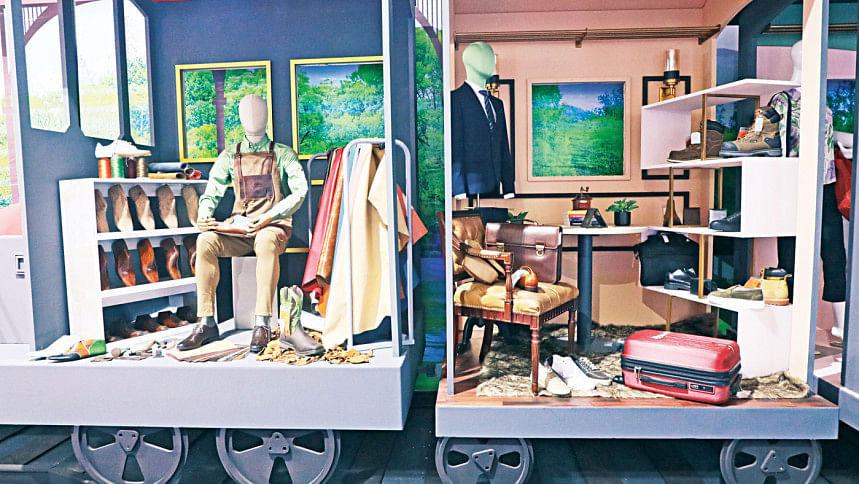 From locally manufactured televisions and printed circuit boards to jeans made out of jute, a diverse range of products are being displayed by Bangladeshi companies at Bangladesh Business Summit 2023 to attract foreign clients. 
Setting up dozens of stalls at Bangabandhu International Conference Center, the entrepreneurs want to show the growing manufacturing capabilities of local firms and win the hearts of global clients with top-quality products at the three-day event.
At a stall of Bangladesh Tanners Association, several companies are displaying leather-made footwears, bags and accessories.
"These are very high-quality products and 90 per cent of raw materials of the products are supplied by the local tanners," said Abdullah Al Kowser, an official of the association.
"Many people, including foreigners, are impressed with the quality of the products," he added.
The Federation of Bangladesh Chambers of Commerce and Industry (FBCCI) is organising the three-day event, which started yesterday, in partnership with the foreign and commerce ministries and Bangladesh Investment Development Authority.
A dozen of chief executive officers of multinational companies, 200 foreign investors and business leaders from 17 countries are participating in the summit.
With the "Made in Bangladesh" tag, local tech giant Walton is displaying its prowess in locally manufacturing the next generation of innovative technology products such as laptops, mobiles, personal computers and interactive screens.
Walton's products include air conditioners (ACs) with new cooling technologies and Google certified smart televisions with Android operating systems and all major streaming apps including Netflix.
"We have already exported our television to 40 countries, including 19 European Union countries," said Wahed Khan, a senior executive of the company.
He said their ACs can be operated with voice commands in Bangla. They are also introducing industrial solutions for manufacturers of plastic products and home and industrial cables, he said.
At a Bangladesh Textile Mills Association stall, the local textile companies are showing their manufacturing might with the latest products.
For example, Envoy Textile, which received Leadership in Energy and Environmental Design's platinum certification of US-based Green Building Council in a denim category, is displaying jeans made with banana and jute leaves.
Abul Nurujjaman, director general of the British Bangladesh Chamber of Commerce and Industry, was strolling around the stalls. "It has impressed me the way the Bangladeshi companies have brought innovation and technology to manufacture high-end products. I think they can compete with any global entity," he said.
"I found the stalls very attractive and informative. If the event draws an adequate number of people, I am sure local entities will find more places and interested parties to export their products," he said.
Nurujjaman, also managing director of London-based Taj Accountants, said the authorities need to focus more on promoting the products and services all over the world.
Biplob Saha, manager of Diamond World which is showing their products at the event, said they can now design their own products. "So, we don't need to go abroad, to Dubai or India, to get design for the products," he said. He said Diamond World was now planning to export locally designed products.
Pran-RFL Group, a local consumer goods behemoth, is displaying around 400 export-quality products ranging from chocolates to furniture at the event.
Kaosar Ahmed, founder and CEO of WHITELION & Associates, a consulting firm focusing data science, cybersecurity and automation technology, said it was a big platform for him to explore collaborations with local and global clients.
"Since I work in the technology sector, I feel that there are many ways I can explore so many great collaboration opportunities from this session. In my point of view, today was totally worth it with respect to business networking," he said.