Loan defaulters get a big break
BB relaxes loan rescheduling policy for them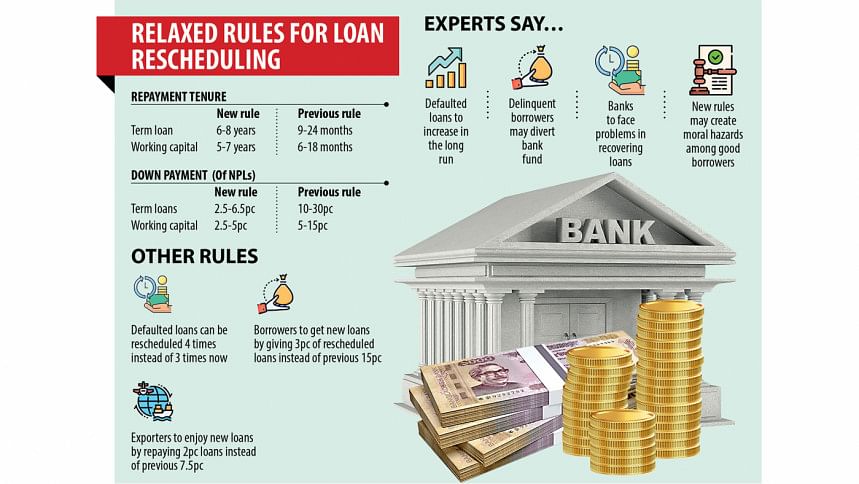 Bangladesh Bank yesterday substantially relaxed the policy for rescheduling defaulted loans, allowing defaulters to repay term loans over a maximum period of eight years whereas it was previously two years.
Defaulters will also be allowed to reschedule their non-performing loans (NPLs) four times whereas previously they could do so three times, according to a Bangladesh Bank notice.
The BB said the new rules have been issued to keep the financial sector stable from the adverse impacts stemming from the long-lasting effects of the coronavirus pandemic and the prolonging Russia-Ukraine war.
Analysts said the relaxation of the rescheduling policy would weaken the health of the country's banking sector, which has already been struggling to reduce its NPLs in recent years amidst a lack of corporate governance.
As per the new rules, defaulters who took term loans would be allowed to repay funds over a period of six years to eight years. In contrast, it was previously nine months to two years.
Term loans, which have tenures of more than one year, are usually given out to businesses to set up new industrial units and expand existing ones.
Defaulters who avail working capital and demand loans would be permitted to pay back their loans over a period of five years to seven years. In contrast, it was previously six months to 18 months.
Clients usually avail working capital and demand loans, which have tenures below one year, to run their ongoing businesses.
Clients will also enjoy a grace period between six months and one year before they need to start repaying the rescheduled loans. Such grace periods were absent in the previous central bank policy.
The BB has also declared a big relaxation of rules on down payments which are required to be made by defaulters.
As per the rules, defaulters who took term loans would have to give only 2.5 per cent to 6.5 per cent of their total NPLs instead of the previous 10 per cent to 30 per cent.
They will have to provide down payments of 2.5 per cent to 5 per cent of their total NPLs if they have taken working capital or demand loans. The earlier range of the down payment was from five per cent to 15 per cent.
After rescheduling the NPLs, exporters will have to repay 2 per cent of the rescheduled loans in order to get new funds from banks. Previously it was 7.5 per cent.
Common borrowers will have to pay 3 per cent of their defaulted loans to enjoy new loans in contrast to a previous 15 per cent.
Regular borrowers, who have not entered the default zone, will also be permitted to restructure their loans.
Under the process, banks can extend the repayment tenure by up to 50 per cent whereas it was previously 25 per cent.
The defaulters, who earlier rescheduled their NPLs more than four times, will be allowed to reschedule their default loans for one more time.
The BB in the notice said defaulters would not be allowed to reschedule their defaulted loans for a fourth time after December 2023.
Habitual defaulters will not be allowed to enjoy any policy support from the relaxed rules, according to the BB.
Fahmida Khatun, executive director of the Centre for Policy Dialogue, said the new instructions would not bring any good for the banking sector, rather it would deal a blow to credit discipline in lenders.
The government has set a high GDP growth and low inflation target, thinking that volatility in the global market will end in the quickest possible time, she said.
But the central bank extended the repayment tenure up to eight years when both the coronavirus pandemic and the ongoing war might not last long, she said.
"We are now struggling to survive from the existing default culture. The latest relaxation will intensify NPLs in the long run," Khatun said.
The NPLs totalled Tk 113,441 crore in March this year, just behind the highest-ever of Tk 116,288 crore recorded in September 2019.
Default loans increased 9.84 per cent in March from that three months ago when it stood at Tk 103,274 crore.
Although the BB in its circular stated that the policy would not be applicable for habitual defaulters, the central bank earlier failed to stick with such commitments, she said.
In addition, the central bank had earlier relaxed many policies to give support to influential borrowers in many cases, Khatun said.
Anis A Khan, a former chairman of the Association of Bankers, Bangladesh, said banks would face difficulties in recovering their funds as the repayment tenure of the rescheduled loans were much higher than what was previously.
Many good borrowers may feel discouraged to pay back their loans due to the relaxed policy for loan rescheduling, he said.
He feared that some borrowers might divert their funds to unproductive zones, violating their commitment to invest those in sectors mentioned in their respective credit proposals.
The borrowers will get a long time to repay their loans even after rescheduling their defaulted loans, which might encourage the thought that they will get a hefty time to repay the funds, Khan said.
Banks usually mobilise short-term deposits from clients, which is why a large amount of their funds will be stuck due to the relaxed policy, he said.
Against the backdrop, lenders may face an asset-liability mismanagement, Khan said.
For this reason, new entrepreneurs may be deprived of loans from lenders, he said.
Salehuddin Ahmed, a former governor of the central bank, said many countries were now facing several crises due to the ongoing war and pandemic but none had relaxed their credit and rescheduling policies.
Habitual borrowers may take advantage of this relaxation, he said.
Such relaxed polices should have been taken only for the small and medium enterprise and agriculture sectors, Ahmed said.