E-commerce Scams: Year passes, few get redress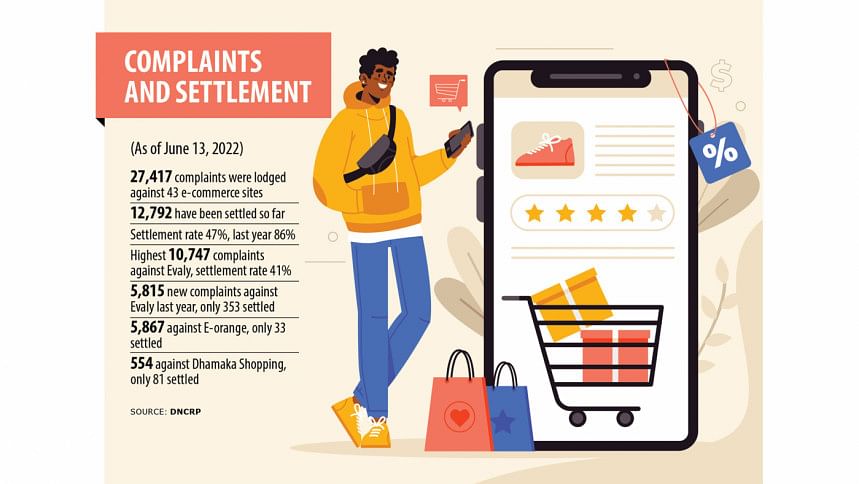 Over a year has passed since government agencies cracked down on several e-commerce platforms for not providing refunds or delivering products of thousands of customers after luring them with hefty discounts. 
Only a few got to avail redress.
The scope of getting redress is narrowing as some of the accused have fled the country, some are in jail, some out on bail and the rest still at large.
Only 47 per cent of complaints filed by e-commerce customers with the Directorate of National Consumer Rights Protection (DNCRP) were settled as of June this year, down from 86 per cent in the same period last year.
Meaning that the number of customers who are getting remedy is shrinking.
Customers so far filed about 27,417 complaints against the e-commerce platforms and 12,792 of those have been settled and the remaining 14,625 remained unsettled as of June.
However, one year earlier, the number of complaints was 13,317 and about 86 per cent of the complaints were resolved.
The highest number of complaints were against Evaly.
About 84 per cent of the 10,747 complaints filed against Evaly were settled last year as of June. But the settlement rate plunged to 41 per cent as of June this year.
About 5,815 new complaints were filed against Evaly in the last one year but only 353 were resolved during this period.
The probability of getting back money for Evaly's customers is particularly low as it has a huge amount of liabilities to customers and merchants but only has limited amount of assets.
For example, a sum of Tk 25 crore of Evaly is now stuck in escrow accounts of different payment gateways and goods worth Tk 25 crore are in two of Evaly's warehouses, according to a court-instituted board.
Justice AHM Shamsuddin Chowdhury Manik, who leads the board, recently said this amount was a "drop in the ocean" when compared to the claims made against the company.
E-orange took second place on the list of companies with the highest complaints as 5,867 were filed against it. Only 33 or 0.56 per cent were settled by the DNCRP.
E-orange founder Sonia Mehjabin and several of its officials have been in jail since their arrest on August 16 last year on charge of embezzling Tk 1,100 crore of customers.
Around a year has passed since Arif Anwari, a freelancer who made advance payments of about Tk 9 lakh to E-orange for motorcycles and other products, filed a complaint with the DNCRP. But his complaints haven't been resolved.
An official of Criminal Investigation Department (CID) said the department had recently concluded that E-orange officials laundered over Tk 230 crore abroad.
Of 554 complaints against Dhamaka Shopping, only 81 or 14 per cent have been resolved so far.
A CID official said over Tk 100 crore of customers and merchant money was laundered by the Dhamaka officials and its managing director, SMD Jashimuddin Chisty, has fled to the US.
Among other controversial e-commerce platforms, the rate of complaints being resolved stands at 1.39 per cent for Alesha Mart, 2.11 per cent for Qcoom.com, 7.69 per cent for Dalal Plus and 24 per cent for Adyan Mart as of June 13 this year.
Asked about the fall in the rate of complaints being resolved, AHM Shafiquzzaman, director general at the DNCRP, said to resolve complaints, the directorate calls the officials of the companies for a hearing.
But offices of many of such e-commerce platforms have shut down and there is no trace of their officials, he said.
"The maximum number of complaints are against Evaly. There is no one to refund its money," he added.
He said about 300 complaints against Alesha Mart and Qcoom.com would be resolved within this month.
Hafizur Rahman, additional secretary to the commerce ministry, said about 20,299 customers of Qcoom.com, Alesha Mart, BoomBoom, Anandabazar and others received Tk 182.24 crore as of June 16 from Tk 394 crore stuck at payment gateways.
According to industry people, the amount refunded is very small compared to the total amount embezzled from customers.
"It's just the tip of the iceberg. Our estimate is that the liability of only Evaly is over Tk 2,000 crore and none of Evaly's customers got their money back," AKM Fahim Mashroor, a former president of the Bangladesh Association of Software and Information Services, told The Daily Star.
Over 4 lakh customers and merchants haven't got any of their Tk 4,000 crore to Tk 5,000 crore back yet, said Mashroor, also chief executive officer of bdjobs.com and ajkerdeal.com.