Internet subscriber base shrinks for fourth month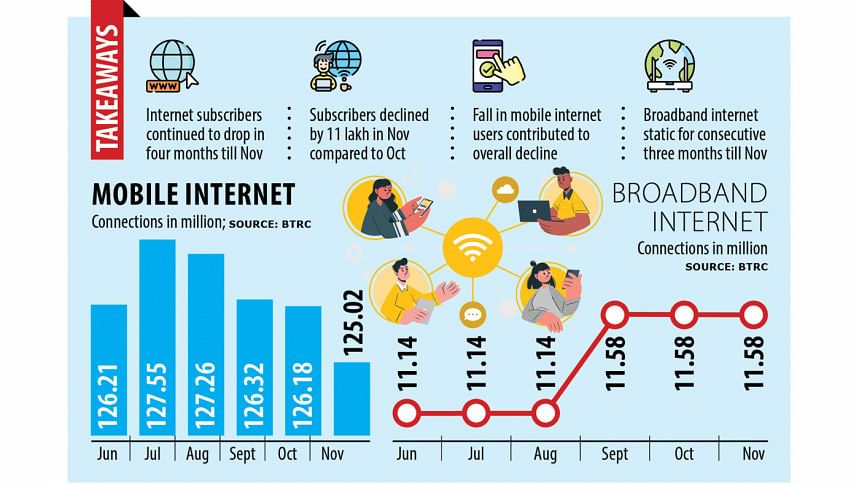 The internet subscriber base in Bangladesh has been on a downward curve for four months till November last year due to a sharp drop in the number of mobile internet users.
The number of internet users dropped to 12.50 crore in November, down 11 lakh from the previous month, according to data from the Bangladesh Telecommunication Regulatory Commission (BTRC).
With this, the number of internet users has fallen by about 25 lakh since July, when the total subscriber base stood at 12.75 crore.
The decline in subscribers in November 2022 was entirely due to the sharp fall in mobile internet usage.
The number of mobile internet subscribers fell by about 11 lakh to 11.34 crore that month.
However, operators said that despite the lower number of internet users, data consumption has been on the rise.
For example, Robi Axiata, the second largest mobile network operator and market leader in terms of 4G internet customers, witnessed over 15 per cent growth in data sales during the first 11 months of 2022, according to Mohammed Shahedul Alam, chief corporate and regulatory officer of the company.
"Many customers who kept their second or third connections active with low recharge amounts are now either not using them at all or are using them as the primary connection," he said.
"These factors have reduced the fierce competition in selling new connections," Alam added.
The third-placed Banglalink said it maintained its growth momentum for data subscribers over the last few months.
"This happened due to our consistent efforts on network expansion and also the broadcasting of the Fifa World Cup through the Toffee Digital platform," said Ankit Sureka, head of corporate communications and sustainability at Banglalink.
Last year, the operator successfully installed 4,000 base transceiver stations (BTS), popularly known as mobile towers, taking its total number of BTS to 14,000.
The new towers increased Banglalink's coverage by nearly 40 per cent.
"We also became the first operator in the country to deploy the newly acquired 2.3 GHz band spectrum to enhance customer experience, which helped us enhance our service quality and grow our consumer base," Sureka added.
Another reason for the drop in internet subscribers is the telecom regulator's ban on Grameenphone's SIM sales since June 29 last year, according to industry people.
The ban was lifted on January 2 this year.
On a year-on-year basis, the number of mobile subscribers dropped by 29 lakh in November.
Broadband internet connections, which saw massive growth during the Covid-19 pandemic, remained unchanged at 1.15 crore that month.
"In the last few months of a year, the growth of broadband connection usually stalls," said Aminul Hakim, CEO of Amber IT, a top internet service provider.
"It's because we see low orders from institutional users and some entities, such as educational institutions, that used to unsubscribe their connections for one or two months," he added.
Many people availed broadband connections in the last two-and-a-half years as they had to rely on the internet to work, communicate, study and get updates on the pandemic, according to industry people.
In February 2020, there were only 57 lakh broadband customers in Bangladesh. The number rocketed to around 1 crore in December the same year, but growth began slowing at the beginning of 2022.
However, the number of unique internet users is much lower than BTRC data suggests as many people use multiple SIMs.
According to the new population census of the government, about 6.5 crore people aged five or above in the country of 16.51 crore do not use the internet.
The GSMA estimates only 31 per cent of people in the country are using mobile internet services, which is lower than the South Asian average.
A total of 38.1 per cent of households use the internet, shows a preliminary report on the "Survey on ICT Use and Access by Individuals and Households 2022" by the Bangladesh Bureau of Statistics (BBS) published on December 28 last year.