Good prospects for grape farming in Jhenaidah
Single success encouraging cultivation, experts say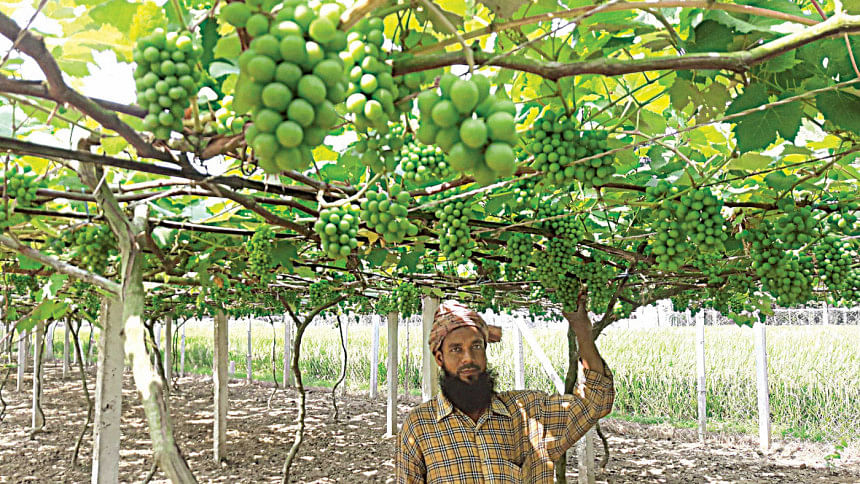 Md Abdur Rashid, who lives in Jugihuda village under Moheshpur upazila of Jhenaidah, has been enjoying great success in grape farming, which was once thought to be impossible in Bangladesh given the country's soil and climate conditions.
His farm at a nearby plot in the village has become so popular in recent times that various people from the region come to see the mouth-watering fruits hanging from their vines.
Rashid was unable to complete his studies as his family lived in extreme poverty and like most people in such a predicament, he eventually left home to find work in Dhaka in 1999.
After being employed by a garment factory in the capital for about five years, Rashid decided to return to Jugihuda village in 2003 and try his hand at cultivating vegetables.
Rashid tried to farm grapes alongside vegetables that same year but after three years of wait, the plants bore no fruit and he was left to suffer losses.
However, it was not his lack of a green thumb that prevented the grapes from sprouting as he later found that the saplings purchased from a local market called Khalishpur bazar were not of suitable quality.
After coming to this realisation, Rashid opted to try again with quality plants that he collected from a supplier in India in fiscal 2016-17.
He then cultivated Sonaka grapes, an Indian variety, on 16 decimals of land and sold the mature fruits for Tk 200-240 per kilogramme (kg) in 2020, earning him a tidy sum of Tk 80,000 on average.
Considering this success, Rashid expanded cultivation to 37 decimals of land this year with 120 plants that will bear fruits for 30 to 35 years at a stretch.
Rashid harvested about 15 to 20 kgs of grapes from each plant between May 15 and June 25 with the fruits selling for a total of Tk 5 lakh so far while he expects to sell another Tk 4 lakh worth by the end of September.
Meanwhile, the unharvested vines will bear grapes within the next three months.
Following Rashid's success, many youths in the region have started contacting him to buy grape plants so that they may start their own farms.
With this backdrop, Rashid expects that it will take no time at all for grape farming to spread all over Jhenaidah and then local farmers like him will become financially solvent.
The Sonaka variety can be planted year-round, sans the colder months of December, January and February.
He went on to say that it is simple enough to manage compost fertiliser, triple superphosphate, potash and irrigation for the plants but it is quality plants themselves that are hard to manage.
As for labour costs, Rashid said he employs two full-time workers that are each paid Tk 400 each day.
Rahen Mia, a farmer of Chowgacha upazila, said he will start grape farming next year as he was inspired by the astonishing sight of Rashid's grape farm.
"It is also more profitable than traditional crops," he added.
Echoing the same, Masum Hossain, a farmer from Barishal, said he has contacted Rashid for grape saplings, which he will collect within the next few months.
Akkaj Ali, a grape trader in Kaliganj upazila of Gazipur, said he buys the fruit from Rashid for Tk 180 per kg and sells them for Tk 250 per kg at a local market.
"The demand for the Sonaka variety is high as it is no less tasty than any other form of grape," he added.
Dr Md Ashrafuzzaman Jahid, associate professor of nutrition and food technology at the Jashore University of Science and Technology, said grapes are a rich source of copper and vitamin K.
Copper is an essential mineral involved in energy production while vitamin K is vital for blood clotting and healthy bones.
Grapes also provide good amounts of other vitamins like thiamine, riboflavin and B6. Both thiamine and riboflavin are needed for a person's growth and development.
Hasan Ali, agriculture officer of Moheshpur upazila, said he recently visited Rashid's farm and found that the soil is very suitable for grape farming.
"He will get good profit by farming these grapes," Ali told The Daily Star.
Asgar Ali, deputy director of the Department of Agricultural Extension in Jhenaidah, said 0.15 hectares of land in the district are being used for grape farming this year.
"The grapes cultivated by Rashid are of very good quality and so, grape farming will soon expand in Jhenaidah," he added.
Md Asraful Alom, principal scientific officer of the Jashore Horticulture Centre, said that Sonaka is a very good quality variety of grape that is green in colour and very sweet but contains some little seeds.
Alom went on to say that Sonaka grapes are no less profitable that their red counterparts.