'Bangladesh's agriculture needs Tk 15,000 crore investment in 5 years'
Agriculture minister says at FAO's Investment Forum in Rome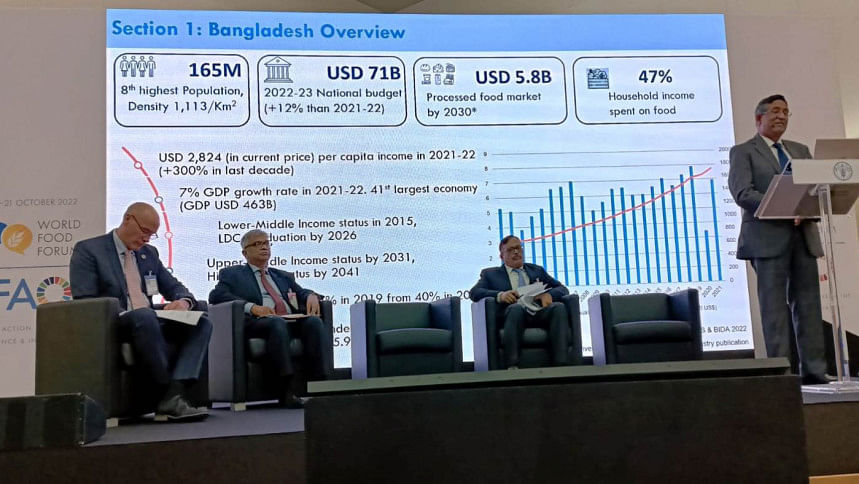 Agriculture Minister Muhammad Abdur Razzaque today urged developed countries, international banks, donor agencies and private entrepreneurs to invest in Bangladesh's agriculture sector, which will need Tk 15,000 crore in the next five years.
The money will be needed to make agricultural production sustainable and transform the agricultural sector, he said.
The minister was speaking at the opening ceremony of the 'Investment Forum' of the World Food Forum of the Food and Agriculture Organization (FAO) of the United Nations in Italy.
FAO has organised the two-day conference to increase investment in the transformation of the agricultural sector.
People from 20 countries are taking part in the conference.
At the event, Razzaque also highlighted the investment plans, needs and possibilities of Bangladesh's agriculture sector.
The minister said Bangladesh has achieved unprecedented success in agricultural production under the present government led by Prime Minister Sheikh Hasina.
But the country is still lagging behind in agricultural processing and export of agricultural products, in which there is a lot of potential, the minister said.
The government gives priority to four sectors: cold storage installation and post-harvest management, agro-processing and marketing, climate-smart agriculture, and irrigation and water management, which will need Tk 15,000 in the next five years, he said.
These sectors have high potential and will be profitable places for investment in Bangladesh's agriculture, he added.
Razzaque also sought immediate investment for the establishment of cold storage, post-harvest management, processing and marketing for the four products: potato, onion, mango and tomato.
He said there is still no technology in the country to store vegetables, including onions, mangoes and tomatoes.
In addition, 25-40 per cent of these products are wasted in the post-collection stage, he added.
Highlighting the details of investment infrastructure and government facilities in Bangladesh, the minister said there is a conducive environment for investment in the country.
"So, come forward to invest."