Flour mills cut production amid wheat shortage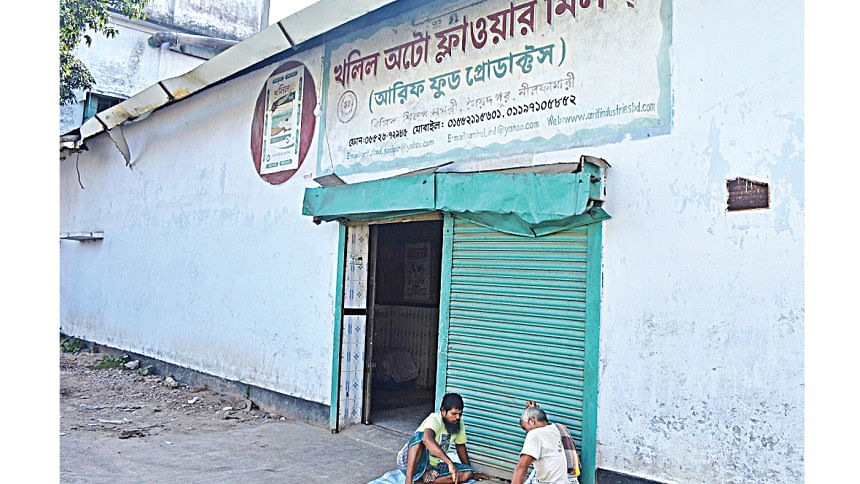 Flour mills in eight northern districts of Rangpur division are struggling to continue production as wheat has become scarce in international markets amid the ongoing war between Russia and Ukraine, two major exporters of the cereal grain.
Bangladesh largely depends on imports to satisfy its domestic demand for wheat as the country lacks sufficient production with farmers opting for more lucrative crops while the local climate prevents year-round cultivation.
Earlier this month, the US Department of Agriculture forecasted that overall wheat consumption in Bangladesh may drop 10 per cent to 69 lakh tonnes in marketing year 2022-23 due to higher prices and lower supply of wheat and wheat flour.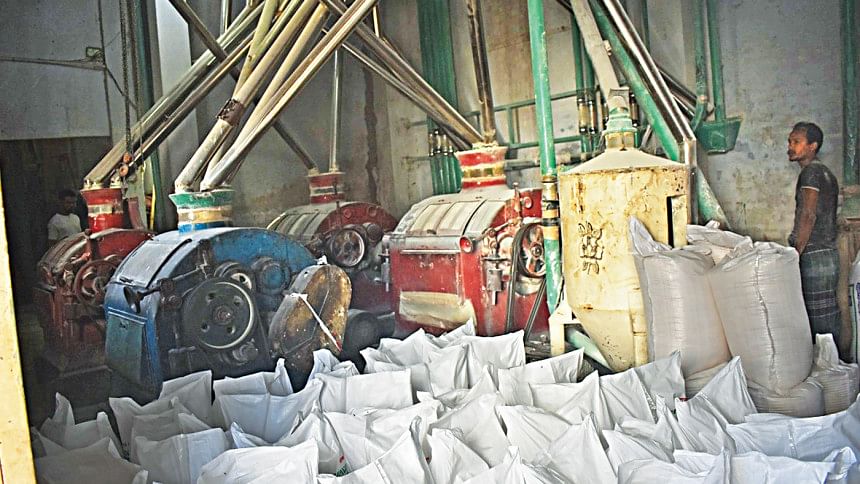 The price of wheat flour, which was Tk 34 per kilogramme (kg) in Dhaka in January this year, began to rise after Russia's invasion of Ukraine began in February.
Later in May, India banned shipments of wheat to contain its domestic prices, which fuelled prices in Bangladesh as the neighbouring country has become a major source for the grain in recent years.
As a result, wheat imports fell to a six-year low in fiscal year 2021-22 amid the lack of availability while many consumers' curtailed consumption after being irked by surging prices, which have reached upwards of Tk 60 per kg in the capital.
Public and private importers brought in just 40 lakh tonnes of wheat in the last fiscal, down 25 per cent year-on-year, shows food ministry data.
Similarly, the country's wheat imports declined by another 4 per cent year-on-year to 3.84 lakh tonnes between July 1 and October 6 of the current fiscal, it said.
Considering the situation, most flour mills are making a frantic effort to remain active by curtailing production while others have already shut down to minimise losses.
According to Aminul Islam, who owns the Khalil Auto Flour Mill in Nilphamari's Saidpur upazila, his unit has the capacity to produce 45 tonnes of flour each day.
"But we can utilise just 20 per cent of our capacity due to the scarcity of wheat," he added.
He then said most mills in the region are trying to survive by either reducing production to a great extent or shutting down until the situation improves.
Of the 17 flour mills in Nilphamari, 10 have already stopped operations while others are enduring great losses to remain in the market, added Islam, who is also general secretary of the local factory owners' association.
Sources say that there are around 150 big and small flour, semolina and wheat bran mills spread across eight northern districts, namely Rangpur, Dinajpur, Gaibandha, Kurigram, Lalmonirhat, Thakurgaon, Panchagarh and Nilphamari.
A good number of these mills have already shut down in a bid to avert losses amid the ongoing situation and are waiting the restoration of wheat imports, they said.
Md Aslam, managing director of Sonali Flour Mill in Rangpur city, said they can now only procure small amounts of wheat of Russia and Ukraine from importers at Chattogram and Mongla ports at a high price of Tk 54,000 per tonne.
However, the same amount of wheat was previously priced at just Tk 25,000 to Tk 30,000, including loading and unloading costs.
"We are selling each tonne of flour at a wholesale price of just Tk 55,400, leaving a profit margin of only Tk 1.40 per kg," Aslam said.
"But we are being compelled to incur losses considering the wheat purchasing price, labour costs, utility bills and maintenance fees involved," he added.
Millers say they have become largely dependent on wheat imported from India but as the neighbouring nation halted shipments several months ago, they are now looking for alternative markets in Europe and other regions.
During a visit to different retail shops in Nilphamari sadar upazila,Taraganj upazila in Rangpur and Sakowa union of Panchagarh, this correspondent found that flour sales have been slow.
Gopal Chandra, a retailer in Nilphamari market, said loose flour is being sold at Tk 62-64 per kg depending on quality.
"As prices are high, ordinary consumers are buying less and are instead opting for coarse rice, which is comparatively cheaper at Tk 52 per kg," he added.
Data from the Bangladesh Bureau of Statistics show that annual wheat production in the country has varied between 10 lakh and 18 lakh tonnes in the past few years, when imports ranged from 60 lakh to 70 lakh tonnes.
Mohon Patwari, managing director of the Patwari Flour Mill in Dinajpur town, said certain quarters, including importers, are hoarding large stocks of wheat.
"If government would take steps to recover the crops, our flour markets could run smoothly for the next two months," he added.
Md Ashraful Alam, regional controller of food in Rangpur division, said the country has sufficient foods stock for the next few months.
"But the Government is importing wheat from international markets on its own to ensure uninterrupted supply for carrying out different food programmes," he added.
The food department is currently selling flour through its open market sales (OMS) initiative for just Tk 18 per kg.
"Imports have been hampered in case of the private sector and so, the government making an effort to overcome the situation," Alam said.
Other than those in Rangpur, flour mills in various other parts of the country, including Narayanganj, a major hub for wheat flour, are not getting an adequate amount of grain to process.