Edible oil consumption rises 20pc in 5 years
Study finds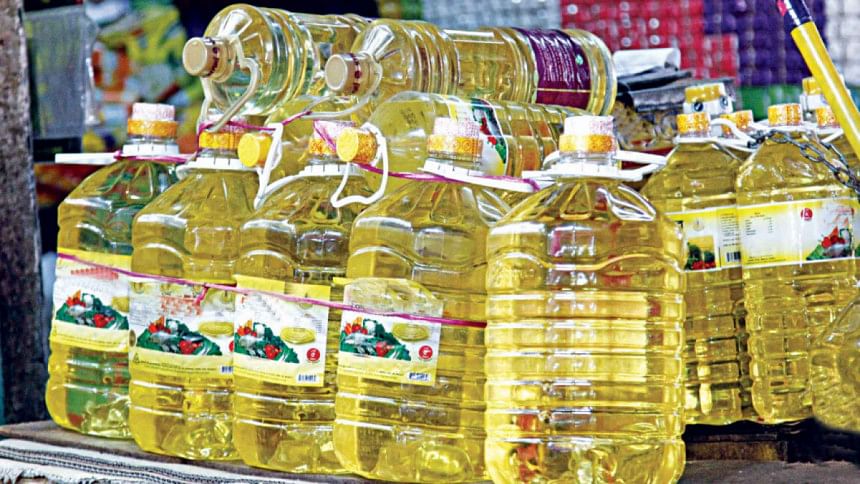 The per capita consumption of edible oil in Bangladesh increased by 20 per cent in the last five years to reach 18.4 kilogrammes (kgs) in 2020, according to findings revealed at a webinar.
The Council of Palm Oil Producing Countries (CPOPC) yesterday organised a webinar styled "Edible Oil & Fat Consumption Trend in Bangladesh".
As per the findings, In 2016, the per capita consumption of edible oil stood at 15.3 kgs.
The country's annual consumption of oils and fats currently stands at 30.3 lakh tonnes, 92 per cent of which is met through imports. Bangladesh imported 27.73 lakh tonnes of edible oil, fats and oil seed worth $2.12 billion in fiscal 2019-20.
"The domestic market for edible oil is worth more than $2 billion and the 25 local refineries have a combined capacity to produce about 55.7 lakh tonnes, which is almost double the current requirement," the report said.
The consumption of edible oil increased by 39 per cent in four years to reach 30.8 lakh tonnes in 2019 against 22.2 lakh tonnes in 2015.
But in 2020, consumption declined 1.6 percent to 30.3 lakh tonnes due to the ongoing Covid-19 pandemic, it added.
Meanwhile, the country's domestic market for edible oil has grown at an average of between 7 and 12 per cent annually for the past two decades.
But considering the price and quality needs of consumers, about 55 to 60 per cent of Bangladesh's total demand for edible oil is met through imported palm oil.
Alam went on to say that about 16.4 lakh tonnes of palm oil was imported last year. Of this amount, households used about 7.5 lakh tonnes, bakers 4 lakh tonnes, other industries 2.5 lakh tonnes, and various restaurants consumed the remaining 2.4 lakh tonnes.
"Palm oil exporting countries always keep an eye on Bangladesh and try to understand the country's demand since 70 per cent of its people use palm oil to meet their needs," said AKM Fakhrul Alam, regional manager (Bangladesh and Nepal) of the Malaysian Palm Oil Council.
The webinar was moderated by Yash Kanasal, deputy managing director of APCO Worldwide. Puspo Edi Giriwono, head of Southeast Asian Food and Agricultural Science and Technology, and Faisal Mahmud, senior marketing manager of Bangladesh Edible Oil Limited, were also present.