Chilli growers frustrated over low price
Many switching to maize cultivation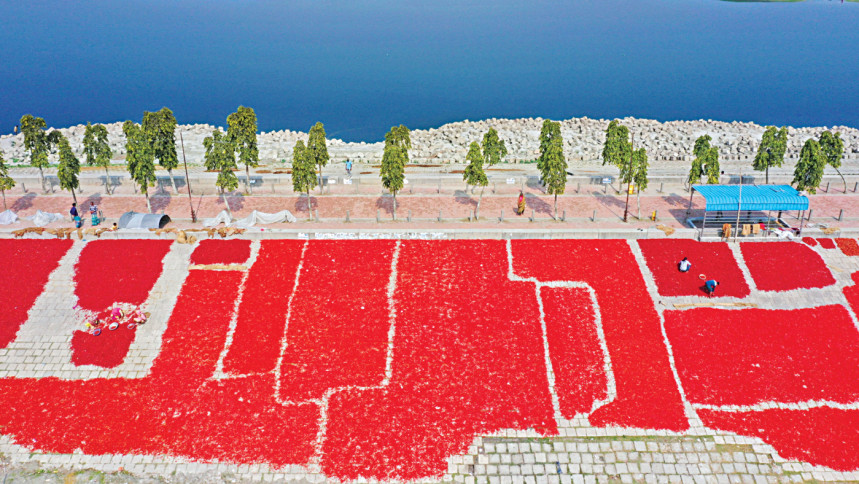 Chilli growers in the char years under Bogura's Sariakandi and Sonatala upazilas are disappointed as they are being forced to sell their produce at a lower price compared to last year.
So, many chilli growers are switching to maize cultivation as the demand, yield and price of the crop are higher. Corn production is also more profitable than chilli cultivation, said farmers and officials of the Department of Agricultural Extension (DAE).
Saidul Islam, 55, a farmer in Batir char in Sariakandi, has cultivated two bighas of chilli this year. But he is not selling green chilli as the price is low.
"I will dry it first and preserve it until the price goes up," he told The Daily Star recently.
In order to produce the key kitchen item on one bigha of land, farmers like Islam have to spend Tk 20,000 to Tk 25,000.
"This year, we have got good yield but the price is low compared to last year," he said.
Mohammad Aliuzzoha Zinnu, a farmer in Satbaki village in Sonatala, has grown chilli on one bigha of land.
He has sold the crop to local traders at Tk 30,000 against the production cost of Tk 25,000. This gave him a profit of a paltry Tk 5,000 whereas it was Tk 20,000 per bigha last year, said Zinnu.
Jahurul Islam, a farmer in Kornibari char in Sariakandi, says the price of dry chilli was Tk 7,000-7,500 per maund last year but this year it had fallen to Tk 4,500-5,000 before surging to Tk 6,000 in the last few days keeping pace with the price hike of essentials.
"The profit we usually make is decreasing," said the 60-year-old.
In Pakhir char area of the Jamuna river in Sariakandi, Tofazzal Hossain has not planted chillies this year because of the lower return. Rather, he has cultivated maize on five bighas of land as the crop is more profitable.
This is because farmers get 50 to 70 maunds of maize from one bigha of land. And each maund of the produce fetches around Tk 30,000 to farmers, against the production cost of Tk 8,000-10,000.
"So, maize cultivation is more profitable than chilli now," he said.
Maize, which was not familiar to farmers in Bangladesh even in the early 1990s, is now the second-largest crop after rice as the grain has become a cash crop thanks to rising purchases by local mills to make feed for livestock and aquaculture.
Abdul Halim, upazila agriculture officer in Sariakandi, says many farmers in the upazila are shifting from chilli to maize as it takes less labour, care, and money to grow the crop.
"On the other hand, the demand for maize is increasing and farmers can preserve it at their home and can sell whenever they want."
Bogura is the largest chilli producing district in Bangladesh and accounts for 5 per cent of the national output of the crop. And most of the chilli is produced in the char areas of Sariakandi and Sonatala upazilas.
Farmers have planted chillies on 6,529 hectares of land this year, down from 6,980 hectares a year ago. They have already harvested 60 per cent of the crop.
They get 8-10 maunds of dry chilli from one bigha of land and 55-60 maunds of green chilli from the same amount of land.
In the district, chilli output stood at 20,500 tonnes last year. The estimated production was 18,176 tonnes this year, according to the DAE in Bogura.
Most of the farmers sold local varieties of green chillies at Tk 13-15 a kg during the peak season.
The price has gone up in the last few days. Currently, local varieties are being sold at Tk 40 a kg and hybrid varieties at Tk 60 per kg at the farmers' level.
The item is being retailed at Tk 80 a kg in the kitchen markets in Bogura.
"The price of chillies has suddenly surged. So, those who have chillies in their fields are mainly making a profit now," said Mokhlesur Rahman, a farmer in Batir char of Sariakandi.
Dulal Hossain, deputy director of the DAE in the northern district, says the price is low because food processors have not started to buy chillies this year yet.
"When they begin buying chilli, the price will go up," he said.
Speaking about farmers' switch from chilli to maize, Hossain says farmers have added 200 more hectares of land to maize acreage this year. These areas were dedicated to chilli plantation last year.
"The shift is taking place because they are getting more profit in maize cultivation than chilli."