Cattle farmers struggle to arrange feed amid floods
But Eid market to remain unaffected, expert says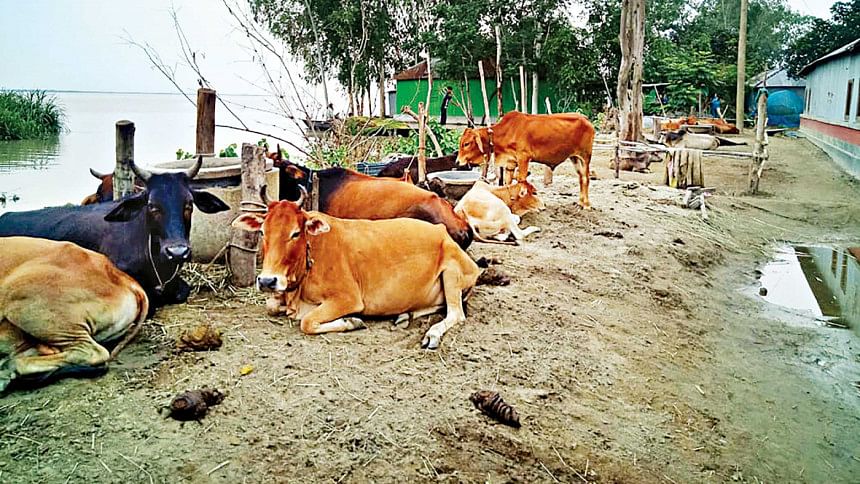 Sharif Hossain, a cattle farmer in Boro Koyra village under Sirajganj sadar upazila, was preparing 10 cows for sale during the upcoming Eid-ul-Azha but early floods this year have completely submerged nearby grazing lands, making it difficult for him to arrange feed amid a lack of funds.
With his house being suddenly washed away by flood waters about a week ago, Hossain was forced to take shelter on a rented piece of dry shoal land in Choto Koyra village under the same upazila.
However, he is now worried about getting the expected prices for his cattle as they have become weak due to the stress of living in such conditions and the absence of sufficient feed.
"Each cow weighed about three to four maunds a month ago but now, the same animal looks quite weak because I haven't been able to feed them properly for the past month," Hossain said.
"I was expecting to sell each cow for Tk 80,000 to Tk 1 lakh but now I am worried about being able to get even Tk 60,000 to Tk 80,000 per animal in the Eid market," he added.
During a visit to the flood-hit Bonnir Char village in Sirajganj sadar upazila, it was found that all cattle were living in dire conditions.
"Our houses are submerged in flood water so we kept our animals outside by raising the land with sand," said Nasima Begum, who lives in Bonnir char.
Begum went on to say that although she can go a day or two without food, she worries about ensuring enough nutrition for her cattle.
Like her, many other people in flood-hit areas are putting the safety of their cattle first in order to preserve their livelihoods.
"I have six cows and three of them will go for sale this Eid," said Chandra Banu, a resident of the flood-hit Rehai Chondi village in Kawakhola union of Sirajganj.
"When the flood water reached our house, my husband immediately left with the cattle for another village to save them first because they are the lone source of income for our family," she added.
It was also found that most cattle farmers are now feeding their animals reed -- a wild variety of grass native to the Indian subcontinent -- due to limited access to grass and straw in flood-affected regions.
"I have no stock of straw and it is quite impossible to buy solid feed for our animal amid such a disaster," said Afsar Bhuiyan, another cattle farmer of Bonnir char village.
"Cows don't like to eat reed but they are so hungry from the lack of proper feed that they are bound to eat it. So, my animals are getting weak from the lack of nutrition," he added.
Cows, buffalos and goats are the key earning source for people living in shoal areas but it has become difficult to maintain them under the current conditions.
"We don't need relief for us, please give support for our animals," Afsar said.
Sirajganj is the country's largest cattle producing district, where 9 lakh cows and 3.5 lakh goats currently reside.
Of the all the cattle housed in the region, 1.71 lakh cows, of which 1.21 lakh are fattened, have been prepared for the upcoming Eid market, according to Gourango Kumar Talukder, district livestock officer of Sirajganj.
Bangladesh has 1.21 crore sacrificial animals available this year for Eid-ul-Azha, Fisheries and Livestock Minister SM Rezaul Karim said yesterday. Last year, the number was around 1.19 crore.
At least 25 per cent to 30 per cent of the animals living in Sirajganj have been affected by the recent floods as five upazilas in the region have become inundated.
"But there will be no loss in overall cattle production," Talukder said.
"Livestock officials are working tirelessly in flood-hit areas and if an animal is found sick, medical teams rush to the spot. They are also calculating losses in the region," he added.
Asked about giving support to flood-hit cattle farmers, Talukder said they are trying to provide the adequate support amid this natural disaster.
"After preparing the flood loss report, we will submit it to the higher authority. If we get support after that, then we will be able to disburse it among farmers," he added.
The district livestock officer then assured that the current crisis would not affect the Eid market as they have reserved a sufficient number of animals.