Businesses have big hopes for Karnaphuli tunnel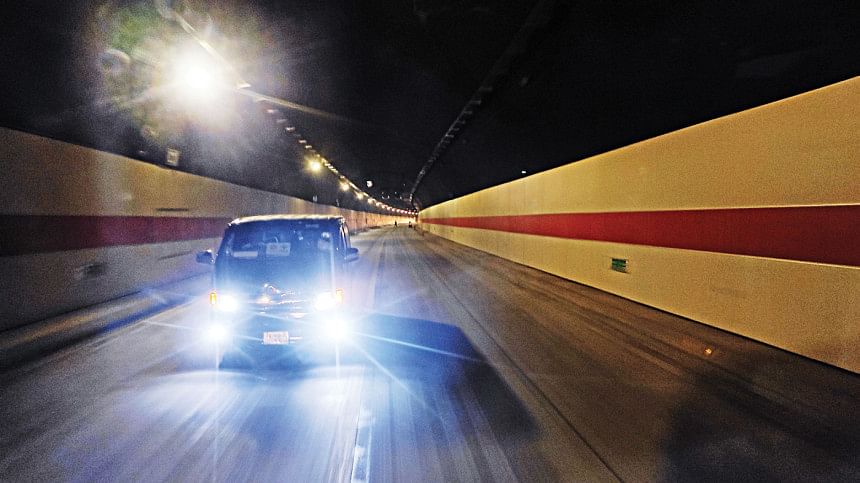 Business leaders in Bangladesh hope the Bangabandhu Sheikh Mujibur Rahman Tunnel, being built beneath Karnaphuli river in Chattogram, will help expand the port city on both sides of the waterway as per the "One City, Two Towns" concept derived from China's Shanghai.
The country's maiden underwater expressway tunnel, which will open a new dimension in terms of connectivity, could also create new avenues for investment beyond the river's southern bank.
In addition, it might widen the scope for industrialisation and tourism across the vast south-eastern region, they said.
Top officials of several trade bodies made these comments while speaking with The Daily Star yesterday, a day ahead of the completion of physical works on one side of the two-tube tunnel.
To attain these benefits in full, they emphasised on completing the adjoining connectivity upgradation projects as well as ensuring a steady supply of power and gas in the area.
The tunnel will be partially open for vehicular movement by the end of January next year, after some electrical and mechanical works are complete, according to project officials.
SM Abu Tayyab, president of the International Business Forum's (IBF) Chattogram chapter, said many large cities across the globe, such as London and Paris, are economically vibrant all over despite being divided by rivers.
And while Chattogram has every criterion to be the same, areas beyond the northern bank of Karnaphuli river have been growing brighter as it houses the country's premier seaport while southern parts remain in the dark, Tayyab said.
The business leader then blamed the lack of adequate communication between the two halves as the main reason for their inequal development.
Citing how the port city and its outskirts in the northern half are already facing a dearth of both residential and industrial plots, he said the southern part could become vibrant by addressing this shortage after Karnaphuli tunnel is opened.
In anticipation of the increased connectivity, the economic scenario in Anwara upazila and Karnaphuli upazila has already started changing thanks to a number of business initiatives.
Several firms from home and abroad have expressed interest in investing at the Korean Export Processing Zone and under-construction Chinese Export Processing Zone.
Also, numerous commercial and residential buildings have been set up in the Kalabibi Dighi of Anwara in the past one-and-a-half years.
Mostafa Hakim Group set up its new MS rod production facility -- HM Steel and Industries -- in Karnaphuli upazila at a cost of Tk 1,000 crore in March last year.
Likewise, a number of business groups, including Akiz Group, Diamond Cement, S Alam Group, and Four H Group, are purchasing land in different areas of the region.
Mahbubul Alam, president of the Chittagong Chamber of Commerce and Industry, thinks the tunnel will boost economic development in south-eastern regions, such as Matarbari in Cox's Bazar, by increasing their connectivity with the rest of Bangladesh.
This is because the tunnel will provide an easier route for industries in the area to transport raw materials as well as finished goods to and from various ports in the country.
Besides, it will increase connectivity between the under-construction Matarbari deep seaport, Bay Terminal of Chattogram Port and Mirsarai Economic Zone, he said.
The IBF's Tayyab went on to say that industrial and residential plots beyond the river's southern bank would fill up quickly after completion of the tunnel, which will have a long-term impact on the economy.
"In the long run, this connectivity will boost industrialisation and tourism in the vast area of the south-eastern region up to Cox's Bazar," he said.
If the Chattogram-Cox's Bazar-Teknaf highway can be upgraded to four to six lanes and the Dhaka-Chattogram highway to eight lanes, an immense prospect for industrialisation as well as tourism-based economic development would be widened.
"But the thing is to see how quickly we can accomplish these adjoining connectivity works and other infrastructural developments," Tayyab added.
Syed Nazrul Islam, first vice president of the Bangladesh Garment Manufacturers and Exporters Association, sought government support to keep land costs in the area cheap and ensure adequate supply of electricity and gas to promote labour-intensive industries.