Bank branches go past 11,000 mark for first time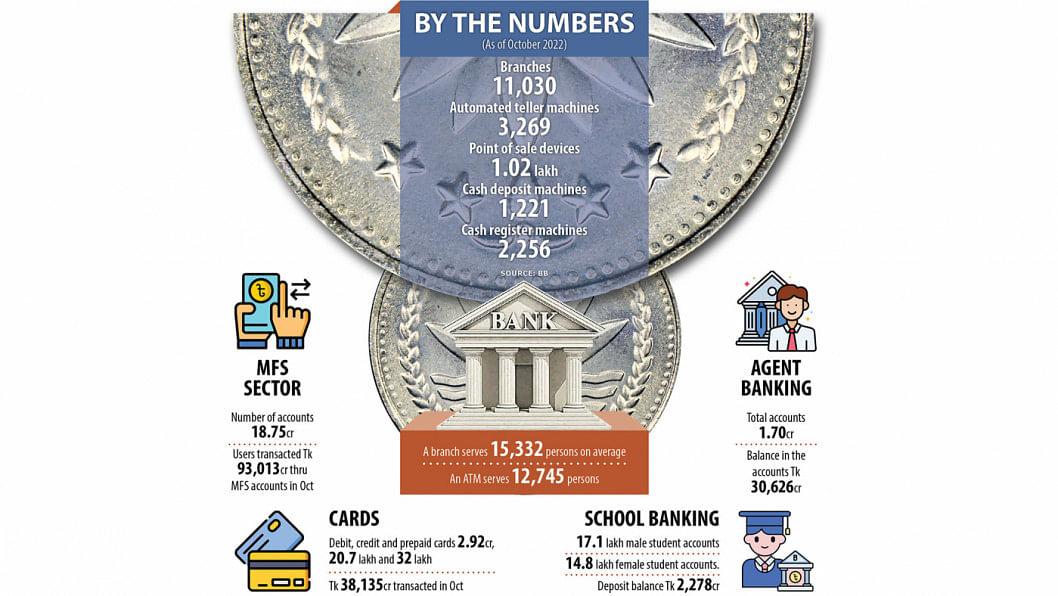 Branches of banks in Bangladesh have gone past the 11,000-mark for the first time despite expanding digitalisation in the financial sector, central bank data showed.
Scheduled banks had 11,030 physical branches in October, according to the Bangladesh Bank review of e-banking and e-commerce statistics.
Scheduled banks facilitate financial transactions by opening branches and installing automated teller machines (ATMs), point of sale (POS) devices, cash deposit machines (CDMs), and cash register machines (CRMs) in urban and rural areas.
There were 13,269 ATMs, 1.02 lakh POS machines, 1,221 CDMs, and 2,256 CRMs in October.
The review showed a bank branch serves 15,332 persons on average while every 12,745 persons receive digital financial services using an ATM.
The BB monthly report made the calculation using the total population of 16.91 crore for the fiscal year of 2020-2021.
The use of mobile financial service (MFS) has kept expanding, according to the report.
Users transacted Tk 93,013 crore through MFS accounts in October, up more than 21 per cent year-on-year. 
It was Tk 76,725 crore in the same month a year ago, data from the BB showed. October's transaction amount was the highest in four months.
In Bangladesh, there are 18.75 crore MFS accounts. Of them, 8.35 crore are in urban areas and 10.41 crore are in rural areas. Account-holders numbered 16.46 crore in the same month last year.
The float amount in the accounts was Tk 9,049 crore in October.
Agent banking outlets increased by 134 compared to the previous month. There were 1.70 crore agent banking accounts, up from 1.32 crore in September.
The ratio of agent banking accounts in urban and rural areas is about 14:86, and the balance in the accounts was Tk 30,626 crore in October.
The central bank introduced agent banking in 2013 in order to provide a secure alternative delivery channel of banking services to the underprivileged, under-served population who live in remote locations that are beyond the reach of the traditional banking network.
Currently, 31 scheduled banks are operating agent banking activities.
The number of issued debit, credit and prepaid cards stood at 2.92 crore, 20.7 lakh and 32 lakh, which was up 1.32 per cent, 1.47 per cent and 3.23 per cent a month earlier. Using the cards, Tk 381,35 crore was transacted in October.
In 2010, the central bank launched school banking to help children below 18 years develop savings habit and make them financially literate, with a view to widening financial inclusion.
As of October, there were 17.1 lakh male student accounts and 14.8 lakh female student accounts. The deposit balance totalled Tk 2,278 crore in the accounts, the review added.