Bangladesh scales up might in mobile manufacturing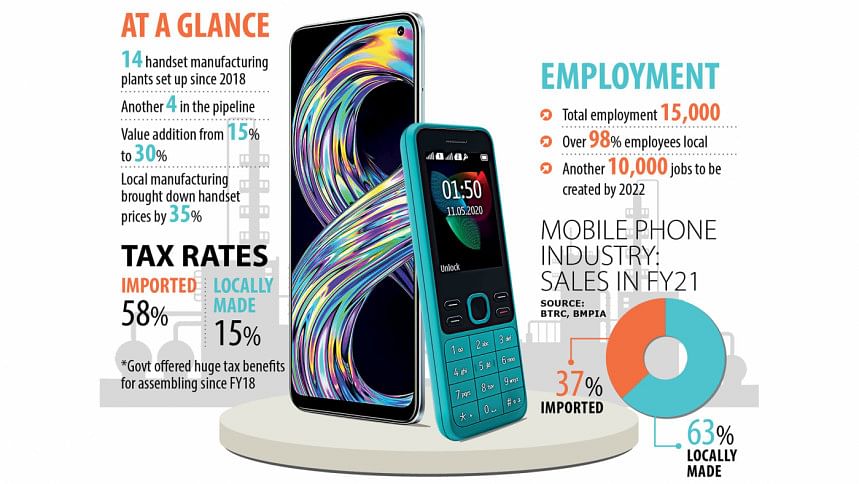 Just after completing his diploma in electronics from Magura Polytechnic Institute in 2019, Abdullah Al Noman got a job offer from Anira International Ltd, a local handset manufacturer. And he now works as a mobile assembly engineer for the company at its plant in Narayanganj's Sonargaon.
"I had never thought that finding a job would be this easy," he told The Daily Star recently.
The youngster is one of the beneficiaries of the job creation spree brought about by local assembling and manufacturing of smartphones in Bangladesh.
Local handset production has made an impressive stride in recent years, aided by the government's huge tax benefits unveiled in the fiscal year of 2017-18. Since then, 14 plants have been set up, and another four are in the pipeline, creating jobs for around 15,000 people.
Currently, there is about 58 per cent tax on smartphone imports, whereas the tax on locally assembled and manufactured handsets is about 15 per cent.
"Sometimes, we go directly to the campuses of polytechnic institutes and offer jobs to students. They are initially given some training. Soon, they start working in the production lines," said Md Asraf Uddin, managing director at Anira international.
He has plans to employ 1,000 people by 2022 as he ramps up the plant's capacity to meet the growing demand for domestically manufactured or assembled phones, which are cheaper than the imported ones.
Of the 2.94 crore handsets manufactured and imported in 2019-20, about 51 per cent were locally produced, according to the Bangladesh Telecommunication Regulatory Commission.
Of the total 4.12 crore handsets manufactured and imported in the last fiscal year, about 63 per cent were produced in Bangladesh.
Local assemblers and manufacturers are not stopping there as they plan to employ another 10,000 as many of them expand.
It came amid signs of economic recovery from the coronavirus pandemic. Sales rebounded strongly in July, reversing from a slowdown in early 2021. The industry grew around 15 per cent since the pandemic struck the country, according to an industry estimate.
Backed by steady economic growth and rising per capita income, the sales of mobile phones are growing fast in an economy forecast by Fitch Ratings to accelerate to 7 per cent in FY22 and 7.2 per cent in FY23.
According to the Bangladesh Mobile Phone Importers Association, mobile phone sales grew 17 per cent in value and 8 per cent in volume in the last five years. Thanks to the local manufacturing, the prices of handsets have dropped by over 35 per cent.
Almost all of the employees except for a few engineering experts and top executives, working at the plants are Bangladeshi.
Fair Electronics, Samsung's local assembly partner, has so far employed more than 1,250 people and plans to hire another 1,000 by December 2022, said Mohammad Mesbah Uddin, chief marketing officer of the company.
Grameen Distribution, which made foray into manufacturing in 2019, has a capacity to produce 3 lakh phones a month. It employs over 650 people in its plant in Board Bazar, Gazipur.
"We will double the capacity and the number of employees in 2022," said Ashraful Hassan, executive vice-chairman of Grameen Distribution.
Vivo, under the company Best Tycoon (BD) Enterprise Ltd, began making phones in Bangladesh in 2019 and now produces 99 per cent of the handsets it sells in the country at its factory in Rupganj of Narayanganj.
The factory employs 1,200 people and will recruit another 1,000 by next year, according to Imam Uddin, senior manager for finance and logistics at the company.
Edison Industries Ltd, the manufacturer of Symphony handset, produces more than 5 lakh phones per month and employs 1,200 people in its eight-line plant in Ashulia.
"We have plans to recruit more as we have started to export locally manufactured phones," said Jakaria Shahid, managing director of the company.
Walton Digi-Tech Industries' plant in Chandra, Gazipur makes 5 lakh phones every month and employs more than 2,000 people. The company has set a target to manufacture around 20 lakh phones a month by 2022 and hire another 1,000 people.
Recently, Nokia and Xiaomi have begun making handsets in Bangladesh, and they together employ about 500 people. 
Local manufacturing creating skilled workforce
Local manufacturing and assembling has brought an opportunity for the country to make its youths skilled in superior technologies.
The educational requirement for the employees working at the production lines starts from HSC, but preference is given to the diploma engineers in electronics.
BSc degrees are needed to get promoted from the post of a line manager to the unit manager. They can also been posted to the positions of material management executive and quality control manager.
Most of the operators (workers) are diploma engineers from polytechnic colleges and universities. After their recruitment, they usually receive training locally. Many are also sent abroad, especially to China, for advanced training, said Imam of Best Tycoon.
According to Hassan of Grameen Distribution, when they bought phones from China for distribution, 2 per cent phones had to be sent back as they were faulty.
"Now, one per cent of locally assembled phones are found to be faulty. This proves local employees' dexterity in tech adoption. Customer satisfaction is also good."
Difficulty remains in value addition
There are three main components involved in the manufacturing of mobile phones: displays, chipsets, and batteries. These three components are among the costliest items and no company in Bangladesh produces them.
There are only a few companies in the world that produce chipsets, mainly located in Taiwan, China, and South Korea.
Display is also made by only a few companies such as Samsung, BOE Technology, and LG.
Industry insiders say some Bangladeshi companies claim that they are producing batteries, but it's not true. They just import raw material (lithium-ion), cut the cells, and put a label on it.
"Although Bangladesh is the ninth-largest country in the world in phone users, we are very low in value addition because most users use low-end phones," said Mesbah of Fair Electronics.
"As Bangladesh's economy grows and people's purchasing power to buy high-end phone increases, the factories for displays, batteries and chipsets will also be built."
Handset export: opportunities and challenges
With Walton and Symphony-branded phones are already being exported, some industry people see export potential that would grow like the garment industry, which accounts for about 85 per cent of Bangladesh's export receipts.
Incentives and duty-free access to South Asian and African markets could open the door for the local industry to sell their products abroad, said Imam.
Telecom Minister Mustafa Jabbar said: "On the one hand, many undergraduates can work here, and on the other hand, this will create export opportunity for the country."