Tourism takes off with the coming of winter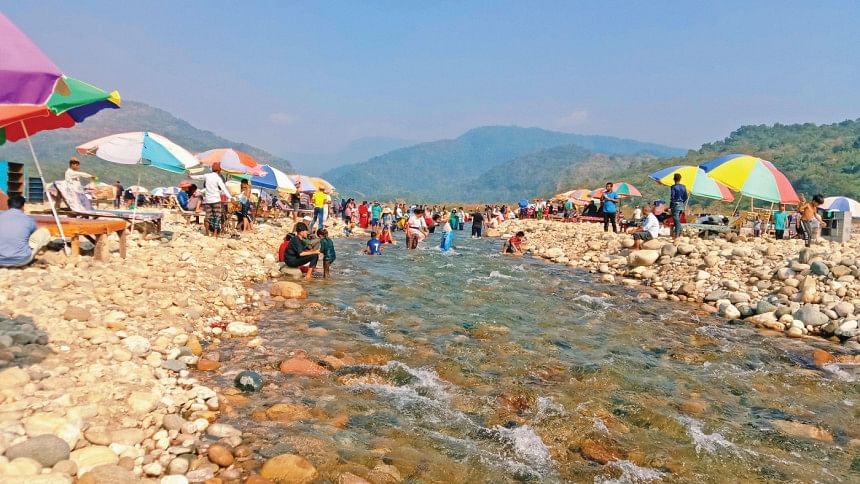 Tourist spots across Bangladesh are abuzz with both domestic and foreign travellers as the coming of winter, the country's main holiday season, has again brought cheers to the tourism sector following the relaxing of enforcement of pandemic restrictions since the middle of last year.
Room bookings have already reached 90 per cent amid the current demand, according to hospitality service providers.
The trend is expected to continue until the end of January next year, they said, adding that December usually sees the highest turnout as many families go on holiday when their children stay at home for the winter break.
Besides, Bangladeshi citizens who live abroad return during the month and visit different tourist spots.
This year, the increased turnout is providing tourism and hospitality service providers good business, which is likely to boost their contribution to the economy.
The tourism sector accounted for 3 per cent of the country's gross domestic product in fiscal 2018-19, according to the Tourism Satellite Account 2020 of the Bangladesh Bureau of Statistics.
In addition, the sector accounted for 8 per cent of the total employment that year.
"The response this season is quite good as there is a lot of enthusiasm among travellers. Our room occupancy is more than 90 per cent," said Prasenjit Guha Thakurta, group general manager of Seagull Hotel in Cox's Bazar, the main holiday destination in Bangladesh.
After the school and college level exams end in November, many Bangladeshis living abroad, namely the EU and US, return home for vacation.
"As a result, there is too much traffic now," he added.
Abdul Awal, director for sales and marketing at Royal Tulip Sea Pearl Beach Resort in Cox's Bazar, said compared to December 2021, they have a higher number of room bookings this year.
He said the occupancy rate at the 483-room hotel hovers at around half during months outside the tourism season.
Currently, 70 per cent of the hotel's rooms are booked.
"We expect this trend to continue till March next year," Awal told The Daily Star over the phone.
The scenario is similar at other holiday spots.
The Palace Luxury Resort in Habiganj, a north-eastern district famous for its green tea gardens, has been almost fully booked every day during the ongoing winter season.
"The gathering of tourists is quite good. We are getting a good response from both individuals and business travellers," said Joseph Gomes, general manager of the resort.
A fair number of visitors were seen at the same time last year but there were apprehensions over the different types of Covid-19 restrictions still in place.
"This time though, there is nothing to stop them from enjoying without any fear," Gomes added.
Kuakata in Patuakhali is also seeing a great turnout for its panoramic sea view that provides a great place to watch the sunrise and sunset.
The region's connectivity with Dhaka and other parts of the country improved considerably after the launch of Padma Bridge, increasing the interest of local and foreign travel enthusiasts and holidaymakers.
Businesspeople in Kuakata say the arrival of tourists started increasing from December 15.
Abdus Shakur, manager of Khan Palace, a residential hotel in Kuakata, said he hopes to make up for pandemic-induced losses if the current trend holds steady for the next few days.
The number of tourists was very low until December 10 due to various reasons, including political issues.
"So, the business situation was quite bad, but now there is improvement," said Pradip Sanyal, executive director of the Bhawal Resort and Spa in Gazipur.
"All our rooms are booked now on Fridays and public holidays," he added.
Bangladesh has more than 1,000 tourist spots, including the Sundarbans, Saint Martin's Island and Sajek Valley, that many people visit each year.
However, not all of them are accessible at the moment.
Imranul Alam, managing director of Tour Group Bangladesh, said a large number of tourists go to Saint Martin's every winter but this year their numbers are less due to the number of ships being limited.
"Nearly 10,000 people would go to the island every day in the past but now, an average of about 500 people are going there," Alam added.
He then said many young people go hiking and trekking in Bandarban during the winter and rainy seasons. Now though, there is a ban on travelling to several places in Bandarban.
"Apart from this, Srimangal and Sajek also have fewer tourists than normal times," he said, alleging that the increased cost of living has dashed the desires of many middle-class travellers.
Rafeuzzaman, the immediate past president of the Tour Operators Association of Bangladesh, said domestic tourism is doing very well this season.
However, the number of tourists coming from outside the country is not at the expected level during this period. One of the reasons for this is high inflation in many countries due to the ongoing Russia-Ukraine war.
Rafeuzzaman then said they are trying to offer better tourism services.
"Neighbouring countries offer tourism services that are much cheaper than ours. So, we are trying to provide that kind of service," he added.
There were 40 lakh to 50 lakh tourists in Bangladesh about two years ago, and the number has since gone up to 2 crore, according to data from Bangladesh Tourism Board.