Tax return submission deadline may be extended till Dec 31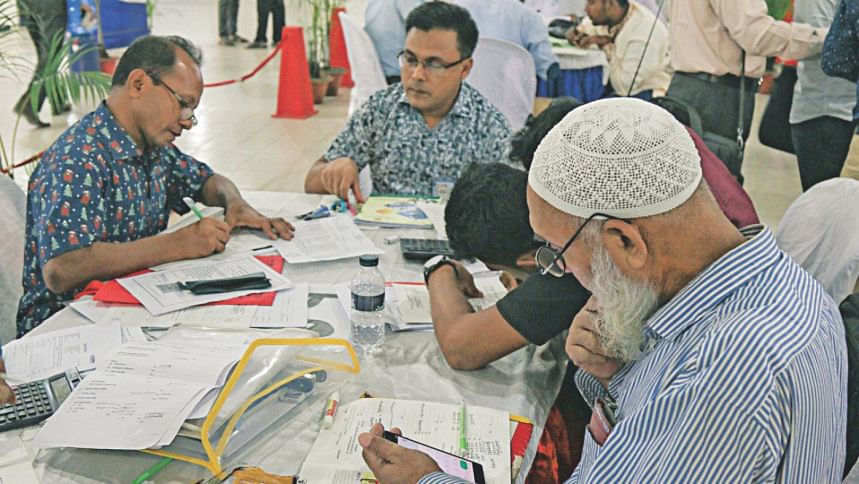 The National Board of Revenue (NBR) may extend by one month the deadline for the submission of income tax returns amid demands from various quarters, said officials today.
In a letter to the NBR chairman today, the Federation of Bangladesh Chambers of Commerce and Industry sought the extension, citing that many had been unable to make the submission due to difficulties arising from the recent economic downturns.
The tax administration is likely to issue a notification in this regard tomorrow, the final day of filing income and wealth statements by individuals without any penalty.
This would be the third consecutive year the NBR is granting more time to individuals to comply with the rule of submission of personal income tax related statements.
Between July 1 and November 28, the tax authority received over 20 lakh tax returns, which is 42 percent higher from that in the same period of the previous year.
At present, there are more than 82 lakh registered taxpayers.
The NBR expects the number of tax return submissions to increase as it has made proof of submission compulsory for individuals seeking to get 38 services, including loans exceeding Tk 500,000 from a bank or a financial institution.
The proof of submission will also be required for obtaining or renewing trade licences and transferring land, building or flats situated within a city corporation or a municipality of a district headquarter or cantonment board above the deed value of Tk 10 lakh.
The new rule also requires submission of the proof of returns for persons who want to get or maintain a credit card and open postal savings accounts of above Tk 500,000.
It is also needed for opening bank accounts of any sort with a credit balance of Tk 10 lakh and above and for purchasing savings instruments of a value higher than Tk 500,000.