Metro rail system to ease Dhaka's traffic gridlock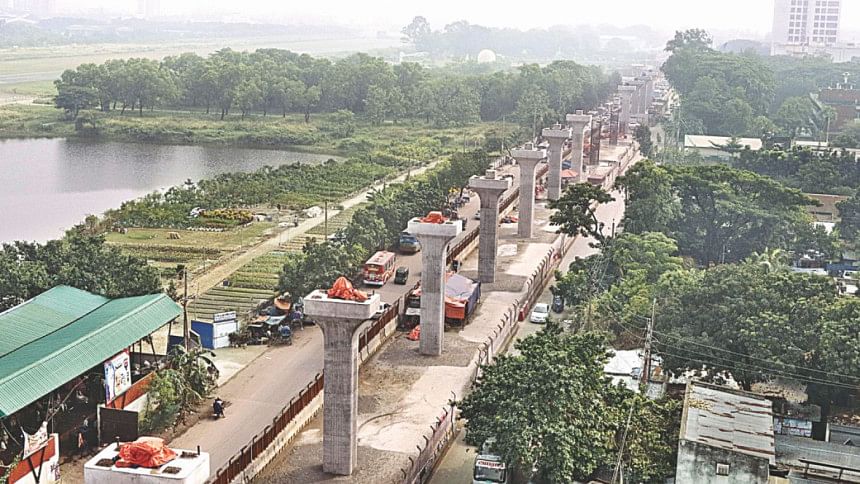 With the physical progress of the country's maiden 20km metro rail service already visible across the capital city, implementation of four more proposed metro lines is simultaneously going ahead as a measure for partially relieving the capital city of its perennial traffic congestion.
The Tk 22,000 crore maiden metro line-6 with 16 stations stretches from north Uttara to Motijheel.
Once implemented, all five metro rail systems, otherwise known as the Mass Rapid Transit (MRT), will partially help resolve the capital city's horrendous traffic problem and provide an urban transport service that is modern, comfortable and time-bound, according to transport experts.
While completion of the entirety of the maiden metro is expected by the end of 2020, the other four metro rail systems are targeted in second and third phases by the year 2035, according to recommendations in the Revised Strategic Transport Plan (RSTP).
Though the original Strategic Transport Plan recommended three metro rail systems and three rapid bus service systems, the RSTP approved in August 2016 recommended five metro rails and two rapid bus service systems to cover Dhaka city and adjoining districts.
The said service systems are being implemented under a project named Dhaka Mass Rapid Transit Development.
The RSTP covers greater Dhaka city, Gazipur, Manikganj, Munshiganj, Narayanganj, and Narshingdi districts.
The government-owned entity Dhaka Mass Transit Company Limited will be implementing all the metro systems—three of which will be with Japan government's loan.
Metro rail is aimed at easing the perennial traffic congestion in the capital and providing an improved, faster, comfortable and environment-friendly means of public transportation, said transport experts.
According to Japan International Cooperation Agency (JICA), with the metro line-6 in place, 14 trains would operate every three minutes and carry 60,000 passengers every hour in both directions.
The estimated time to travel the 20km distance, from the north end of Uttara to Motijheel, is 35 minutes. The trains would have six cars each, all air-conditioned.
MAN Siddique, managing director of Dhaka Mass Transit Company Limited, said that in view of the latest progress in building the metro line-6, they would be able to open the metro service up to Agargaon by December next year and carry passengers. Rest of the metro service up to Motijheel will be ready by December 2020, he said.
Professor Moazzem Hossain, a professor of civil engineering at Buet and a past director of Dhaka Mass Transit Company, in his evaluation said that one single metro line cannot obviously leave a tangible impact on the city's transport scenario because public movement has multiple destinations and origins. For citywide impact, there is a need for several of them, he said. In greater Seoul of South Korea, there are 22 metro lines.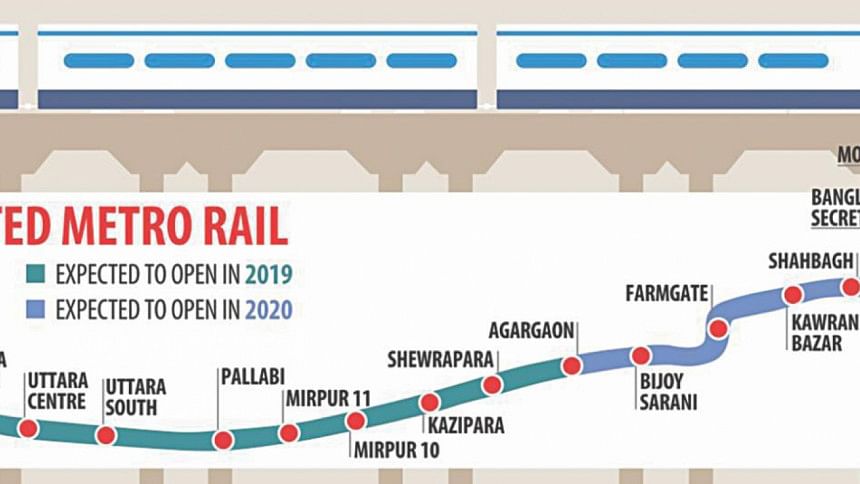 Metro rail is a highly expensive system and has higher capacity of carrying passengers, he said, but metro rails alone are not the complete transport solution for which various transport modes must be instituted in chronology of priority and cost.
In a densely populated city like Dhaka, the idea of designing an elevated metro rail is not commendable either, said Hossain.
Dr SM Salehuddin, former director of erstwhile Dhaka Transport Coordination Board and currently a transport expert on the committee for bus route rationalisation in Dhaka city, said that metro rail is an important component in the urban transport system.
It would be appreciable if all five metro lines could be completed by 2035 bringing some relief to the city's traffic chaos but due importance must be given simultaneously to the bus service system for a permanent transport solution, he said.
MRT-6
As of October this year, the first-phase 12km of the maiden metro rail stretching from north Uttara to Agargaon has made one-fourth progress with 300 metres viaduct visible in Diabari and construction piers all along the route.
With land development of the depot of the maiden metro line completed in January this year, completion of construction work of the depot structures is targeted by June next year with 19 percent progress so far, according to official information provided by the metro company's public relations officer Khan Md Mizanul Islam.
The construction of nearly 12km viaduct and nine stations from north Uttara to Agargaon that started in August last year has made progress with 2,232 of 2,333 pilings, 235 of 766 pile caps, 88 of 448 pier heads and 617 of 4,577 precast segments so far done.
The construction of the 3km viaduct and three stations from Agargaon to Karwan Bazar began in August this year and at the same time the construction of the 5km viaduct and four stations from Karwan Bazar to Motijheel began.
Procurement and installation of the electrical and mechanical system of this metro line that began in July this year have made three percent overall progress.
Procurement and installation of rail coach and depot equipment that began in September last year have made 13 percent physical progress keeping in view that the metro service is going to open by the end of next year.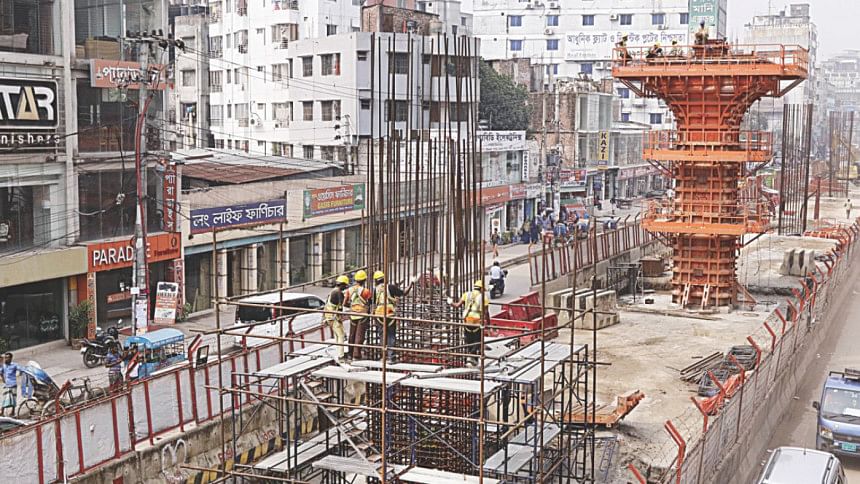 MRT-1
According to official information, the nearly 27km-long metro line-1 stretches from the international airport to Kamlapur and Purbachal.
With expected completion by 2026, the metro line's construction cost has been roughly estimated at Tk 50,000 crore.
With the feasibility study completed, the metro rail authorities in October signed an agreement with a total of seven Japanese and Indian companies and one Bangladeshi company led by Nippon Koei Company Limited of Japan for detailed design in four years starting July this year.
The Tk 513 crore agreement covers engineering services for detailed design and tender assistance for construction work. The Japan government has committed to contribute Tk 404 crore as loans and the Bangladesh government will pay the rest.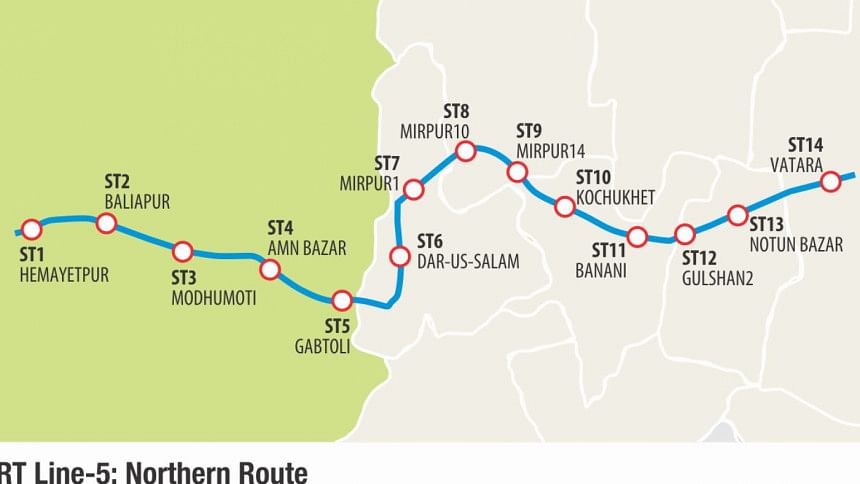 It comprises of two routes: one from the airport to Kamlapur across Khilkhet, Jamuna Future Park, Natun Bazar, Badda, Rampura, Malibagh and Rajarbagh covering a length of about 16.5km—the country's first metro rail line with all 12 stations underground.
The other route named Purbachal stretches from Natun Bazar across Jamuna Future Park, Bashundhara, Mastul to Purbachal depot covering 10km with nine stations, of which seven will be elevated.
Natun Bazar station will have an interchange for transfer of passengers between the two routes of the same metro line.
MRT-5
The 41km-long metro line-5 comprises of two routes. The northern one is expected to be completed by 2027 and the southern by 2030.
The 20km northern route is proposed to stretch from Hemayetpur of Savar to Bhatara through Baliarpur, Amin Bazar, Gabtoli, Dar-Us-Salam, Mirpur, Kachukhet, Banani, Gulshan and Natun Bazar with a total of 14 stations, of which nine will be underground and the rest elevated.
Preparation of a draft project document for the northern route is underway. Meanwhile, a loan agreement for engineering assistance was signed in June this year and the metro rail authorities have given a proposal for hiring engineering service consultants to carry out feasibility studies.
On the other hand, a pre-feasibility study on the 21km southern route started in May this year with loans from a development partner. The southern route stretching from Gabtoli to Bhulta is targeted to be completed by 2030. The exact route alignment, number of stations, location of depot, and underground and elevated sections of this route will be determined through the pre-feasibility study.
The possible stretch of the route will go through Technical intersection, Kalyanpur, Shyamoli, Asad Gate, Russel Square, Panthapath, Sonargaon, Hatirjheel, Rampura, Aftab Nagar, Dasher Kandi, Baralu Bazar and Ganga Nagar, terminating in Bhulta.
MRT-2
The 24km-long metro line-2 is proposed to stretch from Gabtoli to Chattogram road across embankment road, Basila, Mohammadpur, Satmasjid Road, Jhigatola, Science Laboratory, New Market, Azimpur, Palashi, Dhaka Medical College, Golap Shah Mazar, Banga Bhaban, Motijheel, Arambagh, Kamlapur, Mugda, Manda, and Demra.
Following a memorandum of understanding with the government of Japan in June and a follow-up meeting in December last year and another meeting in June this year, the Bangladesh government made a proposal to the Japan government in July this year for technical assistance to carry out the pre-feasibility study of this metro route.
MRT-4
The 16km underground metro line-4 stretches from Kamlapur to Narayanganj and the proposed route stretches along Dhaka-Narayanganj railway track. With the number of stations still unspecified, the government is looking for a prospective development partner to conduct the feasibility study and develop the transport facility.