Metro rail opening live updates: First train completes journey, reaches Agargaon from Uttara North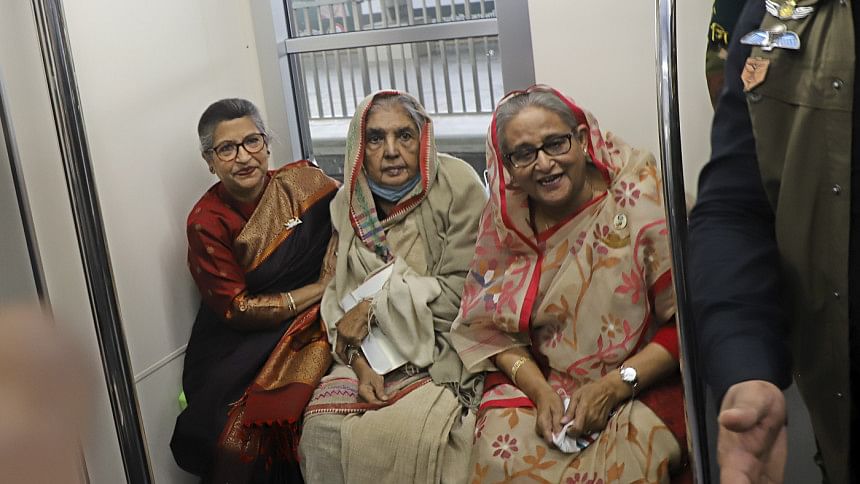 The maiden journey of metro rail was completed when the train carrying Prime Minister Sheikh Hasina and 200 others reached Agargaon from Uttara North.
2:11pm - Marking a major milestone in the country's transport sector, the first metro rail train reached Agargaon, around 18 minutes after starting its maiden journey from Uttara North. 
The PM exited the train and took the escalator to the ground floor. 
The premier walked out of the station and waved at the people gathered nearby.
1:53pm - The train carrying the prime minister, her sister Sheikh Rehana and around 200 other passengers, left the Uttara North Station for its maiden journey to Agargaon. 
The PM was seen going from bogey to bogey to talk with passengers as the train wound its way through the city.
Then Hasina took a seat on the left side of veteran AL leader Matia Chowdhury. Sheikh Rehana was seated to Matia's right. 
1:44pm - The PM and her sister Sheikh Rehana boarded the train that will travel from Uttara North to Agargaon. 
1:32pm - The PM bought the ticket from the station, after inaugurating a section of Mass Rapid Transit (MRT) Line-6 at the Uttara sector-15 playground earlier in the day. She bought the ticket from counter-1 of the Uttara North Station. Rehana, the PM's younger sister, bought the second ticket.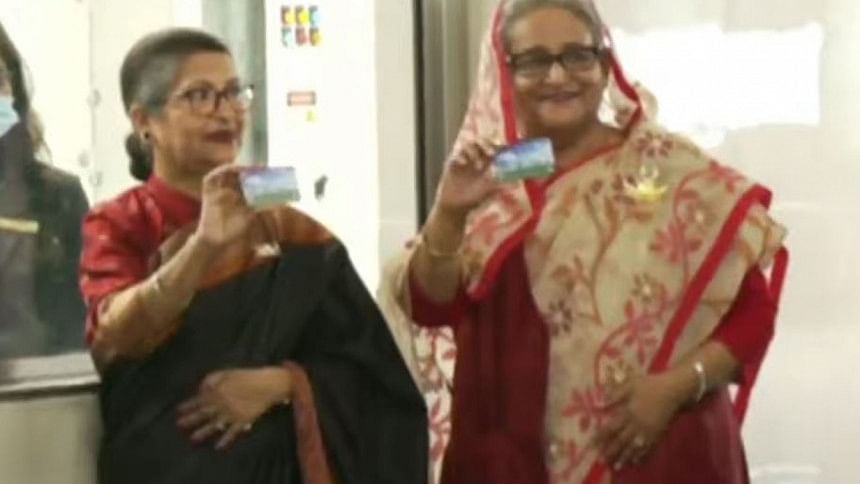 The PM then punched the card and crossed the gate to ride metro rail. Sheikh Rehana followed her.
Hasina then waved a green flag to signal the movement of the first train from the platform.
1:28pm - Prime Minister Sheikh Hasina along with her sister Sheikh Rehana planted a tree at Dhaka North Station of metro rail.