Banks' capital base strengthens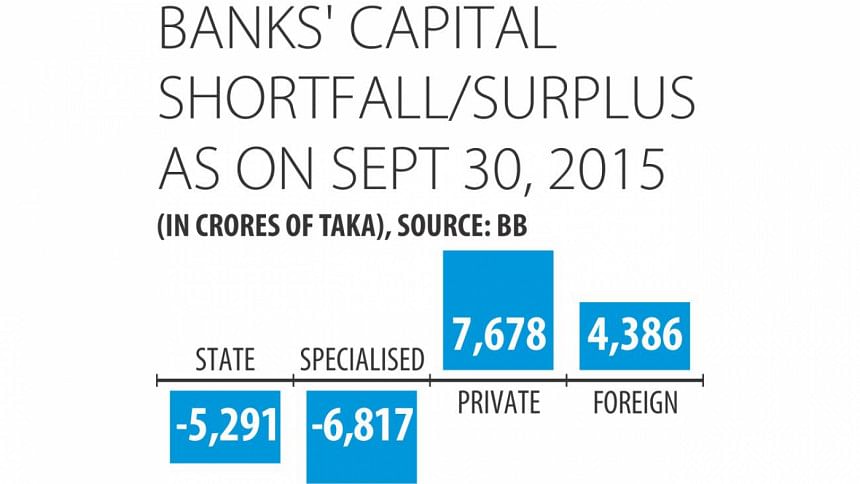 Banks' overall capital base went up 6.58 percent in the third quarter of 2015 from three months earlier as the asset quality of private and foreign banks improved.
On September 30, the banks' capital base stood at Tk 72,720 crore, which is 10.53 percent of their total risk-weighted assets. On June 30, the amount was Tk 68,230 crore, or 10.27 percent of the risk-weighted assets.
In line with international standards, banks have to maintain a capital adequacy ratio (CAR), which is the ratio of a bank's capital to its risk, of 10 percent.
However, state banks were facing a huge capital shortfall that continued in the third quarter as well.
Of the eight state-owned banks, six had capital shortfall amounting Tk 6,440 crore. Only Agrani and Bangladesh Development Bank were in the surplus.
BASIC had the highest capital shortfall, of Tk 2,916 crore, followed by Sonali at Tk 2,678 crore. Specialised banks Bangladesh Krishi and Rajshahi Krishi Unnayan were in the deficit by Tk 6,205 crore and Tk 532 crore, respectively.
Khondkar Ibrahim Khaled, a former deputy governor of Bangladesh Bank, said big scandals like the Hall-Mark one in state banks eroded their capital base.
Since the government is the owner of these banks, it will have to provide them capital to meet the deficit, he said.
Unfortunately, the government will have to use taxpayers' money for this purpose, he said, adding that the government must remain alert such that big scams do not happen again.
Khaled said BB's power over state banks is limited but it is doing the best it can to bring discipline in the banks. For instance, BB has appointed observers in the banks.
But to fully improve the banks' financial health, the government will have to take steps, he added.
Some Tk 5,000 crore has been allocated in fiscal 2015-16's budget to meet the state bank's capital deficit, and the finance ministry already approved Tk 1,200 crore for BASIC Bank on December 30, 2015.
Last fiscal year too, the government had earmarked the same amount for the purpose.
As for the private banks, only three out of 39 had capital shortfall: Bangladesh Commerce Bank, by Tk 285 crore; Premier Bank, by Tk 15 crore; and ICB Islamic Bank, Tk 1,419 crore.
At the end of September, the private banks' CAR stood at 11.97 percent.
The foreign banks did not have any capital shortfall and on an average their CAR stood at 24.27 percent.
London-based BMI Research, on the basis of June 2015 statistics, said Bangladesh's banking sector remains one of the weakest in the region because of weak asset quality, poor capitalisation and low profitability, particularly in the state banks.
"Bangladesh's banking sector has been plagued by weak capitalisation and poor risk management, and moving forward, we do not expect these problems to be resolved anytime soon."
Under the Basel-III framework, banks are legally required to maintain a capital to risk-weighted assets ratio (CRAR) of at least 10 percent. 
Although the banking sector as a whole is able to maintain its CRAR above the minimum legal requirement, nine out of the 56 banks were non-compliant, it said.
This could pose substantial risks to the financial stability in Bangladesh, given the high tendency for loans to turn sour, according to the analysis.
Moreover, if just the three largest borrowers of each bank were to default, 26 banks would become non-compliant in maintaining their minimum required CRAR.
This highlights the vulnerability of the banking sector as a whole to moderate shocks, poor risk management and high concentration risk due to uneven distribution of loan exposures, according to the BMI analysis.