INTERVIEW
Women and Bangladesh's publishing industry
Women writers, publishers, booksellers, and academics comment on the state of the book trade in Bangladesh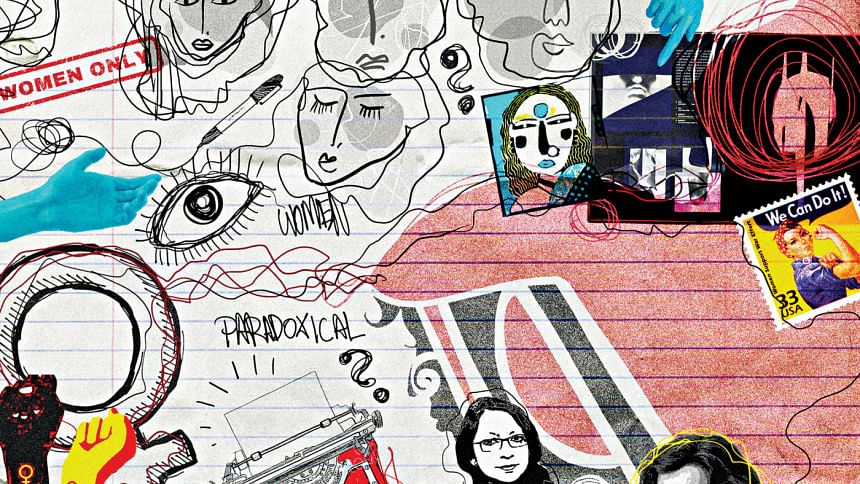 The publishing and literary world in Bangladesh have considerable visibility of women: some are authoritative figures in the literary and academic world, some run their own establishments and bookshops; others occupy senior positions in many of the local publishing houses and literary committees. However, like the systems and society we currently operate in, this industry is also influenced by the larger patriarchal structure.
"A representation of whether women face gendered experiences in the industry can be found in the fact that I am the only female member to sit on the board of the Academic and Creative Publishers Association", says Mahrukh Mohiuddin, Managing Director of University Press Limited (UPL). Other than Mahrukh, the 21 other executive committee members are men.
Critical barriers emerge when one attempts to explore these gendered experiences, because the industry itself is riddled with structural challenges including lack of funding, high production costs, lack of industry best practices and guidelines, and lack of readers, all of which contribute to its slow growth in comparison to counterparts in the film or television world. The pandemic has only added to it thus far.
"There is an overall lack of structure", says Amina Rahman of Bookworm Bangladesh. "Books may come out, but what happens next? A strong review process or review platform is critical to the life cycle of books".
As a result of these vacuums, there are hardly any databases to guide researchers or journalists trying to find out about the inequalities or power imbalances operating in the industry for specific groups. Despite this, all the writers, publishers, and entrepreneurs we spoke to highlighted issues of professional limitations based on gender.
On access to publishing platforms
"Challenges as a woman author comes down to the issue of conformity", says writer and development worker Farah Ghuznavi. "The freedom to sit and think, to experience flexibility in household roles or social obligations is crucial. [But] women are expected to be self-effacing, they face a lot more scrutiny than their male counterparts about the kind of time they invest in their creative process".
These gender biases translate into visible limitations with regard to promotional pathways and support from institutions or publishing houses.
"The entry points [for new talent] have become blurred", Sabrina Islam, co-founder of Charcha bookstore and publishers, tells us over a phone conversation. "We have moved away from the magazine-based approach of hunting out new talent. So it is harder for both writers and publishers to find each other to begin with".
To this, author Shaheen Akhtar adds, "When it comes to publishing as a new writer, women have had to put in more work than men. She has had to prove that she can write. This situation seems to have changed for the better now, but I think everyone who is an established writer today has faced problems printing or publishing books in the beginning".
As in other sectors, Shaheen Akhtar points out, women writers are often paid lower royalty rates in a field that already has low and erratic patterns of payment for authors.
On the politics of "women's writing"
Too often, narratives written by and about women—accounts of love, family, personal identity, abuse—are all lumped into the category of "women's issues", as if they do not concern the rest of the population.
Farah Ghuznavi, whose short story collection Fragments of Riversong (Daily Star Books, 2013) engages with themes of women's freedom to practice art and which was reviewed positively by both men and women critics, unpacks the politics of what women can speak out about: "Writers can, in theory, write about whatever they want. But the fear of criticism for speaking out, for example on the unequal power relations in society, can lead to self-censorship".
Jannatun Nayeem Preity, an award-winning feminist author known for defying social norms through her writing, shares horrifying experiences. "I received rape threats and was told on social media, in explicit terms, how I would be physically mutilated", she says. "My family is supportive, but when you realise that your activism is putting your family at risk or under stress, you have to fear being published".
"However, I don't write as a woman when I write—particularly when I write male characters in my novels. It is society that views my writing as 'women's writing'", she asserts.
Dr Niaz Zaman, literary academic and publisher of writers.ink, echoes this sentiment. "Women's writing is often perceived as trivial, while stories by male authors are said to be grand, exploring 'worldly' issues and politics," she says. "[But] the creative mind is androgynous, and to write male and female characters, writers need to get into the psyche of both genders. A woman's and an author's identity is bigger than just her feminism."
When asked how the state and society can address these issues, Shaheen Akhtar concludes, "Basic rights like healthcare are so neglected [in this country], shahittya toh ekta shokh er kaaj! Of what use is literature to society? I am asked this question often. It seems our society is not yet ready to understand the value of literature".
Ishrat Jahan and Selima Sara Kabir are early stage researchers who write in their spare time.