"Boi Mela-centric love for books poses obstacles for the publishing industry."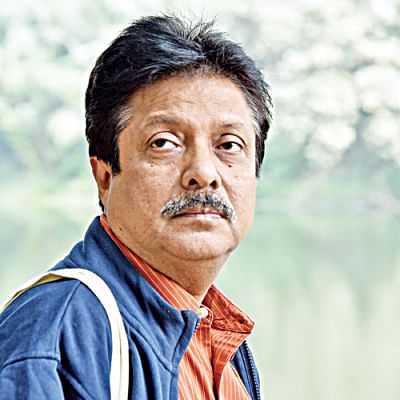 Minar Mansur, the current director of the National Book Centre (Jatiya Grantha Kendro), was born on July 20, 1960 in the Barlia village of Chittagong. He studied at the University of Chittagong's Bangla department. Amidst the whirlwind of political instability that followed 1975, the poet and researcher published the anthology Sheikh Mujib Ekti Lal Golap (1979), and went on to edit Autobiography of Shaheed Dhirendranath Dutt (1995), Neglected Heroes of the Liberation War (2008), and Society, Politics and Development of Bangladesh: Thoughts of Prominent People (2010), among others. 
During Bangabandhu's birth centenary year, Minar Mansur organised several book reading programmes, competitions, and library initiatives. Emran Mahfuz of Daily Star Books speaks to the director of the National Book Centre about his thoughts on the country's reading landscape.
Emran Mahfuz, Daily Star Books (DSB): Readers and writers have been debating the pandemic-induced uncertainty over Boi Mela 2021. How would you evaluate our  fair-centric enthusiasm for books?
Minar Mansur (MM): We are very fortunate that so much creativity and publishing incentive has become inextricably linked with the spirit of Ekushey. As a result, a significant chunk of the publishers' annual activities are conducted around the book fair. However, in order for the publishing industry to thrive, it must shed its dependency on a single annual event; it must find ways to actively promote and publish books throughout the year like it does in February.
DSB: What initiatives has the National Book Centre taken during your tenure to help the publishing industry?
MM: First of all, I would like to say that this is a multidimensional and long-term work that is never possible for the government alone. It requires the concerted and sincere initiative of all parties concerned, including authors. Unfortunately, effective, well thought out, and far-sighted initiatives are still lacking.
The National Book Centre purchases books worth huge sums of money from publishers every year and distributes them to more than 800 private libraries as grants. Book fairs and book-centred activities are organised and encouraged at divisional and district levels. On an international scale, we have created opportunities for publishers to participate in festivals including the Frankfurt Book Fair and the Calcutta International Book Fair.
DSB: Please tell us about the recently completed 'Pori Bangabandhur Boi Shonar Manush Hoi' initiative. What other plans does the NBC have in the near future?
MM: Under such suffocating circumstances ushered in by the pandemic, we started the program on an experimental basis with 10 well known libraries in Dhaka. We encouraged school students to read Bangabandhu's Unfinished Memoirs. College students read the Prison Diaries and university students read Amar Dekha Nayachin.
Our target was to engage 150 students and we received far greater response than expected. After reading the books, the participants wrote their feedback, which was evaluated by professor Shamsuzzaman Khan, writer Selina Hossain, and Liberation War researcher Mofidul Haque. All three judges unanimously admitted that the assumption we often make about the youth not wanting to read books is not true. Lack of initiative seems to be the main reason behind their dimming interest in books.
In addition, 'salon libraries' are being established in 100 salons across the country under the objective of 'Mujib Shotoborshe Shoto Pathagar'. We are also working to run a book reading program across the country to fulfil the promise of 'Mujib Borsher Ongikar, Graame Graame Pathagar'.
DSB: What roles can universities play in resolving the multidimensional crises in our state today?
MM: When we started, there were only a handful of universities and their impact was felt all over the country. It was the universities that sustained our struggle for independence. Now there are more than 100 universities, but is there any space for enhanced research? Even in this Mujib year, has there been any significant research on the life and philosophy of Bangabandhu? Only the people associated with universities can say why a gap remains in that space.