BOOK REVIEW: CHILDREN'S LITERATURE
Revisiting forgotten babyhood days with 'Babuibela'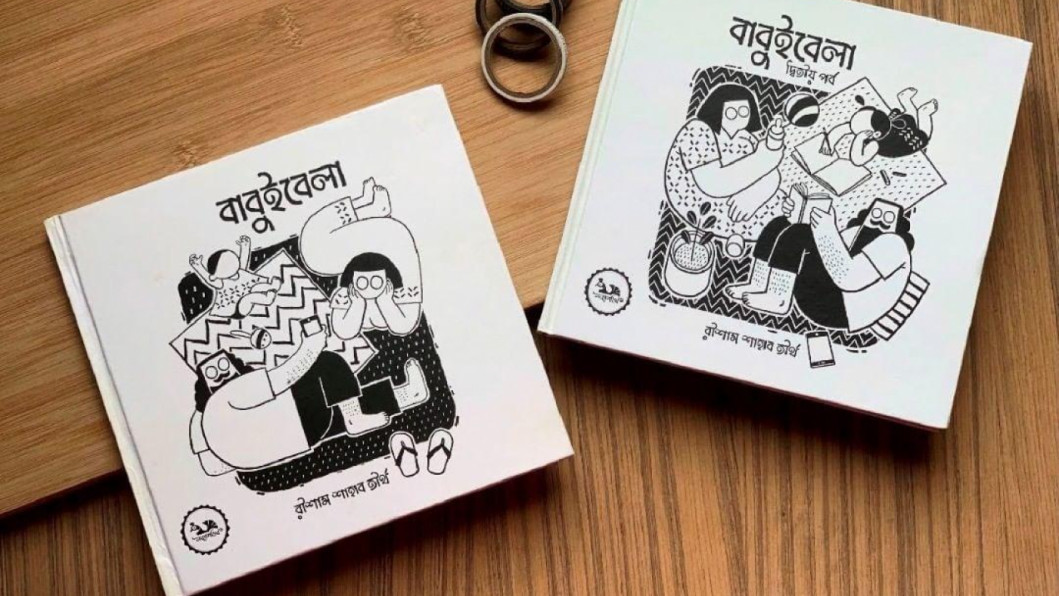 Every emotion associated with pregnancy and childbirth is amplified by the impending arrival of the baby. There is exhilaration, stress, anticipation, fear, and preparation. The expectant mother with her rounded midsection, decorated by stretch-marks like beautiful streaks of lightning, spends the last days of her final trimester eagerly waiting for any signs of the arrival. Every movement and contraction feels like an indication. The father, eager and restless, checks and rechecks the contents of the duffle bag that he has packed and placed by the door for when they will need to rush for the hospital. Finally, when the baby arrives, there is indeterminable pain; but this is always eclipsed by the joys of childbirth and rearing.
Reesham Shahab Tirtho does a spectacular job of capturing these early stages of postpartum life in his illustrated children's book, Babuibela (Mayurpankhi, 2020). Since the birth of his daughter, Tirtho has been documenting his journey through parenthood in charming little illustrations that showcase himself, his daughter, and his wife in their daily life. The artist began by simply sharing the anecdotes on his Facebook page. Friends and followers, meanwhile, encouraged him to combine the works and publish them. Babuibela, thus, came into existence. There are currently two books in this series—the second, Babuibela Ditiyo Porbo (Mayurpankhi, 2021), just having been published. The books portray Tirtho's daughter's first and second years of life, respectively. The author's late father, who is also the dedicatee of Babuibela Ditiyo Porbo, gave the series its adorable name.
Despite being a children's book, Babuibela is very relatable for parents, given its honest accounts of child-rearing. The illustrations are accompanied by simple, one- or two-word descriptions, some of them adorably invented words meant to mimic baby-talk. For instance, an illustration where the child is enjoying a bath is labeled "hapush hupush"; in another, where the author's daughter is happily swinging from his beard, it says "jhulondebi"; and in another, where the child is nestled in her father's chest, it reads, "ghumghumi." For Bangla-speaking parents like myself, these words and illustrations seemed packed with nostalgic reminders of the challenging yet infinitely rewarding days now in our past.
In Babuibela Ditiyo Porbo, the author adds another strata of relatability, and that is: life with a toddler amidst a pandemic. The images in this book are relatable to both children and adults alike. They show scenarios of parents working from home, celebrating a birthday during lockdown, and more. One particular illustration stands out—father and daughter staring longingly out the window with a poignant label that reads, "Amar janala diye ektu khani aakash dekha jai."
Both books are illustrated in black and white, which make for excellent colouring books, too. I read the books with my four-year-old son, who instantly became fixated on the artwork. Children do not remember the early stages of newborn life, so my son was particularly enthralled by the illustrations depicting the diaper changes, the breastfeeding, the late nights, the throw-ups, and all the other messy business that make up babyhood. One of the things I really appreciated about the Babuibela series is how the books steer clear of stereotypical gender roles and showcase a man—a father—who is present and is happily shouldering the responsibility of raising his child. The author portrays himself in nurturing roles such as bathing his daughter, changing her diapers, cuddling with her, washing dishes, and working on a laptop with her perched on his shoulder. Such men exist amongst us, but for reasons unbeknownst to me, nurturing roles are not usually allocated to them in traditional children's books. I applaud Reesham Shahab Tirtho for breaking the cycle.
Sameirah Nasrin Ahsan is a mechanical engineer in Dhaka. She aspires to be an author someday. For now, she is content with reading and sharing the stories that make her think beyond herself. Instagram: @booksnher.