Is Netflix's 'Ray' worth the watch?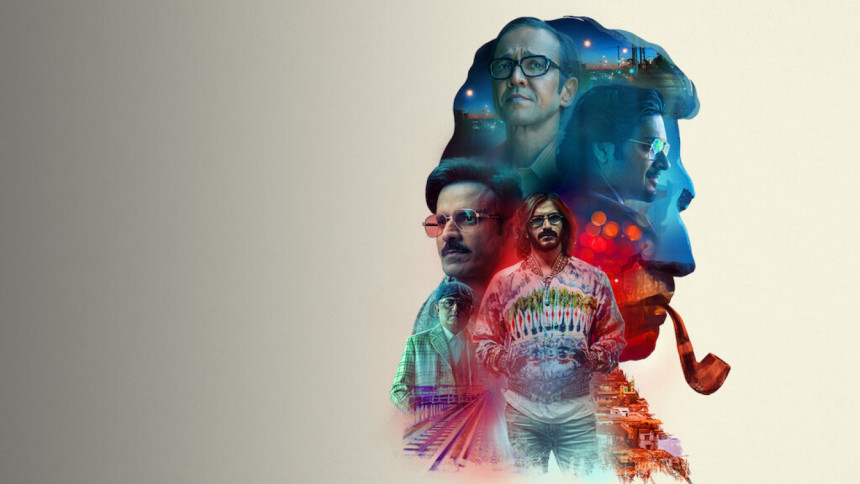 Netflix's latest anthology series, Ray, is based on four short stories by Satyajit Ray, directed and acted by some of India's most prominent names in the industry.
Ray can be interpreted either as an attempt to retell Satyajit Ray's stories in a modern setting or an attempt to pay tribute to the master storyteller, through a transformation of his stories, on his 100th birth year. Whichever one it may be, Ray presents the audiences with a mixed feeling as to whether to judge the series based on its execution or its creativity.
Based on Ray's short story "Bipin Chowdhury'r Smritibhrom" (Bipin Chowdhury's Memory Loss), director Srijit Mukherji's "Forget Me Not" can be categorised as a psychological thriller. And though some aspects of the story remain intact, it is far from just a modern retelling of the original.
In his version, Mukherji takes a darker path to unveil a self-serving corporate shark's downfall. As the director walks us through the psychological struggles of the protagonist, played with a quirky finesse by actor Ali Fazal, we experience second hand Ipsit's failure of memory. The story itself stands out in a crowd and leaves a mark. It engages not only with the themes of man's selfishness and greed—and how self-serving one's own memory can prove to be—but more importantly, it mines the limitlessness of emotions that motherhood brings, and, in a move that feels true and necessary to the moment, the episode explores how quickly we tend to discard the woman's version of a narrative in a story.  Yet the ending of "Forget Me Not" feels rushed, as some questions remain unanswered. What was a playful prank in Ray's original story becomes transformed in the adaptation into a plot of vengeance against pride and vanity.
"Bahrupiya", another Srijit Mukherji directorial, is based on the story "Bohurupi" (The Impersonator). Also shifted to a darker theme, the episode highlights a down-on-his-luck makeup artist and his transformations into different characters. This story almost follows the original, with few incidents altered here and there. Kay Kay Menon's portrayal of Indrashish is a powerful one as the protagonist ventures into a journey of revenge and overconfidence.
Yet even though this second episode can be an interesting watch for those unfamiliar with Ray's short story, there seems to be a missing element here. With some of the scenes seeming too obvious, the story lacks natural flow and feels like a jumbled-up mixture of too many ideas.
The only story to truly follow the maestro's original storyline is Abhishek Chaubey's "Hungama Hai Kyon Barpa", adapted from "Barin Bhowmick-er Byaram" (Barin Bhowmick's Ailment). Manoj Bajpayee, as a Bhopal-based ghazal singer, and Gajraj Rao, playing a former wrestler-turned-sports journalist, embark on a nostalgic train ride, where they meet again under the same circumstances, only 10 years later. The masterful duo of Bajpayee and Rao put up brilliant performances in this playful, light-hearted comedy. While the adaptation stays true to the essence of the original, the colourful and diverse cultural portrayal adds entertaining touches.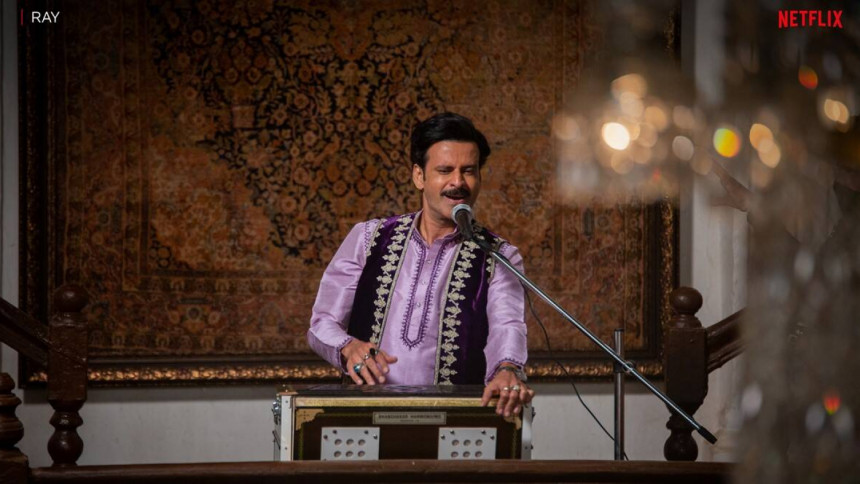 Finally, Vasan Bala's "Spotlight", based on the short story of the same name, strays the farthest from its source material, but it presents the most dynamic and diverse ideas wrapped up into one story.
With Harshvardhan Kapoor playing a fed-up movie star, this story is by far the strangest one of the lot, with cinematic references, dialogues, and modern jargon etched into it—a character even dons a shirt that reads "Songs of the Little Road" on it, at one point. In some cases, it does feel like too much. Then again, "Spotlight" addresses underlying issues like religious dogmatism, something that Satyajit Ray himself has explored over and over in his films (the episode calls to mind his 1960's Devi).
One positive quality that all of these episodes share, except for Abhishek Chaubey's, is the strong presence of female characters. Though Satyajit Ray is known for introducing several feminist icons through his films, his literary works lack the presence of women. These modern retellings of his tales rectify this to great effect.
Both Amala and Maggie from "Forget Me Not", Debashree from "Bahrupiya", and Didi from "Spotlight" are women who were wronged and mistreated by men in their lives, often through parallels with the film industry. Yet instead of portraying them as stuck in their circumstances, as seen in "Forget Me Not", for instance, it is the female characters who seem more multilayered, and it is they who move the plot along, deciding the course of their own lives and the men's.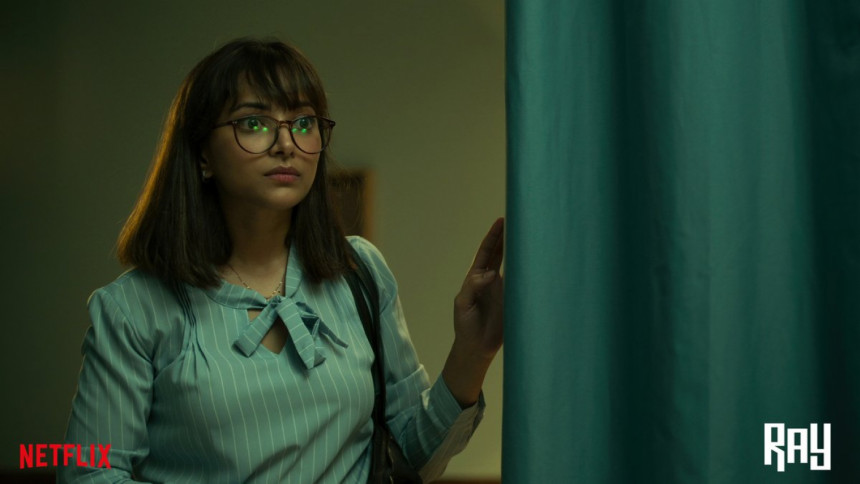 The actors, Shweta Basu Prasad and Anindita Bose ("Forget Me Not''), Bidita Bag ("Bahrupia"), and Radhika Madan ("Spotlight") are all brilliant in their portrayals of these roles, and are among the series' better features.
For someone looking to revisit Satyajit Ray's stories through this series, Ray may not be the most ideal place to start. The lack of similarity might even infuriate some passionate fans of Ray's works. However, anyone looking for interesting and complex stories that explore the human mind's complicated emotions and feelings, are in for a good deal.
Perhaps the real intention behind Ray was to take his stories and transform them for a contemporary audience, exploring modern idiosyncrasies above all else. If not associated with Satyajit Ray's name, the series would most likely have garnered a better score for its entertainment value alone.
Rasheek Tabassum Mondira is a night owl who likes binge-watching, reading, and writing. Write to her at rasheektmondira@gmail.com.
For more book-related news and views, follow Daily Star Books on Facebook, Instagram, Twitter, and LinkedIn.