Bangabandhu Lounge opened at Bangladesh Permanent Mission in UN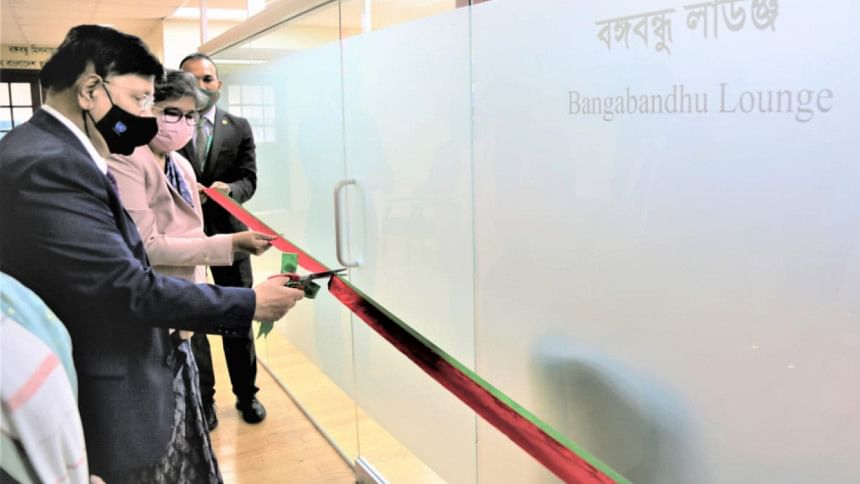 Foreign Minister AK Abdul Momen inaugurated the newly established Bangabandhu Lounge at the Bangladesh Permanent Mission to the UN in New York yesterday.

The lounge has been set up as part of the observance of Bangabandhu's birth centenary.

"The lounge houses a rich collection of books, photos, documentaries, and graphical display on the life and work of the Father of the Nation. It demonstrates Bangabandhu's trust and faith in multilateralism; particularly the UN," said Foreign Minister Momen while inaugurating the lounge.

At the inaugural event, Momen also expressed his interest to contribute to the lounge with more books and other materials.

The lounge was set up last year; however due to Covid-19 pandemic it couldn't be formally inaugurated.

"This lounge will to serve as a reminder of Bangabandhu's legacy and vision for world peace," said Ambassador Rabab Fatima.

This lounge will also be used as a venue for high level meetings of visiting dignitaries from the UN and the member states -- offering an opportunity for them to learn about Bangabandhu's ideals and visions.

Under the leadership of Bangabandhu, Bangladesh joined the UN in 1974 and since then it is playing an outstanding role in multilateral system. Currently Bangladesh is serving as the Vice-President of the UNDP/UNFPA/UNOPS Executive Board.

This year, it has also been elected as a vice-president of the 76th session of the United Nations General Assembly.