Seamers a little jaded in last session: Walsh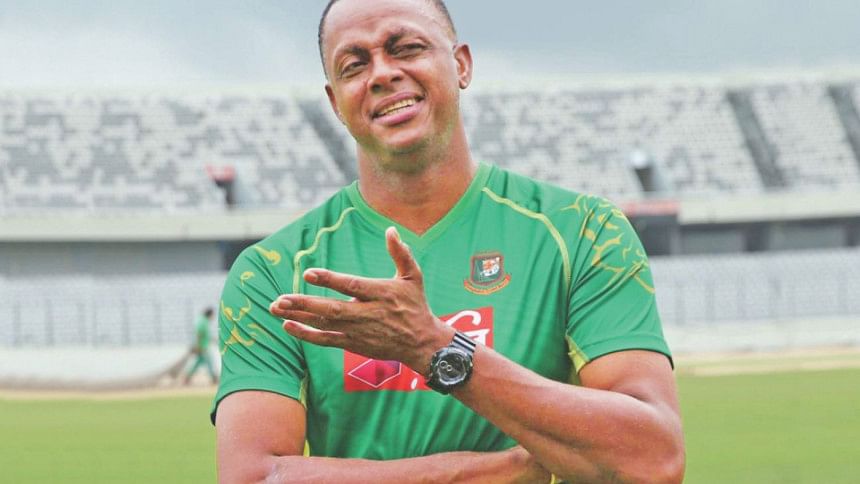 While most of the players are eager to look at the looming 100th Test as just another match, incidentally one that they have to win to level the two-match series, Bangladesh's fast bowling coach Courtney Walsh was hoping that the sense of occasion brings out the best in the Tigers when they square off against Sri Lanka at the P Sara Oval in Colombo on Wednesday.
"I am hoping on the special occasion of the 100th Test, pride alone will kick in and the boys will do everything that they can to try to win this Test match," said Walsh, a West Indian fast-bowling legend and veteran of 132 Tests, during team practice at the P Sara Oval yesterday morning.
In the first Test Bangladesh played three pacers – Mustafizur Rahman, Subashis Roy and Taskin Ahmed – and on the first half of the first day the trio bowled well to tie the Lankans back, before a collective collapse in the last session surrendered the initiative. Walsh identified the pacers' bowling late in the day as an area of concern.
"That is something we are looking at, and I think that they can do it. They are not fully experienced on how to come back in the third spell. You get it by playing a lot. It is something that we have been working on, how to bowl that last spell," Walsh said. "Our seamers have been a little bit jaded in the last session of most of the Tests we've played. It is obviously an area of concern and it is something that we are looking to fix."
On Sunday, head coach Chandika Hathurusingha had pointed out that the bowling attack's inexperience is a disadvantage as far as taking 20 wickets to win a match is concerned. Walsh seemed to agree.
"I think there has been improvement but obviously the inexperience is showing up a little bit. They are a work-in-progress. They are working pretty hard and I think it will only get better."
Unlike the head coach, who said that too much was being expected of a team still finding its feet in Test cricket, Walsh did not think expectations were unjustified. 
"It is not unjustified because they are going to learn at some point in time. When you play Test cricket, you have to take 20 wickets. They will get better the more they play, but the other factor is that they are playing on different tracks. By the time they realised what happened in New Zealand and India, we had left those places. And now we are here. It is about adapting quickly. So far I think we are getting reasonable batting tracks. With more experience, you will only get better.
"You need a bit of patience in these conditions, and consistency. I think they have a bit of variety to try," said Walsh when asked whether the pacemen lack variety. "Mustafizur [Rahman] is someone special, but all the bowlers have skill. But they must know when to keep things quiet and when to attack."
The man who once held the world record for most Test wickets then circled back to the occasion of Bangladesh's 100th Test, an event he seemed to be relishing.
"We just need to get a positive result in this Test. I cannot emphasise how special this is for Bangladesh. We would love to hear the Bangladesh song in this Test match. I know the guys are pumped up for it, and once we perform as we can, we can give any team problems. Hopefully this is where we turn things around."