Dhaka Premier Division Cricket League
Ashraful stars in rare Kalabagan win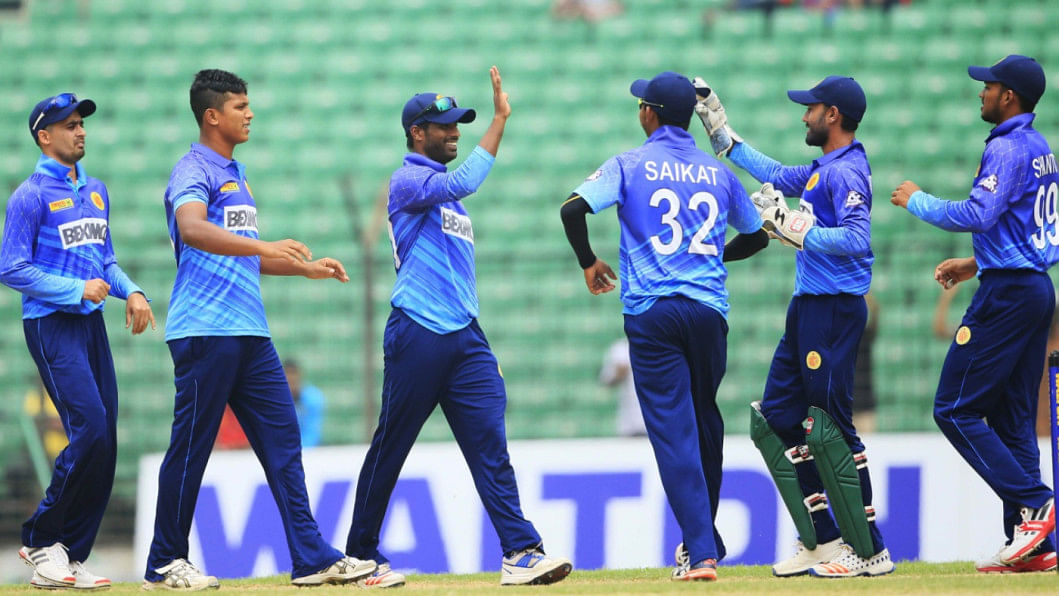 Gazi Group Cricketers won by seven wickets against Khelaghar during the Dhaka Premier Division Cricket League match at Khan Shaheb Osman Ali Stadium, Fatullah today.
Anamul Haque's fine knock of 67 from 77 deliveries eased the way for Gazi Group to chase down the 176-run target. Anamul struck four fours and three sixes.
Suhrawadi Shuvo scored an 83-ball 58 to see off the run chase. Parvez Rasool chipped in with a run-a-ball 42.
Earlier, Khelaghar chose to bat first and only managed to post a total of 175 for the loss of seven wickets from 43 overs in a rain-interrupted game reduced to 43 overs a side.
It was rather slow going for Khelaghar, who were meandering at 78 for three after 24 overs. The fourth-wicket stand of 76 in 15.1 overs helped Khelaghar reach 175 in the end. Amit Majumdar scored 49 from 55 balls before he was run out. Robiul Islam Robi contributed with 41 at the top.
Gazi Group's Abu Haider's four for 35 in nine overs pegged back Khelaghar today. Parvev Rasool took two wickets for 34 runs.
Gazi Group reached the target of 176 with seven wickets and 41 balls to spare. 
Scores in Brief
Khelaghar Samaj Kallyan Samity: 175/5 in 43.0 overs

Gazi Group Cricketers: 176/3 in 36.1 overs

(Anamul 67, Haider 4-35)

Result: Gazi Group Cricketers won by 7 wickets
Prime Bank Cricket Club v Brothers Union

Prime Bank Cricket Club clinched an exciting finale against Brothers union by one run at BKSP-3 in another rain-reduced 43-over game.
Manvinder Bisla's blistering 57 off 47 balls was not enough as Brothers Union failed to chase the target successfully. 
Brothers Union needed two runs for victory when Nihaduzzaman was caught by Taibur Rahman off the bowling of Ariful Haque in the last ball of the innings.
Earlier in the day, Prime bank opted to bat first having won the toss and put on a challenging score of 249 for the loss of six wickets from 43 overs.
Prime Bank enjoyed a first-wicket stand of 70 in 14.2 overs but were in a spot of bother at 88  for three after 19 overs. The fourth-wicket partnership of 112 in 17.2 overs steadied the ship and allowed Prime Bank to reach 249 for six after 43 overs.
Abhimanyu Easrawan made 70 from 68 balls. Zakir Hasan contributed with 52 from 50.
For Brothers Union, Nihaduzzaman took three for 49 in nine overs while Alok Kapali captured two for 33.
Scores in Brief
Prime Bank Cricket Club: 249/6 in 43.0 overs

Brothers Union: 248/8 in 43.0 overs

(Easwaran 70, Nihaduzzaman 3-49)

Result: Prime Bank Cricket Club won by 1 run
Kalabagan Krira Chakra v Sheikh Jamal Dhanmondi Club

A brilliant knock from Mohammed Ashraful gave Kalabagan Krira Chakra a seven-wicket victory against Shekh Jamal Dhanmondi Club at BKSP-4.
Ashraful struck six fours and two sixes on his way to a match-winning unbeaten knock of 81 from 87 deliveries.
Kalabagan started brightly with the openers putting up a 62-run partnership off 81 balls. Mehrab Hossain Jnr also chipped in with an important 43 from 54 balls. Ashraful and Mehrab put on a fourth-wicket partnership of 111 off 120 balls to seal the victory.
Earlier, Sheikh Jamal Dhanmondi Club won the toss and reached 213 for nine in 45 overs. 
Sheikh Jamal were reeling at six for 85 after 22 overs. The seventh-wicket stand of 51 in 11.3 overs followed by the 67-run partnership in 10.3 overs allowed Sheikh Jamal to cross 200 in the end.
Skipper Rajin Saleh was the highest scorer for his team with 45 from 71 balls. Sohag Gazi chipped in with 39 late in the innings while Elias Sunny was unbeaten on 36.
For Kalabagan, Abul Hasan captured three for 50 in nine overs. Saad Nasim and Muktar Ali took two wickets each.
Scores in Brief
Sheikh Jamal Dhanmondi Club: 213/9 in 45.0 overs

Kalabagan Krira Chakra: 214/3 in 43.3 overs

(Ashraful 81*, Saleh 45, Abul 3-50)

Result: Kalabagan Krira Chakra won by 7 wickets