Won't allow industries on farmland, says PM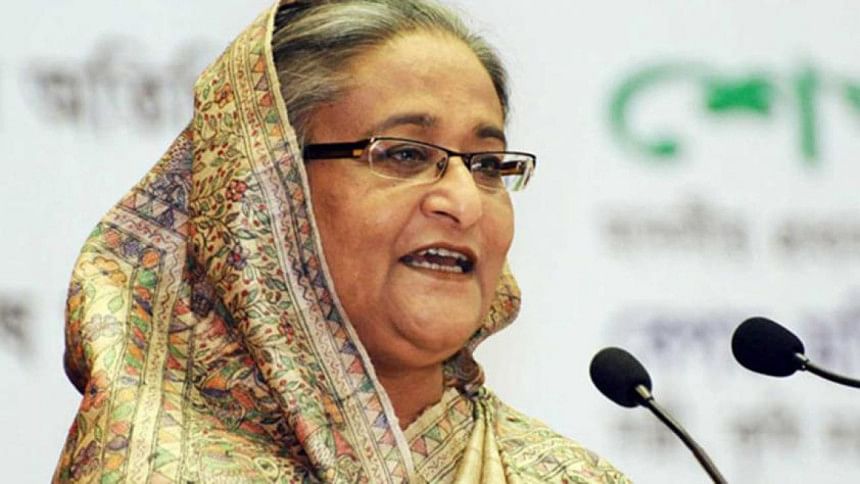 Prime Minister Sheikh Hasina yesterday said her government will not allow anyone to set up industries indiscriminately destroying farmlands and forests.
"Indiscriminate setting up of industries destroying our cultivable land and forests won't be allowed anymore. Industries could be set up at 100 special economic zones which are being built across the country by the government," she told a discussion at Krishibid Institution, Bangladesh in the city.
The programme was organised to mark the 44th founding anniversary of Bangladesh Krishak League.
The PM said the country will surely go for industrialisation, but not at the cost of agriculture. "Where the raw materials for the industries would come from? What the industries would produce if the arable land is destroyed like the way it is being damaged now?" she questioned.
Terming Bangladesh an agriculture-dependent country, she said the government is always ready to provide all kinds of assistance to the farmers.
Hasina, also the chief of the ruling Awami League, directed the Krishak League leaders to further strengthen the organisation and visit villages across the country to project the government's stance on supporting farmers.
She advised the students of schools, colleges and universities to go to agriculture fields and learn the things practically. She suggested the authorities concerned to set aside some marks for this part of student activity.
The PM recalled the tragic killing of 18 farmers demanding agricultural inputs as well as 17 workers demanding their due wages during the tenure of a previous BNP-led government.
The AL governments, she said, over the last seven years have taken various pragmatic steps to ensure development of farmers and the agriculture sector by providing fertilisers, seeds and machineries at subsidised prices.
Bangladesh is now in a remarkable position in terms production of fish, vegetable and other agricultural products, Hasina added.
She said the country will celebrate the birth centenary of the Father of the Nation Bangabandhu Sheikh Mujibur Rahman in 2020 and the Golden Jubilee of the country's independence in 2021 as a middle-income nation.
Agriculture Minister Matia Chowdhury, AL General Secretary and Public Administration Minister Syed Ashraful Islam, AL Joint General Secretary Mahbubul Alam Hanif and Krishak League General Secretary Khandaker Shamshul Huq Reza also spoke at the programme.