Helicopters for Hire
When money beats Eid rush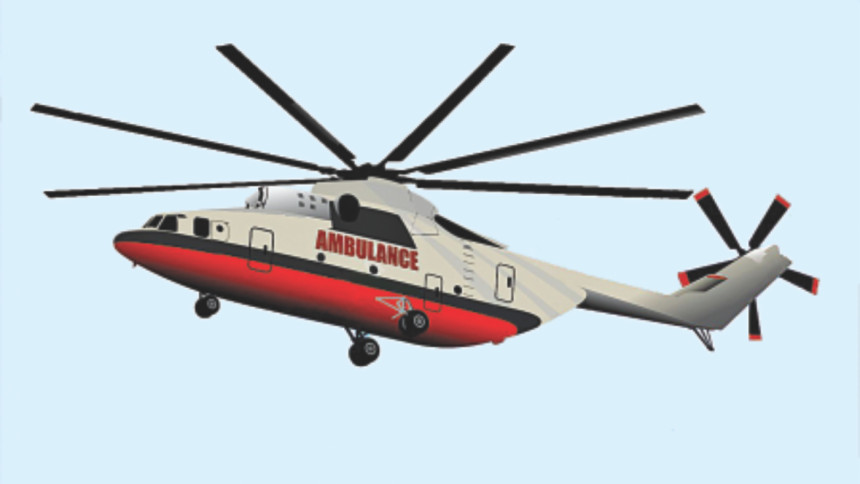 If you can afford to pay a higher cost, beat the crowd and enjoy a hassle free journey this Eid, by hiring a helicopter!
Helicopter services are gaining popularity among the affluent people of the society with demand increasing right before the Eid-ul-Fitr holidays.
Every year, tens of thousands of people leave the capital for their village homes to celebrate Eid with their near and dear ones. But the journey home by buses, trains and launches often turns into an ardous task largely due to traffic jams, overloading and delays in the schedule. On top of these, even ticket prices are costlier during the holiday period.
Against this backdrop, many well-to-do individuals prefer a journey by helicopters, many of the helicopter operators said. There are some 10 companies now providing the service with around 25 helicopters. The charges vary depending on a number of factors. For instance, the cost per hour for a journey in a six-seater helicopter is around Tk 1 lakh, they said.
Farhad Alam, chief of Protocol of R&R Aviation, the largest helicopter service provider, said they were getting "good response" ahead of the Eid festival.
"We already have several bookings and still have scope for more," Farhad told The Daily Star on Monday.
The company, which started its venture in 2012, has six helicopters (three, four, six and seven seaters) and passengers can buy service per hour paying Tk 71,300 to 180,000 depending on individual carriers. Foreign buyers, businessmen and VIPs usually buy their services, Farhad said.
He, however, expressed apprehension that the service may be disrupted due to bad weather. 
Tanjeeb Mazumder, the flight operations manager of BRB Air Limited, said their flights for June 22 to 25 have been booked from one week ago.
He said they charge Tk 1 lakh per hour for their six-seater helicopter and passengers have to pay for roundtrips. 
He said demand for helicopter service is increasing day by day. While their monthly average service hours were 25 to 30 in last year, it is 40 to 45 hours now, he said.
Sheikh Asad, flight operations manager of Square Air Limited, said the demand for helicopter service increases before Eid every year and they are seeing the same increasing demand patterns this year too.
He said foreigners, businessmen and political leaders are their main clients.
Square has one six-seater and one four-seater helicopter and they charge Tk 1 lakh (Tk 90,000 for patient) per hour and Tk 65, 000 per hour respectively, he said.
Monjur Alam, accounts and customer care officer of Meghna Aviation Limited said they still have some flights ahead of Eid.
Ahsanul Kabir, general manager, operation and finance, of Kuliarchar Aviation Limited informed that they are yet to get a good response mainly "due to bad weather."
But, their demand will increase if the road transport sees huge tailbacks, he hoped.
Ahsanul said service providers have to inform the Civil Aviation Authority Bangladesh three days before a flight as helicopters have no definite route.
But, for emergency cases including medical purposes, the permission is given in one or two hours, he said.
Although commercial operations of helicopters started around one and a half decade ago with South Asian Airlines Ltd (SAAL), new companies have been exploring the untapped business since 2010.
Privately run helicopters emerged as a means of commercial travel in the last few years with businessmen, corporate executives, foreign buyers and donors opting for chartered chopper services to visit places outside the capital to avoid huge traffic congestion and the time consuming road transports, operators said.
Bangla International Airlines Limited, Impress Aviation Limited, Partex Aviation Ltd and Bashundhara Airways also have helicopter services, they said.