Huge rush of passengers at Paturia Ghat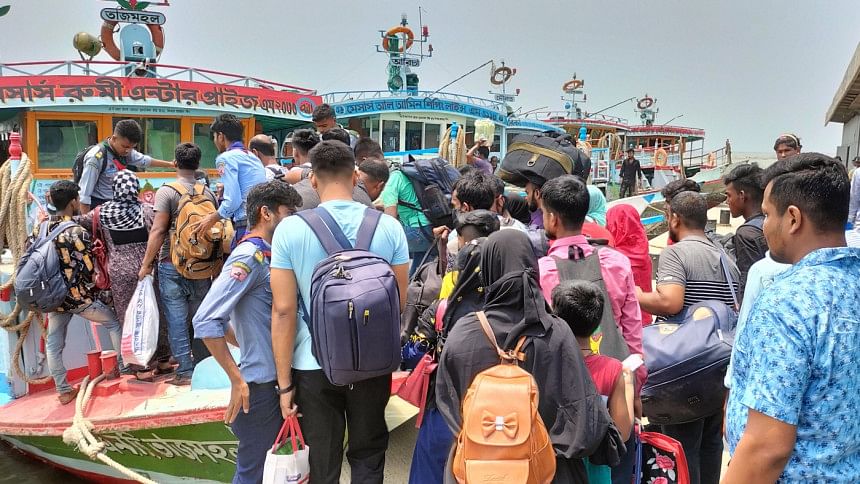 Paturia ghat in Manikganj is witnessing a huge crowd today as thousands of people leaving Dhaka through launches and ferries to celebrate Eid-ul-Fitr with their loved ones.
Passengers of private cars have been waiting for the ferries for two to three hours as there is a long line of light  vehicles in the ghat area, reports our Manikganj correspondent.
As 21 ferries are providing the services, ferry operations on the Paturia-Daulatdia route are normal, said Shah Md, deputy general manager (commerce) of Aricha regional office Bangladesh Inland Water Transport Corporation (BIWTC) Khaled Newaz.
"On an average, 12,000 vehicles are being crossed daily for the last three days.... But there is no chaos anywhere. Everyone is being able to get on the ferry smoothly. But they have to wait inside the ghat for some times due to  increased pressure of passengers and vehicles," he said.
Meanwhile, passengers said there was no traffic congestion on the Dhaka-Aricha highway.
Manikganj Superintendent of Police Azad Hossain Khan said that police, Ansar and Rab members are working to maintain the discipline of roads, highways and ferry ghats.
Deputy Commissioner Abdul Latif said executive magistrates are on the ground to prevent the overcharging of buses and overloading of passengers in the launch. They are working round the clock to deal with any untoward situation, he said.