Teachers stage sit-in, observe 2-hour strike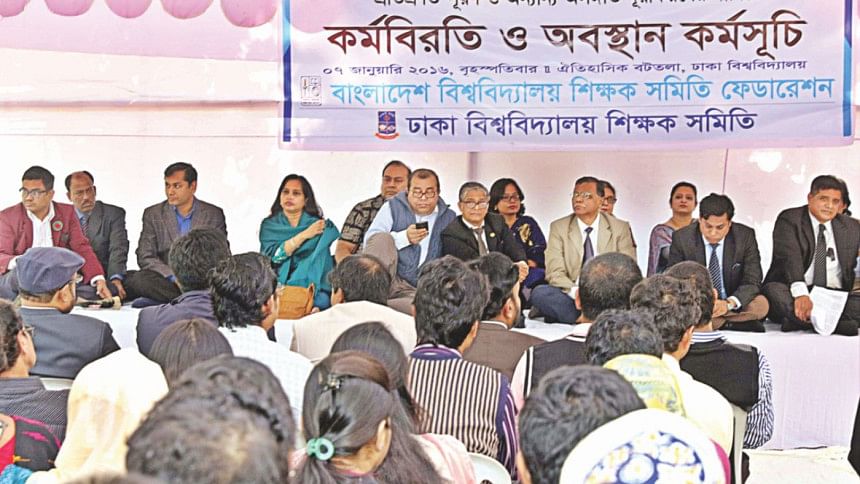 Public university teachers yesterday observed two-hour work abstention, demanding the removal of "discriminatory provisions" from the eighth national pay scale.
Under the banner of the Federation of Bangladesh University Teachers' Association, they demanded that the government issue a gazette notification, removing those provisions by January 10.
They will otherwise go on an indefinite work abstention at all public universities, except National University, from the following day.
As part of a prescheduled programme, Dhaka University teachers staged a sit-in at 11:00am in front of Aparajeyo Bangla. The demonstration continued for two hours with participation of some 200 teachers.
While bringing to a halt all academic activities of the public universities across the country, teachers threatened to declare stern programmes unless the government restores selection grade and time scale in the eighth pay scale.
They have been waging a peaceful movement for nine months but have not held any programme hampering students' education, said Maksud Kamal, general secretary of the teachers' association, addressing the rally at DU in the capital.
"But as we have been pushed to the wall, we have no choice," he said, adding they would go for non-stop work abstention if their demands were not met by January 11.
If the regular academic activities at universities are hampered, bureaucrats will be responsible since they have been conspiring against teachers, Maksud said.
"We are not demonstrating for salaries but for our dignity that is undermined in the new pay scale," he added.
At the programme, the association leaders alleged that a section of bureaucrats was trying to create confusion about the status, age limit and job nature of public university teachers.
Referring to a meeting with Finance Minister AMA Muhith on December 6, they said the minister had assured them of retaining the selection grade and time scale in the pay scale.
Besides, the minister had said all facilities ensured in the seventh pay scale would be retained in the new one, but he did not keep his words, the protesters said.
Public university teachers have been waging a movement, demanding a review of the pay structure, retention of the selection grade and time scale, and that a certain percentage of the university professors should enjoy the status of senior secretaries.
Teachers of all 37 public universities under the association have been protesting against the new pay scale since May, saying it downgrades their status.
Since then, they advocated a four-point charter of demands, including formation of a commission to prepare an independent pay scale for them.