Tea workers in fear of attack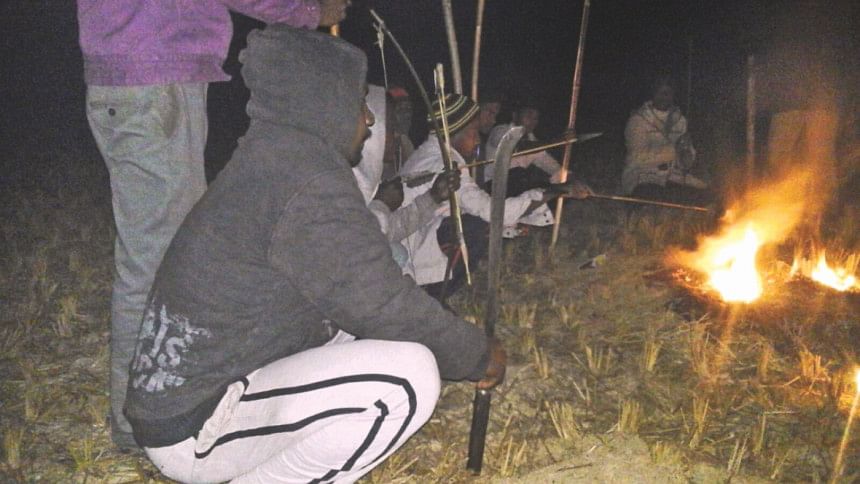 Around five thousand families of agitating tea garden workers in Chandpur of Habiganj are passing their days in fear of attack by Chunarughat upazila chairman men who allegedly roughed up three protesters on Saturday.
The labourers are against a government move to set up a Special Economic Zone (SEZ) in the area while locals say the chairman is supporting it.
Divided into small groups and equipped with sharp weapons and sticks, the males of the families have started to guard their houses and adjacent paddy fields at night to counter any possible attack.
Local students have also stopped going to their school three kilometres away.
The police are patrolling the area to avert any untoward situation.
On Saturday, the labourers chased away Chunarughat Upazila Chairman Abu Taher and around 200 of his men who had gathered on the proposed SEZ site in Chandpur to showoff their strength in favour of the government plan.
On their way, the chairman's men had beaten up three villagers, including two students involved in the ongoing demonstration, alleged tea garden workers who had blocked a nearby road for three hours in protest that day.
Avirat Bakti, convener of Chandpur Bhumi Rokhha Committee (a committee to save the land of the tea garden workers) yesterday said fear of further "attack" has gripped around five thousand families of tea garden workers in the area following the incident that day.
Swapon Santal, joint convenor of the committee, alleged that the upazila chairman is out to evict the workers, who have been cultivating rice in the arable land to supplement their meagre incomes for years, from Chandpur.
Faruq Mahmud Chowdhury, president of Sylhet unit Sushasoner Jonno Nagorik, a civil society platform, said, "This is a conspiracy against the tea garden workers who worked hard on the infertile land for over a century to turn it into an arable one."
Talking to this correspondent yesterday, Prof Mesbah Kamal of Dhaka University's History Department demanded punishment for those behind Saturday's assault on three villagers in Chandpur.
He also claimed the land belongs to the workers as per the International Labour Organization Convention.
Contacted, Abu Taher, the upazila chairman, refuted all the allegations against him.
Amulya Kumar Chowdhury, officer-in-charge of Chunarughat Police Station, said additional members of law enforcement agencies were deployed, and the police were patrolling the area to avoid any unwanted situation.
He also said they were looking into Saturday's incident.