Cancel move by Jan 25
Tea garden workers to govt; threaten indefinite strike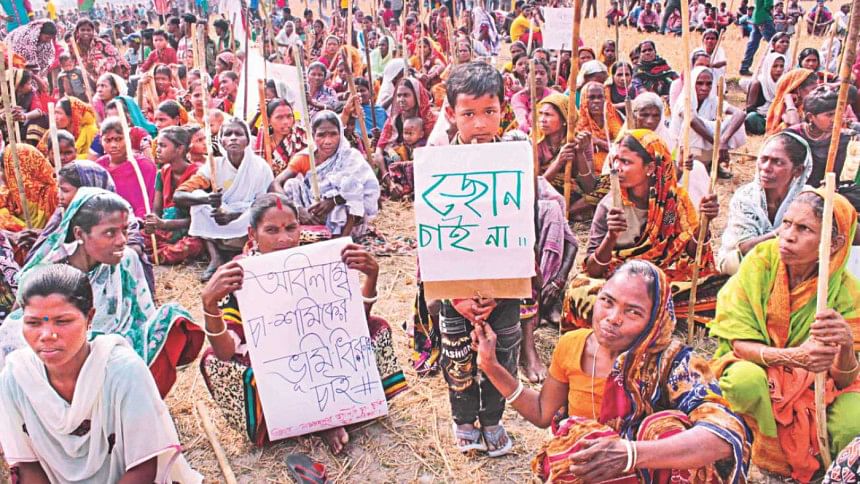 Tea garden workers in Habiganj yesterday issued a 16-day ultimatum to the government to cancel the move towards setting up a special economic zone (SEZ) in Chunarughat upazila.
Thousands of workers from all the 23 tea gardens in the district attended a mass rally yesterday at Chandpur Tea Garden to press home their demand. They threatened if their demand was not met by January 25, they would go on an indefinite strike, joining forces with workers from all the 164 tea gardens in the country.
They said establishment of an SEZ in the area would further impoverish them as it would take the arable land away from them. They also expressed their fear that they would not be provided any compensation if the SEZ was established.
Several politicians and rights activists from Dhaka joined the rally to express their solidarity with protesters.
Tea garden workers' family members, who do not have any jobs, depend on growing crops, especially rice, on the arable land within the estates.
Government officials, however, are in the final phase of acquiring arable land at several tea estates including Chandpur and Ramgonga estates, according to sources.
The government has decided to set up five SEZs in the country, including one in Habiganj, to attract both foreign and domestic investors.
For 17 consecutive days till last Friday, tea garden workers abstained from work for two hours each day, protesting the government move. 
Referring to Prime Minister Sheikh Hasina's visit to Sylhet on January 21, Nripen Paul, member secretary of Chandpur Bhumi Rakhkha Committee, said they hoped the premier would announce the cancellation of the government plan.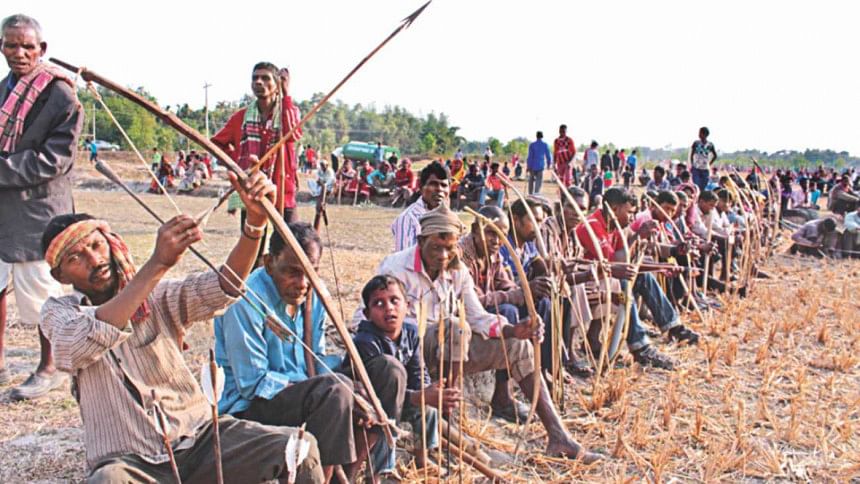 He said if the prime minister did not make such an announcement, they would go on an indefinite work stopagge and blockade the regional highways from January 25.
Lawmaker Fazle Hossain Badsha, convener of the parliamentary caucus on Indigenous Peoples, said the government authorities should respect the rights of the tea garden workers.
Badsha, also general secretary of Bangladesh Workers Party, an ally of ruling Awami League-led 14-party coalition, said he would raise the issue at the parliament.
Prof Anu Mohammad, member secretary of National Committee to Protect Oil, Gas, Mineral Resources, Power, and Ports, said they were not against the SEZs but they were against setting up those in certain areas, driving out tea garden workers from the land.
Veteran politician Pankaj Bhattacharjee said the government's move to set up an economic zone in this area is just another case of discrimination against tea garden workers.
"Tea garden workers are Bangladeshi citizens and they have voting rights, yet they are among the most deprived people in the country," he added.
CPB General Secretary Syed Abu Jafar Ahmed, Dhaka University History Professor Mesbah Kamal, Bangladesh Chhatra Union President Lucky Akter, Jatiya Adivasi Parishad Rabindranath Soren, among others, spoke at the programme.
Tea garden workers are mostly landless Dalit Hindus who had come to these parts from India when the British set up the first tea estates in the 1850s.