Tea garden workers chase pro-SEZ men
Block road for 3 hours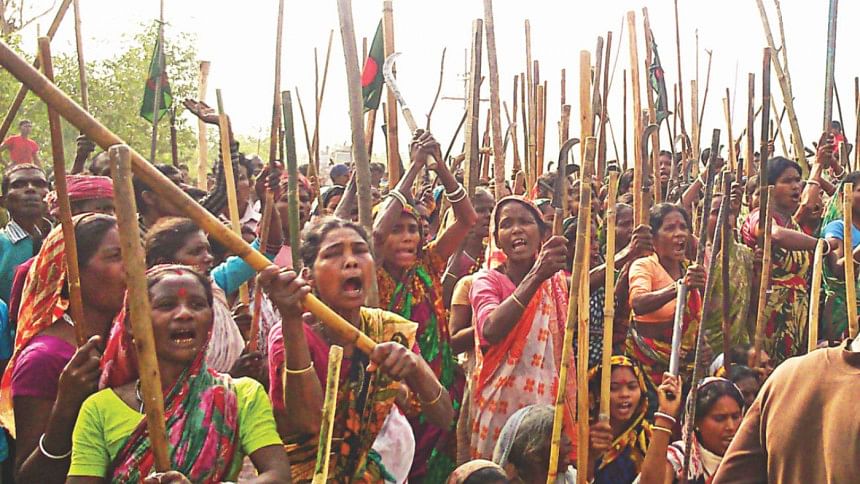 Agitating tea garden workers yesterday chased away Chunarughat upazila chairman's men who had gathered on the proposed Special Economic Zone (SEZ) site in Chandpur of Habiganj to showcase their strength in favour of the government plan.
Later, the labourers blocked the Chunarughat-Madhabpur road for three hours protesting the move to set up the economic zone.
The government has decided to develop five SEZs on 512 acres of land across the country under its Economic Zones Development Project to attract foreign and domestic investments. One of the SEZs will be in Chandpur area.
Chunarughat Upazila Chairman Abu Taher, who have been supporting the zone, and his men showed up at the proposed site around 1:30pm, said witnesses.
On their way, they had beaten up two college students -- Santal youth Sanjay Kumar and Lokkhi Prasad Rudro Paul -- in Amtala area "for no reason", said Swapon Santal, joint convenor of Chandpur Bhumi Rokhha Committee (a committee to save the land of the tea garden workers).
He alleged that they had also roughed a 50-year-old patient, Satto Bakti, up after dragging him out of an ambulance.
All the victims were involved in the ongoing demonstration against the establishment of the SEZ, Swapon claimed.
As the news spread, hundreds of tea garden workers wielding sticks, bows and arrows rushed to Chandpur area and chased the chairman's men away.  
Later on, the protesters blocked the Chunarughat-Madhabpur road for three hours from 2:00pm, said Nripen Paul, member secretary of the committee.
The upazila chairman could not be reached for comments despite repeated attempts over the phone.
The workers believe the SEZ will devour their land and they fear the government will not provide any compensation. They have also not received any commitment from the government yet.
Legally, they do not have a claim on the land because it belongs to the tea estate, which leased the land from the government. They, whereas, are highly dependent on the land they have been using for over a hundred years.
Protesting the move to set up the SEZ and in order to negotiate a compensation, local tea garden workers have been agitating since last year. Many individuals and organisation have joined their cause recently.