Strike to go on until cases withdrawn
Threaten Ctg doctors; patients suffer for third day at private clinics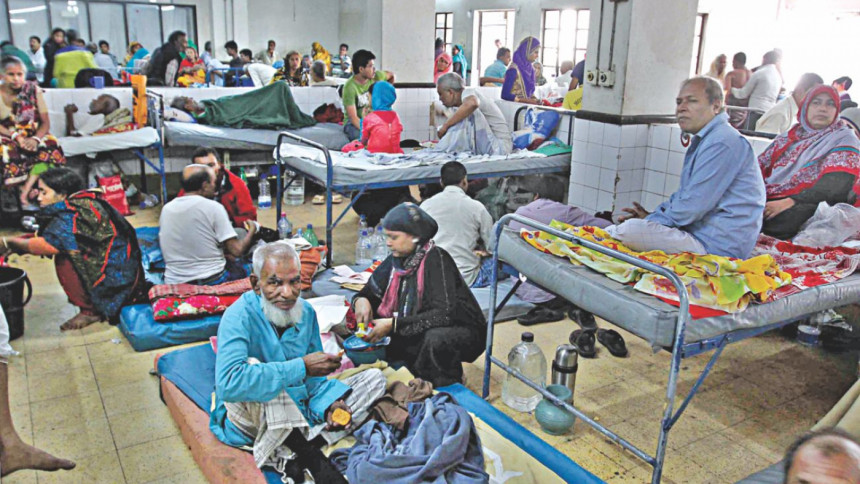 Physicians demonstrating in Chittagong for the withdrawal of cases filed against their colleagues now demand that a panel comprising specialists be formed to investigate the allegations of negligence brought against the accused doctors. 
On the third day yesterday of their work stoppage at private clinics, chambers and diagnostic centres, Bangladesh Medical Association, Chittagong, held a press conference at Chittagong Press Club. Protesters there reiterated that they would continue the strike until the cases filed on Tuesday are withdrawn.
However, when asked if doctors should remain above the law, they said cases could be filed only after a team of experts found the allegations to be true.
Replying to a question over patients' sufferings due to the protest, Chittagong BMA President Mujibul Haque Khan said doctors were giving healthcare services at government and private medical college hospitals round the clock.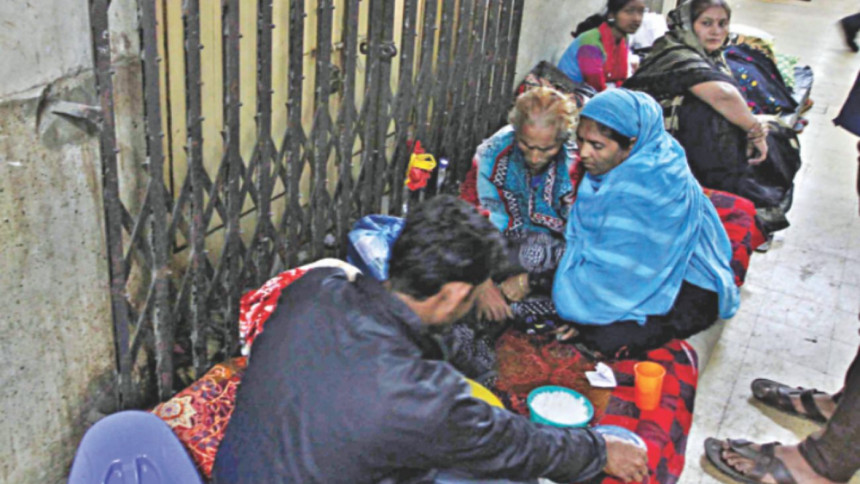 They only stopped working at private clinics and diagnostic centres.
"Even at the private clinics, ICU and CCU facilities have remained open," Mujibul said.
Earlier in the day, doctors formed human chains in front of hospitals, including Chittagong Medical College Hospital (CMCH) and the University of Science and Technology Chittagong.
Meanwhile, many doctors expressed different opinions on the movement spearheaded by BMA leaders.
Some, preferring anonymity,             told The Daily Star that they did             not support sufferings of thousands of patients brought on by the protest.
 "I cannot say that I am hundred percent right in all the cases when I treated patients," said an assistant professor of CMCH.
"I think, as per the law of the land, anyone can go to court for remedy if he thinks he was affected by someone," he added.
On January 10, Meherun Nesa, 22, niece of the expatriate welfare minister, died at a private clinic in Katalganj following a caesarean operation.
Her family filed a case against Shamima Siddiqua Rosy and Mahbubul Alam, of the gynaecology department at CMCH, saying their negligence in treatment caused the death. 
According to the other case, Assistant Registrar Rana Chowdhury of CMCH mistakenly left a bandage inside the body of Nur Absar during a recent surgery.
Like in the previous two days, patients were refused tests at diagnostic centres, and appointments of consultants and admission at private clinics and chambers yesterday.
Laila Haque went to Chevron Clinical Laboratory in the morning for blood and urine tests but found the main entrance closed.
"I came from Lohagara upazila …. I have to go back as I have no place  to stay in the city. Moreover, no               one can say when the strike will            be withdrawn," she told The Daily Star.
Subhash Lala came from Fatikchhari upazila to the Centre for Specialised Care and Research for an appointment with a medicine specialist but the receptionist told him that he would not be able to see any doctor there.
"I have been suffering from gastrointestinal problem and now it has become complicated," he said, adding that he had to see a consultant urgently.