Speed over safety
Pabna-Dhaka passengers favour risky river journey to avoid highway jams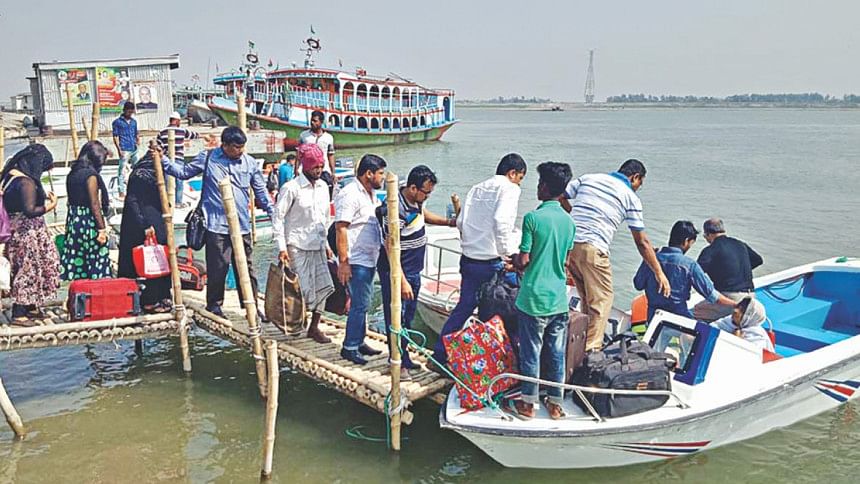 To visit his family in Dhaka each week, retired public servant Mirza Azad from Kacharipara in Pabna town has a choice: he can take a bus and face the nightmarish tailbacks on the highway through Tangail or he can travel by boat. The river journey is considerably faster; but with safety most often overlooked, it's also a journey of risk.
"The road trip takes up to ten hours these days," Mirza says. "By boat I can be in Dhaka within half that time. So I usually go by boat despite safety concerns."
Since early this year, two transport companies have been offering passengers the faster river route. Launches of questionable seaworthiness and unauthorised speed boats leave from the Kazirhat Ferry Ghat, taking passengers to Aricha where buses take them on to Dhaka.
"Our river route is popular because passengers can reach Dhaka within five hours," says Sazzad Hossain, the counter manager of Pabna Express, one company that first trialled the new service on January 1, this year and now runs ten such services each day.
In response, competitor Shamoli Paribahan is using speedboats in place of launches, to save even more time. "A launch will take around 1.5 hours to reach Aricha," says Shamoli manager Rajib Kumar Sarkar. "A speedboat can reach Aricha within 25 minutes."
Daily around twelve launches and up to fifty speedboats ply the new route.
Assistant director of the Bangladesh Inland Water Transport Authority, Sazzadur Rahman told The Daily Star that while the river route to Aricha using launches is allowed, there is no authorisation for the use of speedboats. "Influential people run the speedboat business from Kazirhat," he says, "so we don't stop them."
Safety on both launches and speedboats is questionable. "Launches with capacity for around eighty passengers take more than a hundred people onboard," says Sabbir Rahman a Bangladesh Inland Water Transport Corporation official who works at the Kazirhat Ghat. "Speedboats are also regularly overloaded, with as many as twenty passengers in each one. Yet the authority does not take any action."
Although traffic jams on the stretch of highway through Tangail are particularly acute these days, Pabna's transport companies have been calling for a resumption of the former and relatively safer vehicular ferry service to Aricha for a long time. "We repeatedly asked for the ferry route to be reopened," says Baby Islam, former president of the Pabna Transport Owners' Association. "By road Dhaka is 270 kilometres from Pabna, but from Aricha it is only about 140 kilometres, so the river route will always be timesaving."
To date no initiative has been taken to restore the Kazirhat to Aricha ferry service. It leaves Pabna's Dhaka-bound passengers who choose the river route at the mercy of overcrowded launches and unregulated speedboats.