Sister Lucy to become Bangladesh citizen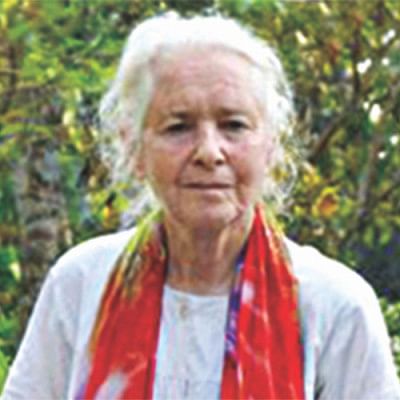 She served Bangladesh for 57 years -- throughout the Liberation War and thereafter -- and finally 87-year-old Sister Lucy Helen Francis Holt is to become a Bangladeshi.
For her praiseworthy contributions to the country, especially during 1971, the British-born would be getting the citizenship and the news was conveyed to her yesterday afternoon.
Deputy Commissioner Habibur Rahman of Barisal visited her and conveyed the inter-ministerial meeting's decision at the home ministry and congratulated her with flowers, sources said. 
Holt had said her last wish was to be a Bangladeshi citizen and to be buried in this land so that she could forever remain here.
Upon receiving the news of the citizenship, Holt was delighted and said she wants to thank Prime Minister Sheikh Hasina.
"We forwarded Lucy Holt's application to the home ministry to extend her visa without visa-fee and recommended that they grant her Bangladeshi citizenship," Habibur said. 
A letter was then sent from the home ministry, signed by Monira Haque, senior assistant secretary, security services division (immigration-II), to Holt on February 1 in response to her application sent on December 13, 2017, confirming the visa extension.
On February 8, Holt was granted 15 years 'M' category visa (multiple entry) without visa fee by Sheikh Hasina at a programme in Barisal's Bangabandhu Udyan.
Born in 1930, Holt shares her birthday with Bangladesh.
After coming to Bangladesh in 1960, she was a witness to the 1971 war and had treated wounded freedom fighters and civilians during that time while serving at Fatema Hospital in Jessore.
During the period, she wrote to her relatives, and had asked them to extend their support to the tortured people of then East Pakistan.
Even though she was requested to leave at the beginning of the war, she insisted on staying by the side of the "freedom-loving people". Holt was mesmerised by Bangladesh's natural beauty and its people, and has worked around the country since.
In the 57 years, she has also worked in Khulna, Naogaon, Dhaka, and Gopalganj. 
Sister Holt had joined Oxford Mission Church of Barisal at the age of 30 and spent most of her time here. She currently teaches English at the church for free.
Known in the mission and the locality for her compassion and love for people, Sister Holt said she wants to spend the rest of her days in Barisal.