Revolutionary leader Jasim Uddin dies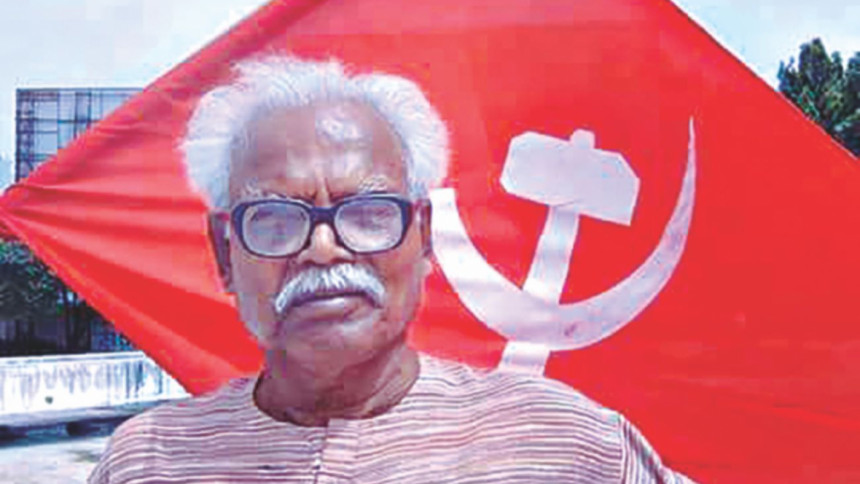 The stark contrast between the haves and have-nots has been there throughout human history.
Yet there are many young people - even in today's post-Soviet world - who dream of bridging the baffling gap between the prosperous and the impoverished.
But as they grow old and become 'wiser' (in a material sense) many ditch the idea of a revolution.
However, in our part of the world - a man, well into his late '90s, never lost his conviction and held tight to the belief in the very core of his heart that one day the proletariats will reign supreme, freeing the world from wealth and class-discrimination.  
Till his very last days, this man continued to engage with the youth in numerous forums, preaching against the vices of today's material world and extolling the virtues of a world of equality.
Jasim Uddin Mondal, an anti-British movement leader and a lifelong proponent of the socialist movement passed away at a city hospital yesterday morning due to old age complications, said Fazlur Rahman, one of Jasim's sons-in-law.
He was just three years shy of 100. He is survived by his five daughters. His wife and only son had passed earlier.
The veteran communist leader breathed his last around 6 am at Health and Hope Hospital at Panthapath, where he had been under treatment since September 28.
Born in 1920, Jasim Uddin took part in the anti-British movement, joined the Communist Party of India in 1940, saved hundreds of lives from the rage of communal riots in 1946, and fought in Bangladesh's liberation war in 1971.
Born to a railway staff in Kushtia's Mirpur, Jasim served the railway too as a coal engine worker. He joined the labour and communist movements very early in his life. He served for 17 long years in jails all around and led the life of a pariah, living in hiding for 18 years to escape from the wraths of tyrants.  
In his professional life, Jasim took up a railway job in Pabna and later settled down in Ishwardi. He took part in the Second World War and after the British rule, in post-partition (India-Pakistan) days, Jasim joined movements against the-then Pakistani misrule, losing his government job in early '50s because of his stance. 
Jasim once recalled that many people in his neighbourhood of a railway colony ridiculed him saying "there goes a man waving a red flag as if he'll make the world free of riches." But Jasim's parents silently supported what he was doing as a young comrade and he never let die that youthful dream of creating a world of 'have-nots.'
In independent Bangladesh, Jasim served the Communist Party of Bangladesh (CPB) in various capacities and always fought for the causes of the down trodden. Jasim, who had a very brief stint in formal education, was known for his passionate and fiery speeches and would always inspire the youth to join the communist revolution.
Paying rich tribute to the Communist Party of Bangladesh (CPB) President Mujahidul Islam Selim told The Daily Star that Jasim was a staunch revolutionary - from his young days till death.
"He was a strong believer of establishing socialism. He would always feel proud of his working class belonging and uprising. And never in his life, in his works and in his words – had he ever deviated an inch from idealism," recalled Selim fondly.
"Comrade Jasim has been a living legend for the revolutionaries in Bangladesh. His death is a great loss for politics in Bangladesh," Ranesh Maitra, a leading left-leaning activist told our Pabna correspondent yesterday. 
CPB sources said, Jasim's body was kept in a hospital mortuary overnight. The body will be taken to the party headquarters at 10 am today before being moved to Central Shahid Minar at 11 am. He will be  buried tomorow, most likely, in Pabna.
Different socio-political, students' and cultural organisations at home and abroad, expressed their shock at their comrade's death and paid rich tribute to the revolutionary.