Protests rage on over Tonu murder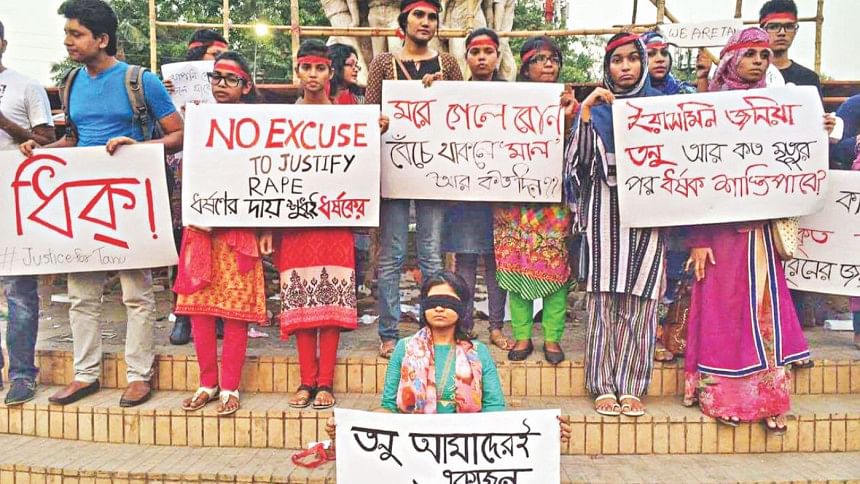 Protests and condemnation pour in as people from different walks of life mourn Sohagi Jahan Tonu, a college student who was murdered in Comilla on Sunday.
Human chains were formed, processions brought out and demonstrations staged in different places, including in the capital and Comilla, demanding justice for the 19-year-old girl.
"The rapist must be punished. This evil of rape has to be eliminated from the country, once and for all," said Debjani, who organised a human chain of a few dozen social and online activists at the TSC on Dhaka University campus yesterday.
"Every day, we get news of rapes from different corners of the country. But how many of the culprits are being tried or punished? … We all have to rally behind the demand that all rapists be punished," she told The Daily Star.
Different socio-cultural and political organisations, including Dhaka University Mime Action and Samajtantrik Chhatra Front, staged rallies on the university campus to protest the incident.
The body of Tonu, an undergraduate student of history, was recovered from Moinamoti area on Sunday night.
Her father Year Hossain, an office assistant of Comilla Cantonment Board, filed a murder case with Comilla Kotwali Model Police Station the next day.
Superintendent Shah Abid Hossain of Comilla police said that investigators believed Tonu had been killed following an attempted rape. They would confirm it after getting the autopsy report.
However, Tonu's friends and theater-group colleagues in Comilla claimed that she had been raped before being murdered.
They also accused the local administration of playing a "dubious role" regarding the incident.
Students from different educational institutions, including Tonu's fellows at Comilla Victoria College, and activists of different socio-cultural platforms blocked a road near Pubali Chattar in Comilla city, stopping traffic for around two hours.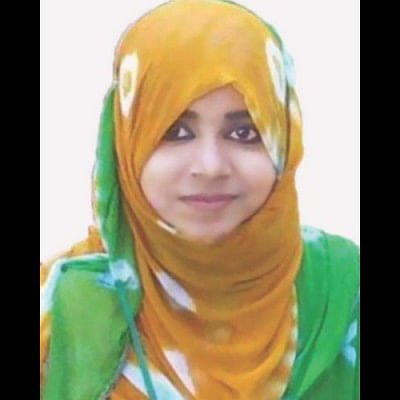 They also submitted a memorandum to the deputy commissioner and the SP of Comilla, demanding arrest of the culprits in 48 hours, reports our Comilla correspondent.
Demonstrators also held a candle-lit vigil in front of Pubali Bank in Comilla city yesterday evening.
Comilla Zilla Parishad administrator, local politicians, theatre personalities and police officials, among others, addressed a rally there in the morning.
Shahidul Haq, president of Adhuna Theatre in Comilla, said they would declare a tough agitation programme, if "the killers are not brought to book in 48 hours."
Demonstrations were also held in Mymensingh.