Tonu killing: March to PMO stopped, strike called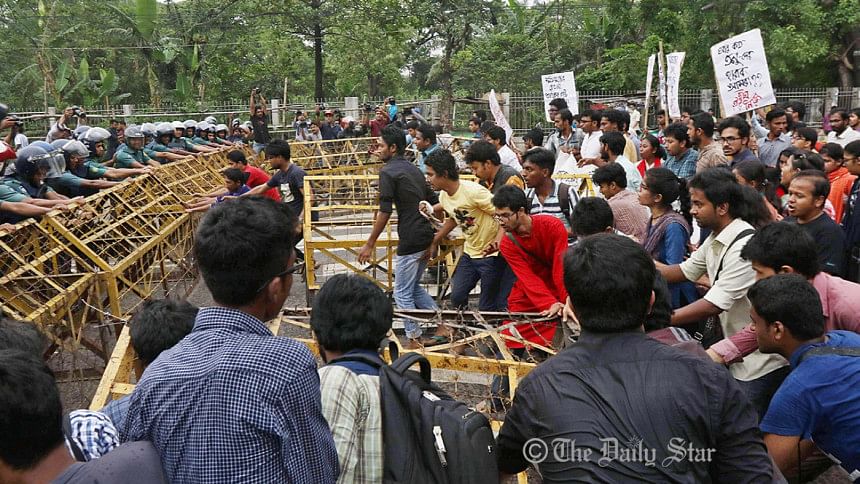 Bangladesh Students' Union today called a strike through all schools and colleges of the country in continued agitation demanding justice for the murder of Comilla college student Sohagi Jahan Tonu.
The call came after a pre-announced march to Prime Minister's Office of the students' body was stopped at Shahbagh intersection this morning without much hassle.
GM Gilani Shuvo, general secretary of Students' Union, claimed that two activists were injured during a scuffle with police in front of Dhaka University's Fine Arts Institute.
Tonu, 19-year-old, a second-year history student of Comilla Victoria College and a cultural activist, was found dead near her house inside Comilla Cantonment area on the night of March 20.
Since then, protests have been saprking spontaneously all over the country demanding justice for the killing. Students have been the lead of most of those protests.
As until now, general students of Dhaka University have called for a strike across all educational institutions on April 3 in protest. Students' Union said they will support in carrying out the strike.
STUDENTS RALLY AT PRESS CLUB
Dozens of school-going children covered their eyes in black clothes and stood in silent resilience near Jatiya Press Club this morning demanding justice for Tonu.
Under the banner of "No more deaths like Tonu…" around 70-80 students from different schools took part in the rally organized by Joyjatra Foundation.
Social media is still vibrant in condemnation of the incident and buzzing with #JusticeForTonu.