Army helping in probe into Tonu murder
Protests continue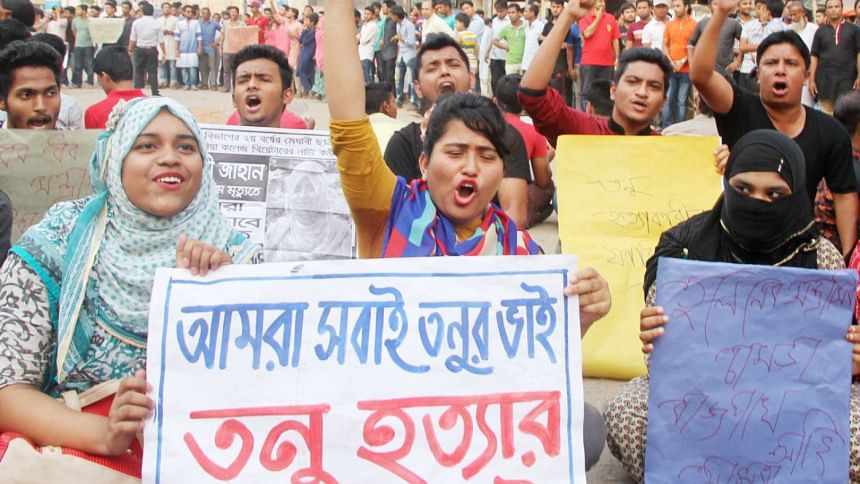 The army authorities are providing full support to the police in investigating the murder of Sohagi Jahan Tonu near Comilla Cantonment area, the Inter-service Public Relations (ISPR) said last night.
The unconscious body of the 19-year-old college student was found in the bordering area of the cantonment by her father around 11:00pm on Sunday and he informed the military police, it said in a press release.
Right away, Tonu was taken to the Combined Military Hospital there and the duty-doctor declared her dead.
"Efforts to dig out the reason behind the murder of Sohagi are already underway and the army authorities are extending all out support to the police/administration," said the release, signed by Md Reza-ul Karim Shammi, assistant director of the ISPR.
Initial reports, mostly based on social media, suggested that Tonu, a history student at Comilla Victoria College, was raped, but police are waiting for the autopsy findings to confirm that.
Superintendent Shah Abid Hossain of Comilla police said that investigators believed Tonu had been killed following an attempted rape.
Her father Yar Hossain, an office assistant of Comilla Cantonment Board, filed a murder case with Comilla Kotwali Model Police Station on Monday, but police have yet to arrest anyone.
Meanwhile, protests continued demanding the immediate arrest of and punishment to the perpetrator(s).
Academicians, politicians, students and activists of different socio-cultural platforms are leading the protest on the streets and in social media.
At a protest rally before the National Museum in the capital, a faction of Gonojagoron Mancha led by Imran H Sarker announced holding a road march from Dhaka to Comilla on March 27 to press home its demand for the arrest of her killer(s).
He called on the government to investigate the case properly.
Lucky Akter, president of Bangladesh Chhatra Union, alleged in the rally that there was an "evil attempt to hush up the incident as influential people are involved in it".
Later, demonstrators blocked the Shahbagh intersection for around an hour in the afternoon where several hundred people took part.
Students of three government colleges of Comilla blocked a road near Pubali Chattar around 4:30pm, demanding justice, reports our district correspondent.
Zohra Anis, former principal of Comilla Govt Girls College, said the government must ensure justice for the family of Tonu by punishing "the rapists and the killers".
Besides, Nari Sanghati, Bangladesh Nari Sangbadik Kendra, Bangladesh Online Activists Forum and some other organisations staged protests in the capital.