Tonu murder pre-planned: CID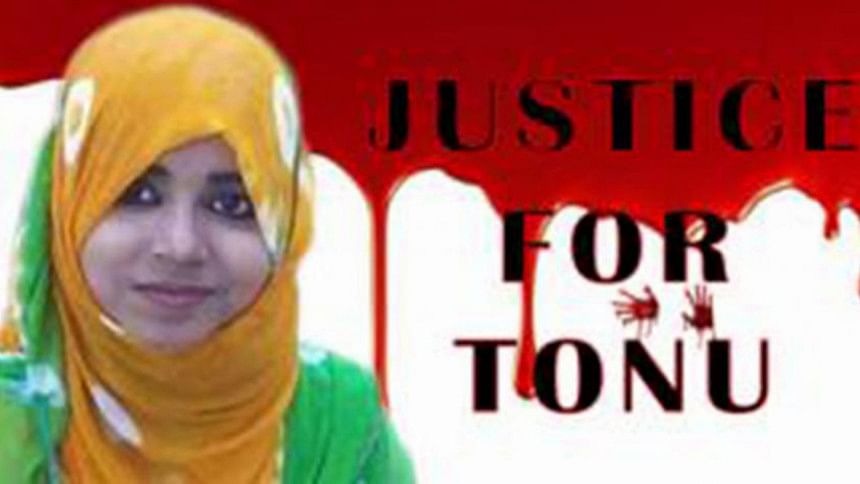 The Criminal Investigation Department (CID) today claimed that the murder of Victoria College girl Sohagi Jahan Tonu was a planned one.
"It was a pre-planned murder. Several persons might have been involved in the incident," special police super of Comilla CID Dr Nazmul Karim Khan told reporters at his office.
He said they have so far interrogated over 50 people in connection with the killing.
Earlier, a CID team again interrogated Comilla Medical College Hospital physician Sharmeen Sultana, who conducted the first autopsy on the body of Tonu, over the killing.
The team, led by Senior Police Super Abdul Kahhar Akond, took the Forensic Department doctor to the Comilla CID office in the evening and quizzed her, said CID sources.
Earlier in the day, the CID team visited the spot at Mynamati Cantonment where Tonu's body was found, and talked to her family members.
They also held a closed-door meeting at the guesthouse of the cantonment board in the afternoon. However, the outcome of the meeting was not disclosed to reporters.
On April 10, the CID interrogated two physicians of Comilla Medical College Hospital, including Dr Sharmeen Sultana, over the killing of the college girl.
On April 4, doctors at the Forensic Department of the hospital revealed that the autopsy did not find any sign of rape before Tonu's death.
Sohagi Jahan Tonu, 19, a second year history student of Comilla Victoria College and a member of Victoria College Theatre, was found dead at Comilla Mynamati Cantonment on March 20 after she went out of her residence for private tuition.
The victim's father filed a case against some unidentified people with Kotwali Model Police Station. The case was transferred to the CID on March 28.
The killing of the college student sparked off widespread protests across the country.