No scope to discuss court proceedings in JS, says CJ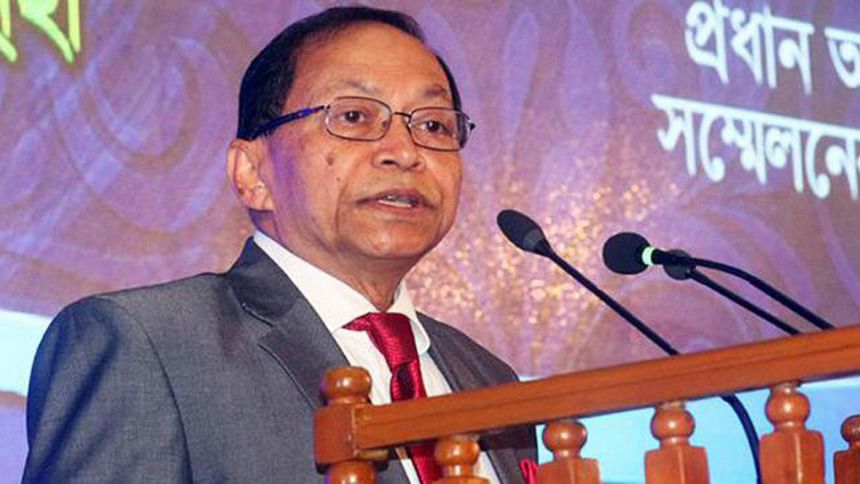 Chief Justice Surendra Kumar Sinha yesterday said there was no scope for discussions about court proceedings in parliament or in public.
"You are trying to create a division among the judges. Can we not speak in the courtroom?" he told Attorney General Mahbubey Alam, apparently in response to comments made by some ministers and lawmakers about the Supreme Court.
The chief justice was presiding over a six-member bench of the Appellate Division of the SC during a hearing of three government petitions challenging the High Court verdict that declared the rules, under which the executive magistrates run mobile courts, unconstitutional.
The apex court bench, however, extended for two weeks its July 4 order that stayed the HC verdict, allowing the executive magistrates to run the mobile courts for the next two weeks.
It also adjourned the hearing on the petitions for the same period.
At yesterday's hearing, the chief justice told Mahbubey Alam that some ministers commented about what judges say in the courtroom. "Is it fair?" he asked.
"We don't make any political statement during court proceedings. We make comments on the issues relating to the judiciary, such as the mobile court rules," he said as the attorney general told the court that comments were made on both sides and that the media had published them.
Law Minister Anisul Huq on Monday told a meeting at the Supreme Court Bar Association auditorium that the SC wants the powers of the president regarding the discipline of lower court judges, provided under article 116 of the constitution.   
Referring to the chief justice, Anisul said sitting in a courtroom, the chief justice talked about getting rid of the High Court.
On July 9, senior ministers and members of parliament from the treasury and opposition benches launched a blistering attack on the HC and SC for judgments against the Jatiya Sangsad's power to remove their judges for incapacity or misconduct.