Trees felled to feed brick kiln
Unscrupulous traders cut down chambol, rain trees for use as fuel on Manpura Island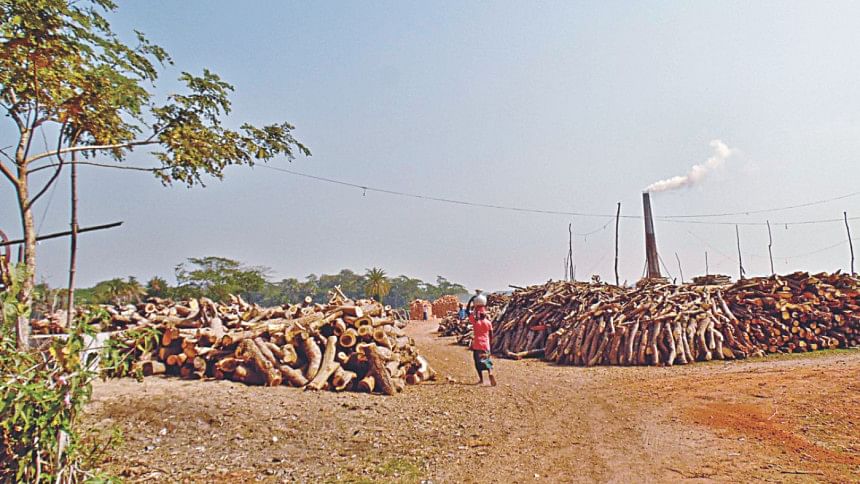 Defying laws, some unscrupulous traders are cutting down trees to fuel a brick kiln in Manpura Island of Bhola, locals alleged.
"The owners are cutting down trees, specially rain tree and chambol, for fuel without considering the environmental impact. The administration is not taking any action," said a local journalist wishing not to be named.
This correspondent visited the island upazila recently, and found logs piled up at the Manpura Brick Kiln.
In 2013, the Brick Manufacturing and Brick Kilns Establishment (Control) Act was passed which strictly prohibits the use of wood as fuel in brick kilns. Brick manufacturers can only use coal as fuel containing prescribed standard of sulfur, ash, mercury or similar material, it says.
"The [forests] ministry works to ensure conservation of ecosystem and biodiversity. But a political leader is patronising this," a local high school teacher said, seeking anonymity.
Hafiz Ashraful Haque, chairman of the Department of Coastal Studies and Disaster Management at the University of Barishal, said. "The practice of burning trees is damaging biodiversity, ecosystem, and posing health risks to people."
According to locals, Sakuchia Union Parishad Chairman Zakir Hossain had set up Manpura Brick Kiln 10 years ago, but when contacted, Zakir said he was a supervisor not the owner.
He said he did not know who the owner was and suggested this correspondent talk to Md Jahidul Islam, younger brother of Abdullah Al Islam Jakob, incumbent lawmaker of Bhola-4 constituency.
"None of our family members owns the brick kiln. People think we are the owners as we buy bricks from it every year," Jahidul said.
He also said he had no idea who the owner was and directed this correspondent to Bhaskar Majumder, a manager of Manpura Brick Kiln.
According to Majumder, there were multiple owners and Zakir was one of them. He denied using wood to fuel the kiln.
Manpura Upazila Nirbahi Officer Md Bashir Ahamed said he would visit the brick kiln soon and take necessary legal action.
"The brick kiln owners are not burning forest trees. Legal action would have followed if they did so," said Manpura Forest Range Officer Sumon Chandra Das.
Locals said the administration was turning a blind eye to the ill-practice because a local influential politician was behind the scene.