Brick kilns' child labour problem
Despite legal ban, many kiln owners employ underage workers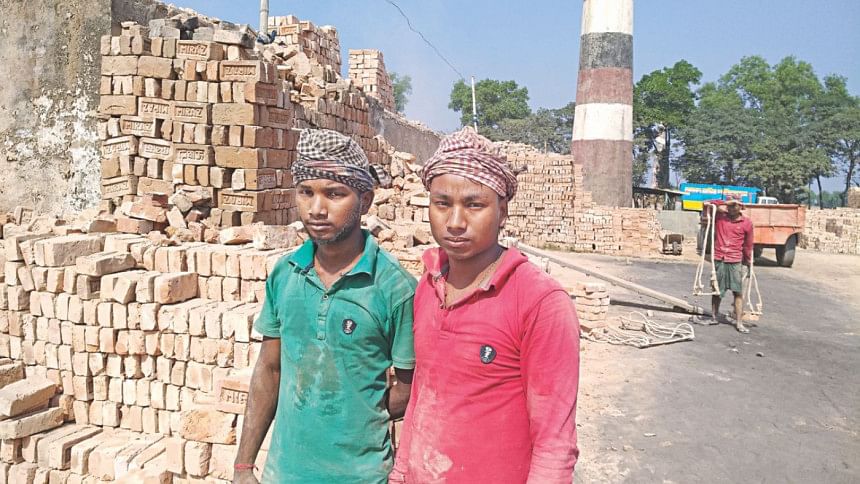 Pabitra Roy, who secured GPA-5 in PEC and JSC exams, spends six months of a year working at a brick kiln to pay for his studies as well as support his family.
The 16-year-old student of class-IX from a village in Nilphamari works at M/S Miraz Bricks in Chauddagram upazila of Cumilla.
"I can save about Tk 60,000 after working half a year. Then I return home," Pabitra told this correspondent. "I attend school the rest six months of the year. I have to bear my academic expenses and support my family with this money.
"We have no land of our own and it is very difficult for my father to bear the expenses of a family that has six members. I started working here when I was in class-VI," he went on.
Pabitra is not alone. There are many others of his age who work for around 350 brick kilns in Cumilla.
This correspondent visited eight brick kilns in the district between January 25 and 30 and talked to 40 workers, including a dozen child workers.
"Working at a brick kiln is quite hard. But I have no other option. I have to bear my family expenses with my earnings," said Mohammad Hossain, 17, who also came from Nilphamari to work at Emran Bricks.
On January 25, at least 13 workers were killed when a coal-laden truck flipped over on a makeshift shed at a brick kiln in Cumilla. The workers were sleeping inside the shed.
Nine of the victims were schoolboys from Nilphamari. They had gone to Cumilla for part-time works at the brick kilns to support their families, according to media reports.
Anwar Hossain, a worker of M/S Humayun Bricks who took part in the rescue effort that day, said, "Children often come to work at brick kilns due to poverty. They need to run their families with the earnings."
Masuk Altaf Chowdhury, a child rights activist and also the convener of Cumilla Press Club, said, "Although child labour is prohibited by the law, many brick kiln owners employ children. Awareness should be raised among the owners and the administration must have an active role to put an end to the trend."
Bangladesh's Children Act identifies anyone under the age of 18 as children and the Labour Law 2006 does not permit any children under the age of 14 years to work.
When contacted, Md Shahnewaz, director of Ahmed Bricks, refused to take any responsibility.
"We do not hire labourers directly. We give contracts to workers' leaders locally known as 'Majhi' who sometimes hire underage boys. We are abiding by the rules of the government," he told this paper.
Cumilla Deputy Commissioner Abul Fazal Mir said, "We have strengthened monitoring to end child labour in the district. Legal action will be taken against anyone found appointing children as labourers."
The district administration ran a drive on January 13 through mobile courts and slapped fines of a few lakhs on brick kiln owners on charges of engaging children.