SSC Examinations: Girls shine as pass rate rises again
82pc come out successful, number of GPA 5 achievers declines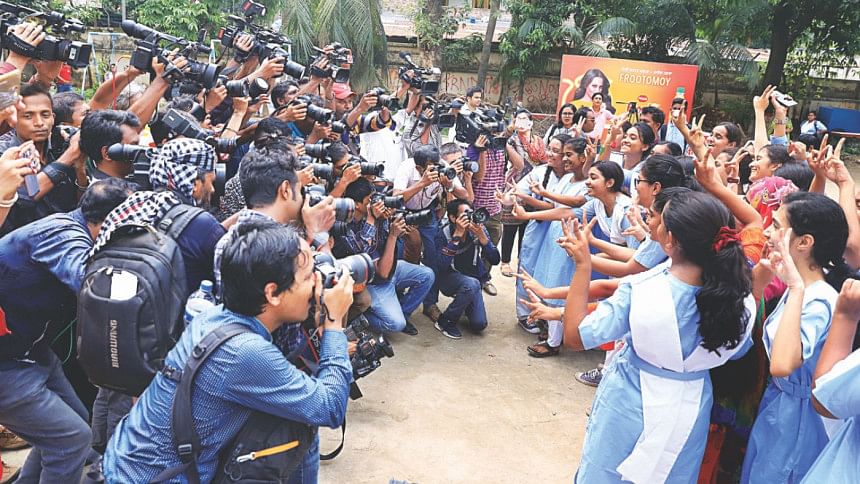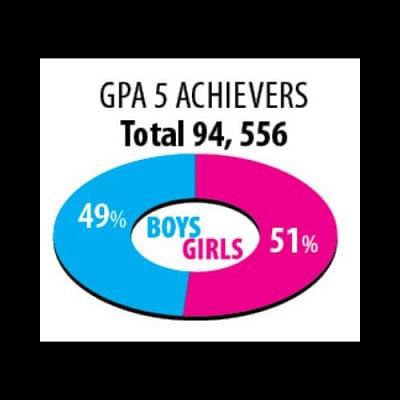 After two consecutive years of downtrend, pass rates in the Secondary School Certificate (SSC) examinations bounced back this year with 82.80 percent students of general education boards becoming successful.
The pass rate of Dhaka board decreased than that of last year but the other seven boards witnessed significant increases.
According to the results published yesterday, girls did better than boys for the third year in a row. In terms of getting the much-sought after GPA 5 (Grade Point Average), girls did better than boys for the second consecutive year.
However, the number of GPA 5 achievers in the eight boards were fewer than that of last year (94,556 against 1,02,845), which is also a four-year low.
Other indicators showed improvements as well.
The number of schools with cent percent passed rose while the number of schools with zero passed came down.
If Dakhil exams under the madrasa board and SSC vocational tests under the technical board are taken into account, the combined pass rate would be 82.20 percent, which is significantly higher than last year's 77.77 percent.
Education board officials pointed towards students of madrasa board doing better for the improved combined pass rate and students of Jashore, Cumilla, and Rajshahi boards pushing up the SSC pass rate.
Education Minister Dipu Moni and Dhaka Education Board Chairman Prof Ziaul Haque attributed students' better performances in English and mathematics for the rise in pass rate.
Officially announcing the results at a press conference in the capital, Dipu Moni said, "Parents and teachers took good care [of students] and students worked hard."   
Ziaul, also chief of Inter-Education Board Coordination Subcommittee, told The Daily Star, "Teachers became used to the new method of evaluating answer scripts. It is also a reason for the increase in pass rate after two years of decline."
The government in 2017 introduced the new method (standardisation of answer scripts) of checking scripts of the SSC exams.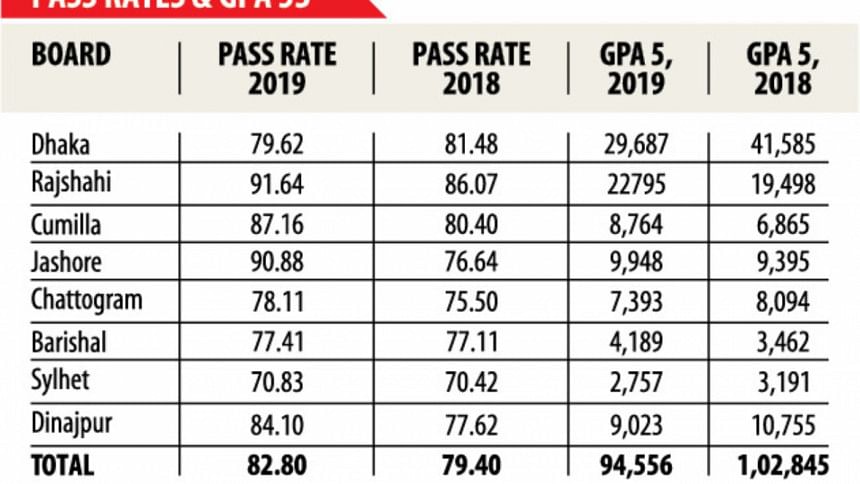 Trained chief examiners schooled other examiners on the new method following a strict guideline. Chief examiners, along with other teachers, set standardised answers to SSC questions and gave them to examiners, who gave scores accordingly.
Prime Minister Sheikh Hasina in a telephone conference at the press conference congratulated successful students and urged students who failed to be more attentive.
"You should have continuity in your success and keep doing better in the next exams. You are the future leaders of Bangladesh," she said.
This year 16,94,652 students sat for the SSC exam in February.
Like previous years, students of science group fared better than those of humanities and business studies.
This year 94.72 percent students of science group, 83.03 percent business studies, and 74.32 percent humanities passed.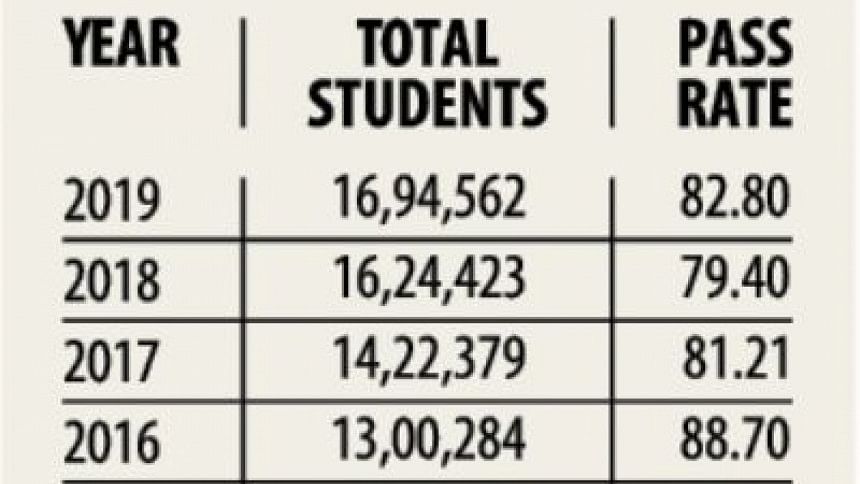 DHAKA PASS RATE DROPS
Students of Dhaka Education Board did not perform as well as those of last year. Results showed that 79.62 percent of the 5,48,220 who sat for the exams passed. Last year 81.48 percent were successful.
A total of 29,687 students achieved GPA 5s, a seven-year low. The number of GPA 5 achievers had been increasing over the previous five years.
Dhaka board chief Prof Ziaul said students of humanities performed poorly this year, bringing down the success rate. Students of Dhaka also did not do as good as students of other boards did in English and maths.
ENGLISH, MATHS
Except Dhaka board, there was a rise in the pass rate in English this year while the pass rate in maths increased in Rajshahi, Cumilla, Jashore, Chittagong, and Dinajpur boards.
Last year, 91.57 percent students of Cumilla board passed English and this year it increased to 98.16 percent.
In the previous year, 90.37 and 85.80 percent students in Jashore board passed English and maths respectively and those rose to 95.86 and 96.77 percent this year.
The performance of students in English and maths always make a difference in the pass rate of public exams, Rajshahi Education Board Chairman Prof Abul Kalam Azad told this newspaper.
He pointed out that in the last two years, bad performances in these two subjects had brought down the overall pass rate.
GIRLS DID IT AGAIN
Girls once again outshined the boys in terms of pass rate and GPA 5 achieved.
This year the pass rate of the girls was 1.53 percentage points higher than that of the boys across the eight boards.
In 2018, the pass rate of the girls was 1.95 percentage points higher than that of the boys and in 2017 it was 0.98 percentage points higher.
A total of 48,591 girls earned GPA 5s while 45,965 boys got GPA 5s this year. Last year, 51,631 girls achieved GPA 5 against 51,214 boys.
Prof Ziaul said off late, they have observed that girls were more attentive and that has paid off. "Girls are spending more time in studies than boys. In the adolescent years, boys become more adventures and their concentration falls short," he added.
MADRASA, TECHNICAL BOARDS
The technical board saw rises in the success rate and the number of GPA 5 achievers. 
However, madrasa board's pass rate went up but the number of GPA 5 achievers dropped.
Some 2.86 lakh out of 3.06 lakh successfully completed their Dakhil examinations under the madrasa board.
Under the technical board, 1.26 lakh students took part in the SSC (vocational) and Dakhil (vocational) exams. The pass rate was 72.24 percent against last year's 71.96 percent.
A total of 4,751 students got GPA 5s this year whereas 4,413 got it last year.
More than 21,27,815 students -- 10,66,527 boys and 10,59,288 girls -- from 28,673 institutions across the country sat for this year's SSC and its equivalent exams under the 10 boards. Of them, 17,49,165 passed.
This year, 2,583 institutions had cent percent students passed against last year's 1,574.
No students passed from 107 institutions, a slight drop from 109 of 2018.
At least 423 Bangladeshi students sat for the tests in eight foreign exam centres and 389 of them passed, and 56 of them got GPA 5s.
Schools across the country wore a festive look ahead of the results yesterday. Students and their parents, with frayed nerves, erupted in jubilation as soon as they received the results. Some danced while others took selfies flashing the V-sign. There were some gloomy faces as well.
Such successes, however, lead to a concern for many students as they would now have to face stiff competition to get into good colleges.