Rohingya Issue: Modi pledges continued support for Bangladesh
Holds talks with President Hamid at Hyderabad House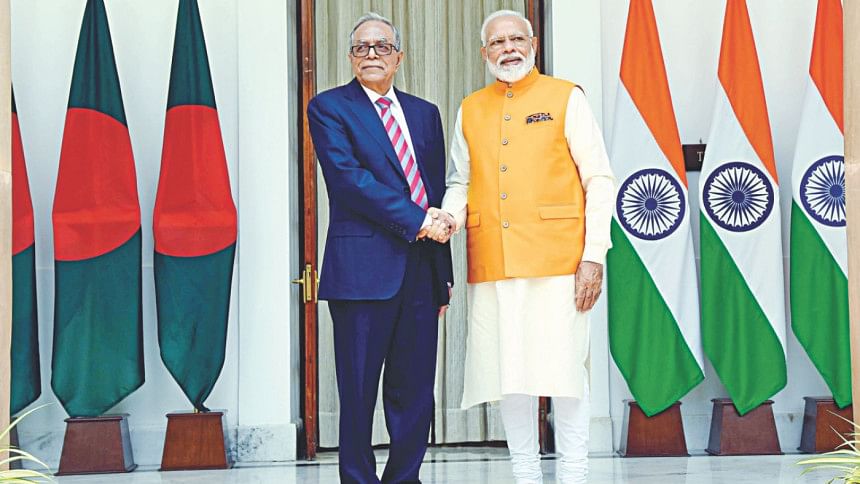 Indian Prime Minister Narendra Modi yesterday assured that New Delhi's cooperation in resolving the protracted Rohingya crisis in Bangladesh would continue as President Abdul Hamid met him at Hyderabad House.
"We think Rohingya issue should be resolved on an urgent basis. So, we always speak about this in different international forums," Modi told the Bangladesh president during the meeting.
Later, the president's press secretary M Joynal Abedin briefed newsmen about the outcome of the meeting.
The Indian prime minister said Rohingya issue was not a problem of Bangladesh alone, it was a serious threat to whole South Asia.
Referring to longstanding and historical bilateral and friendly relations between the two countries, Modi said India and its people are always beside Bangladesh.
The Indian premier stressed the joint celebration of the golden jubilee of Bangladesh independence and observance of birth centenary of Father of the Nation Bangabandhu Sheikh Mujibur Rahman.
"It will have a positive impact on multilateral relations as well," he mentioned.
During the meeting, President Hamid told Modi that people of Bangladesh were waiting for long to see a settlement of Teesta water sharing issue.
India also wants to resolve the pending issue, Modi said and underscored the need for activating the joint river commission in this regard.
The Indian prime minister mentioned that the partnership between Bangladesh and India was flourishing under the visionary leadership of Prime Minister Sheikh Hasina.
The President expressed his satisfaction over the excellent bilateral relations that exists between the two countries, saying that the ties have grown and prospered, especially under the statesmanship of Prime Minister Sheikh Hasina and Prime Minister Narendra Modi.
Liberation War Affairs Minister AKM Mozammel Haque, Bangladesh High Commissioner to India Syed Muazzem Ali and secretaries concerned to the president were also present at the meeting.
President Hamid reached New Delhi on Wednesday on a three-day visit to attend the swearing-in ceremony of the Indian premier.