Paris stunned as fire engulfs Notre-Dame Cathedral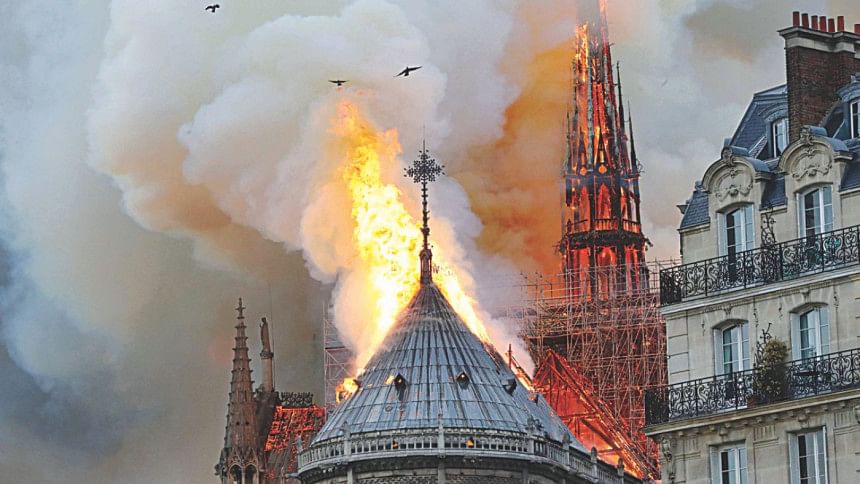 A colossal fire swept through the famed Notre-Dame Cathedral in central Paris yesterday, causing a spire to collapse and threatening to destroy the entire masterpiece and its precious artworks.
The fire, which began in the early evening, sent flames and huge clouds of grey smoke billowing into the Paris sky as stunned Parisians and tourists watched on in sheer horror.
Some were in tears, others offered prayers from the banks of the river Seine as the much-loved attraction at the heart of the City of Light was consumed by the inferno.
"This is really sad - the saddest thing I've ever stood and watched in my life," said British tourist Sam Ogden, a 50-year-old onlooker, who had come to visit the cathedral with her family.
Gasps and cries of "Oh my god" erupted around an hour after the fire first broke out when the top portion of the church's spire came crashing down.
"It looked tiny to begin with, then within an hour it all came down," Ogden added.
The cause of the blaze was not immediately confirmed but the cathedral had been undergoing intense restoration work which the fire service said could be to blame.
Last week, dramatic footage had shown workers removing 16 copper statues from the spire which was undergoing a revamp financed by the state and private donors.
Deputy Paris mayor Emmanuel Gregoire told BFM TV the spire "collapsed inwards" and that workers were scrambling "to save all the artworks that can be saved."
A spokesman for the cathedral told AFP that the wooden structure supporting the roof was being gutted by the blaze.
"Everything is burning," the spokesman for Notre Dame, Andre Finot, told AFP.
President Emmanuel Macron cancelled a major televised policy speech he was due to give on Monday evening over the "terrible fire ravaging Notre-Dame."
He headed to the scene in person.
In a tweet he expressed the "emotion of a whole nation" on seeing Notre-Dame ablaze.
"Like all my compatriots I am sad to see a part of us burn this evening" he said, expressing solidarity with "all Catholics and all French people."