Browsing les bouquinistes of Paris
It was impossible to explore all the kisoks in a single outing, with there being 900 of these bookstalls in total hosted by around 200 sellers, straddling both sides of the Seine riverbank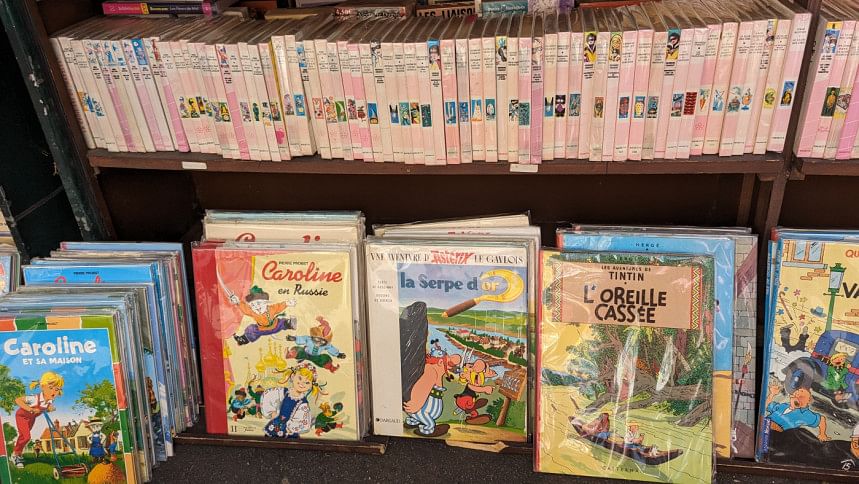 One of the first things I did upon discovering that I would be travelling to Paris for a work trip was to search for literary havens in the city catering to bookworms like myself. While I was not unfamiliar with some of the search results–such as Shakespeare and Company, the Abbey bookshop, Café de la Rotonde–I was fascinated to learn about Les Bouquinistes. These 500-year-old iconic open-air bookstalls along the banks of the Seine River are UNESCO World Heritage sites. Although I could not visit all the places on the list, I am grateful to have prioritised and not missed out on exploring bouquinistes as part of my Parisian experience.
While heading to a work meeting in a car, I first caught sight of the pleasant structures of the bouquinistes–small green boxed kisoks lining the footpaths along the riverbank. I should not have been surprised that they were closed as it was past 6 PM, even though the sun was hours away from setting as it was the Summer Solstice. So, I made a mental note to begin my pursuit of the bookstalls later at a more opportune time during working hours.
On the last day of my trip, I set out for the bouquinistes in the afternoon, prepared to embark on an exhilarating adventure that any bibliophile would resonate with. It was impossible to explore all the kisoks in a single outing, with there being 900 of these bookstalls in total hosted by around 200 sellers, straddling both sides of the Seine riverbank. I decided to begin my exploration from the Notre-Dame area, killing not two but three birds with a stone–I not only got to visit Shakespeare and Company, but also witnessed the Notre Dame cathedral and of course, explored the bouquinistes.
The first thing you notice about the charming stalls are the big paintings and posters stringed together–from beautiful portraits of Audrey Hepburn to sketches of Paris landscapes to posters of pop culture. Then a closer look at the unexpected combination of treasures leaves you in awe. I was pleasantly taken aback to not only find books but also souvenirs and trinkets in the shop, but old used postcards bearing traces of history, and laminated prints of old newspaper editions such as Le Petit Parisien dating as far back as the 1900s.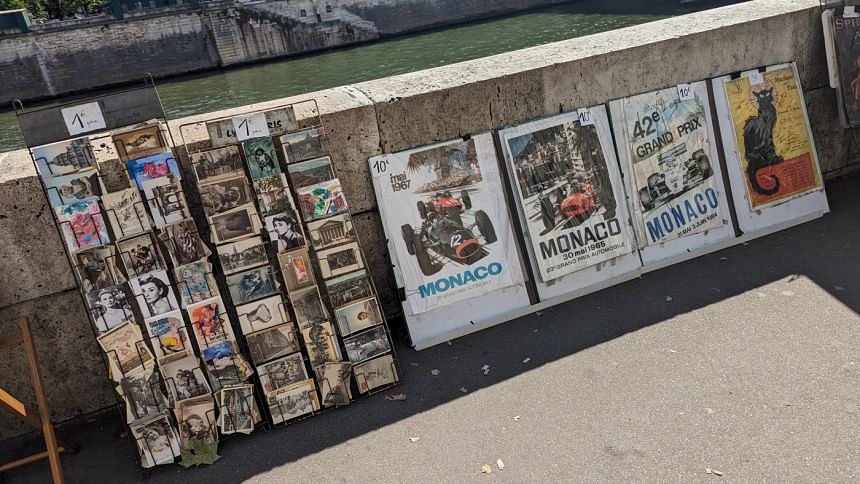 It was slightly baffling to find the first couple of stalls empty of persons, only to find upon strolling further each seller manning two-three shops lined together, by positioning themselves in chairs in a place that  was perfect for keeping a watchful eye on their stalls. In my two hours of browsing the bouquinistes, I was delighted to come across stall sellers of all ages, both men and women, seemingly from the ages of 20s to 80s. I tried to speak to some of them, being interested in learning about their history but sadly most of our conversations were lost in translation, owing to my tragic French and their English.
While the book collections displayed in the stalls did not catch me by surprise as I was already expecting to encounter an extensive array of books, the French collections did leave me in awe, however. The treasure trove of books that I encountered included old paperbacks and secondhand books by the likes of Victor Hugo, Jean-Paul Sarte, Earnest Hemingway, Alexandra Dumas, and Voltaire. The anthropology enthusiast in me was delighted to come across Simone de Beauvoir's books tucked away in corners of a stall. The collection of different French comics was also impressive, although I only recognised the iconic Tintin and Asterix and Obelix. A few stalls had small English collections of the usual popular books like Harry Potter and Lord of the Rings, but their French translations were more commonly available.
The most remarkable discovery was coming across pristine and sealed French hardback editions of works by Hugo, Daudet, Zola, and Michelet, among others. These were far more expensive than the secondhand paperbacks, and well beyond my budget.
Two hours later, I emerged from my bouquinistes adventure lighter in the wallets but substantially enriched in terms of experience! The time spent there was among the most wholesome moments in my whole Parisian experience. Nevertheless, a pang of regret still lingers within me at the thought of all the unexplored literary and artistic treasure troves that I missed out on.
The bouquinistes, for me, turned out to be the most underrated gem of history, art and literature in a city renowned for such artefacts. I now yearn to return to Paris and spend longer hours browsing the bouquinistes.
Towrin Zaman is a researcher who loves traveling as much as she loves reading.